Table of Contents
If you've ever thought about visiting Thailand, then you've probably come across the imagery of a Buddha head embedded in a Banyan tree. This image is one of the most iconic images of Thailand that speaks to the majority religion of the country by a huge percentage – almost 95% of Thai identify as Buddhist.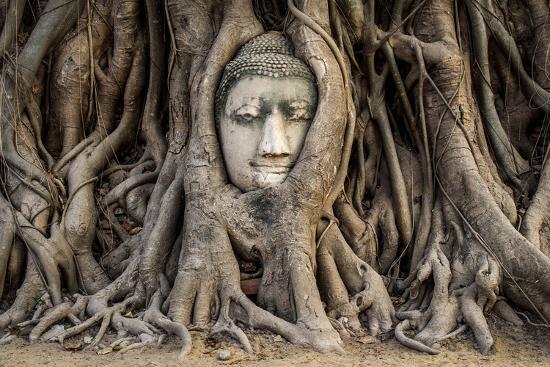 As I have come to truly fall in with Thailand over the last year, I want to explore everything this country has to offer. I missed visiting Ayutthaya, the ancient city and previous capital of Thailand, my first time around. I really had no excuse as it's only a 60-90 minute drive from Bangkok (depending on traffic leaving BKK) but it was an absolute priority for me this time. You can explore this incredible city as a day trip or a weekend getaway. I did it as a day trip but I would love to come back again in the future to spend a few nights here…maybe when I have human kids (baby fever is kicking in).
This article is going to focus on what I did there versus a detailed history or overview of Ayutthaya as there are many other more reputable platforms covering this information. I strongly encourage you to check out the following links to understand the incredible history of Ayutthaya and some of the suggested things to do:
Top 10 Things To Do And See In Ayutthaya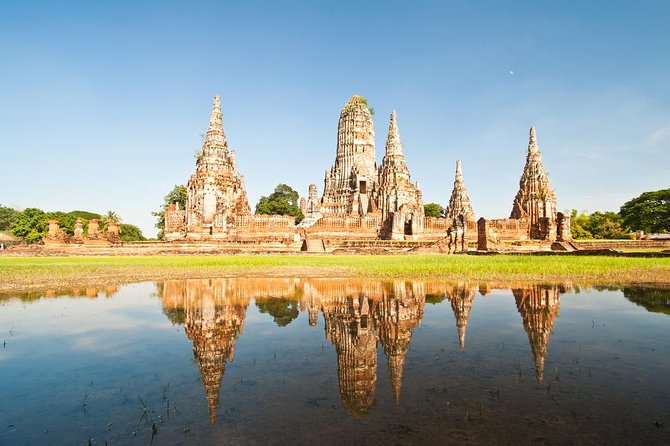 Very Brief Overview Of Ayutthaya
Before Bangkok, Ayutthaya was the capital city of Thailand from 1350 to 1767 when it was attacked and destroyed by the Burmese army. The city was never rebuilt but it remains as a UNESCO World Heritage site making it a must-do for any visitors of Thailand that want to explore the history of the country. Plus, it's great for Instagram pics. Check out my latest IG post here.
How To Get To Ayutthaya
There are a several ways to get to Ayutthaya that I considered and I'll go over them below. Ayutthaya is less than a 90 minute drive from Bangkok at around 80 km. I opted to hire a private driver who turned out to be an amazing tour guide. This was really the best and only option for me as I brought my dogs with me and I needed them to have access to shade and air conditioning while I explored the temples in 100 degree heat.
Van – you can take a shared van that will pick you up from Khao San Road. A one way ticket costs 250 baht ($8 USD) making this a very cost-efficient way to go. The biggest negative though is once you arrive to Ayutthaya, you're on your own. Fortunately, there are many travel options once you're in Ayutthaya such as tuk tuks with drivers, bicycles, or local taxis.
Boat – you can take a shared tour boat up the Chao Phraya river from Bangkok all the way to Ayutthaya. The day trip costs 1,800 baht ($60 USD). The biggest negative is that you're on someone else's timeline so if there's something you wanted to spend more time on, you won't be able to.
Rent a car – you can rent a car from downtown Bangkok or the airports and drive up there yourself. I almost took this option but I didn't want to leave my dogs in the car while I explored the temples (even with air conditioning on). Car rentals in Bangkok typically start from 800 baht per day ($27 USD).
Private driver – this is the option that I selected as I wanted someone to stay with my dogs in the car while I explored the temples and museums. Pricing varies based on your negotiation skills but if you'd like an intro to my driver, he was extremely knowledgeable, friendly and safe. Highly recommended. This is the most expensive option but still a relatively good deal if you're a foreigner. The price really comes down to your negotiation skills (not going to mention any prices here as I don't want to create a benchmark for the market).
We left Bangkok (close to Khao San Road) at 10am and arrived to Ayutthaya by 11:15am. There's typically less traffic on Sundays and we benefitted from that.
Where To Eat In Ayutthaya
My driver is a huge fan of StickmanBangkok.com, one of the most popular blogs about Bangkok and Thailand since 1998, and the Sai Thong River Restaurant on the Saithong River came highly recommended. This restaurant did not disappoint!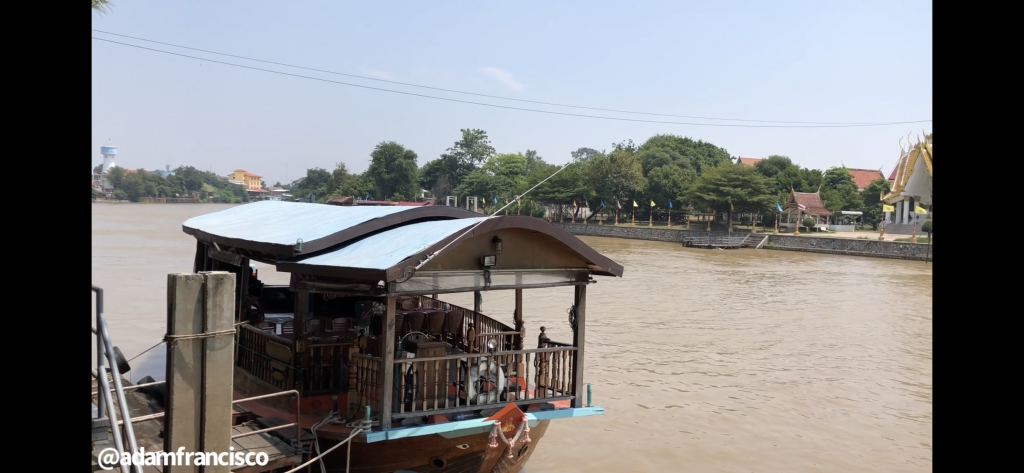 I walked right into the restaurant with Raindrop in her backpack and Flex in my arms and nobody asked any questions or said anything.
Remember, Thailand is a dog-friendly country in that people seem to love dogs, especially small ones, but there are still beliefs that all dogs are not housebroken and that they're homes to all sorts of nasty insects. Both are true when the dogs are untrained and spend most of their lives outside, but (most) dogs in America are housebroken and have flea and tick prevention. One of the biggest adjustments for me leaving America is that service dogs are not acknowledged in Thailand yet – with the exception of guide dogs for the blind in places like public parks or public transportation. It's a strong start but until Thailand catches up to the more modern ADA guidelines of America, I always appreciate businesses that happily accept dogs in Thailand, service or not. Take my money!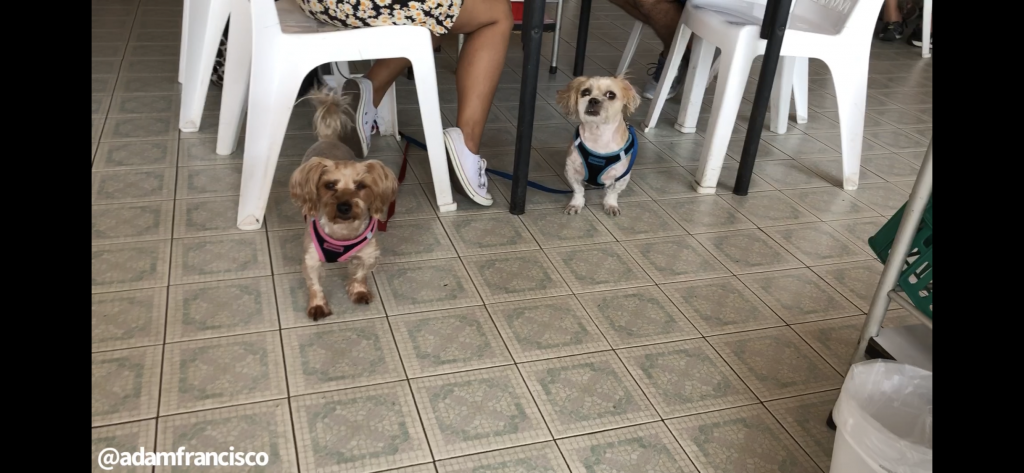 Everything on the menu looked delicious but their seafood selection was the strongest. I would recommend the seafood salad, steamed lobster and the spicy chili shrimp. The total bill for 3 people (and 2 dogs) for 7 dishes and 6 non-alcoholic drinks was 1,700 baht ($57 USD).
What To Do Ayutthaya
I was warned that Ayutthaya is extremely hot during the day so it's better to visit the indoor museums and exhibits until 3p when the temperatures start to cool off. The first thing we did was stop at the tourism center to get a map of Ayutthaya.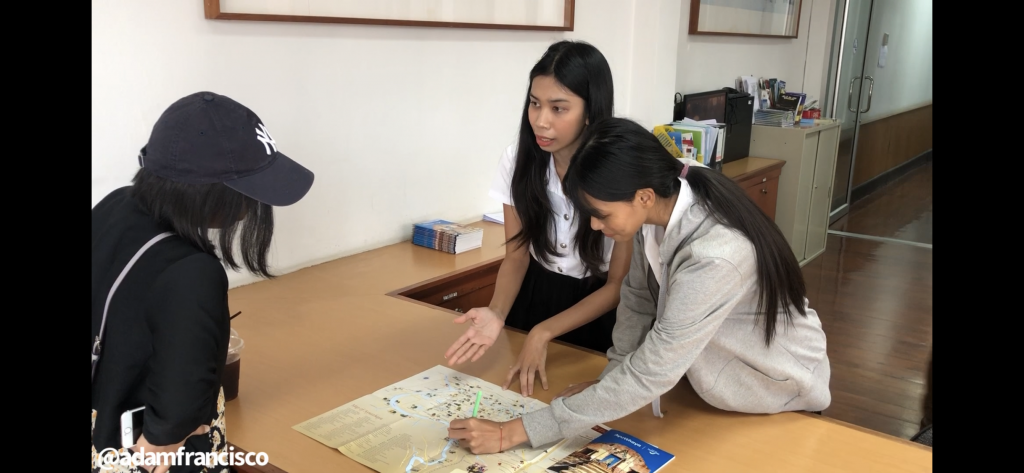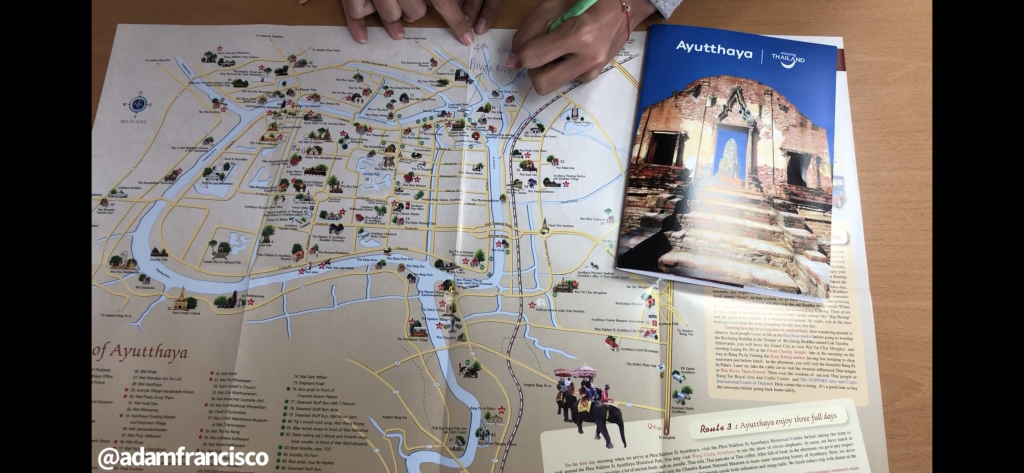 The first museum we hit up was the Chao Sam Phraya National Museum where they have relics and original pieces of Thai gold that the Burmese army didn't take. You're not allowed to take any pictures inside of the rooms with gold but they were most air-conditioned rooms in the museums so I was quite happy to stick around and read all the details.
I also noticed that the entrance fee were higher for foreigners than locals. I find this to be fair because the Metropolitan Museum of Art in New York City does the exact same thing – if you're from the Tri-State area and have proof of ID, then your admission fee is just a "suggested" price meaning you can pay as little as $.01 to enter. Full transparency – I worked at The Met when I was 17 and anybody that took advantage of this rule and gave me a a penny I considered them cheap and disrespectful. At least throw a $5 (if you can) out of respect for the art and history. Don't take advantage of a rule meant to make art available to everyone of all economic levels.
Entrance fees were typically 50 baht ($1.67 USD) for foreigners and 10 baht ($.33 USD) for locals for all outdoor exhibits we visited. The indoor exhibits were a bit more (likely to cover the air-conditioning costs).
It's pretty interesting how often Thai locals ask if I am of Thai origin as well. Many of the ticket agents asked Guggy (my tour guide) if I was Thai (to determine which price to charge me). My skin color very closely matches Thai people (I rarely see any Latinos in Thailand) so the most logical conclusion is that I must be Thai.
After absorbing some history, we went to the Japanese Village. Due to Ayutthaya's presence next to a major river in Thailand, they attracted international settlers from Japan, France and Portugal making it like an America before America. I was especially excited to check out the Japanese Village because I have an obsession with Japan. I always tell people that if and when I am ready for a full-time job again, I am going to do it in Japan. Until then, Thailand is my favorite country in the world to enjoy the blogger lifestyle.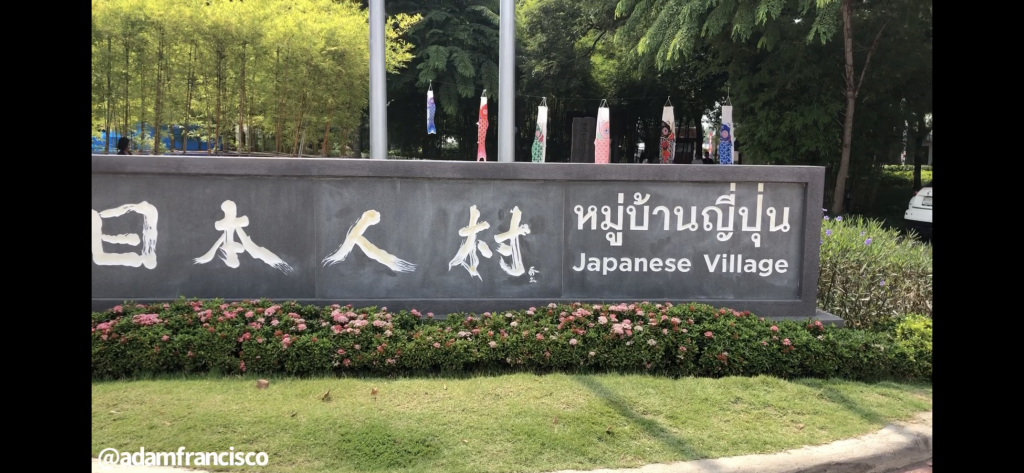 Next we visited a boatyard where there must have been at least 25 old boats being worked on. Pretty surreal to see a shipyard of elevated yet depleted boats.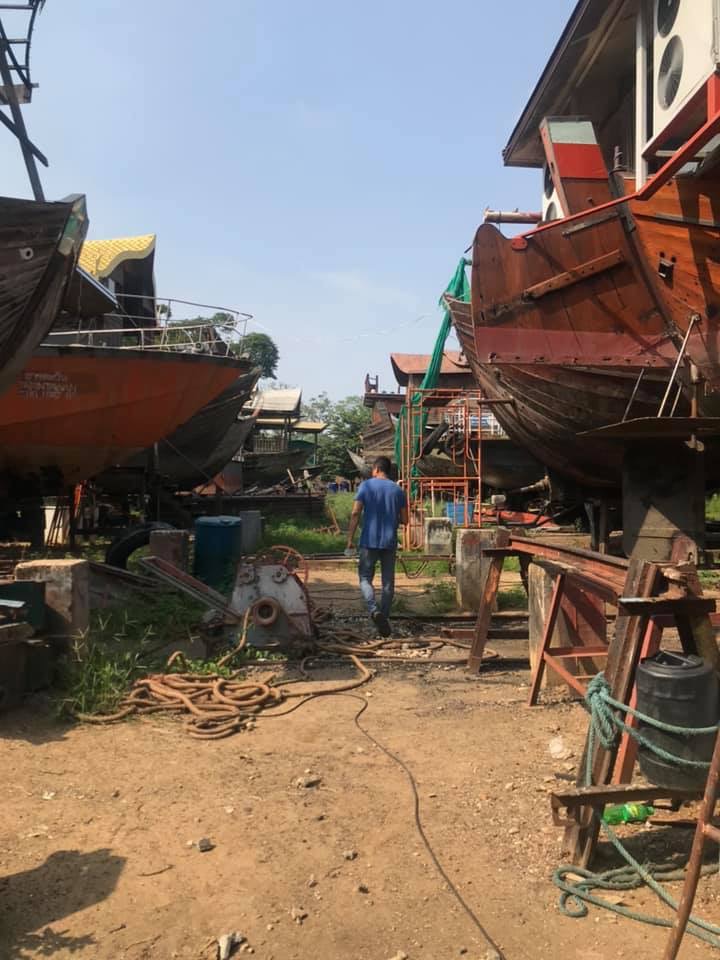 We climbed on a few of the them for some Instagram pics which was pretty fun until we realized our presence alerted 10-15 dogs that live on-premise. I'm not sure if you've ever interacted with a pack of soi (street) dogs before, but it can be pretty terrifying. Street dogs have a lot of their wild wolf instincts intact and they protect their territory in an aggressive manner. I wouldn't call the dogs on the shipyard street dogs as they likely have some interaction with humans (the workers who fix the ships), but you still want to tread carefully around them as they aren't trained to the level of western dogs. I've learned that they typically won't attack you unless you give them a reason too.
We hung out on the boats longer than we wanted to just so the dogs could leave us alone. Guggy (my tour guide) suggested we try to run away but this would have activated their chase instincts and then we'd be in trouble. My strategy of being patient worked and the dogs eventually left us alone and granted us free passage back to our car.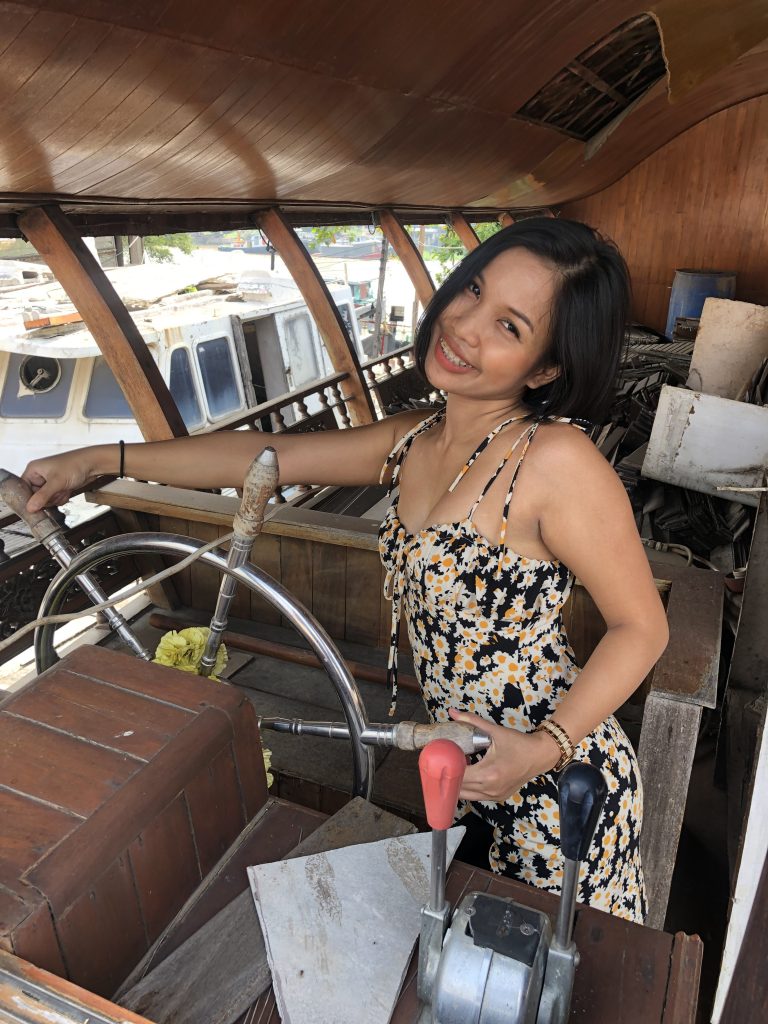 After we safely left the boat, we went to St.Joseph's Church. An unexpected surprise was when I both heard and saw a herd of sheep running along the Chao Phraya River. I felt like this was my family of free sheeple! Cue Dolly Parton's 9-5.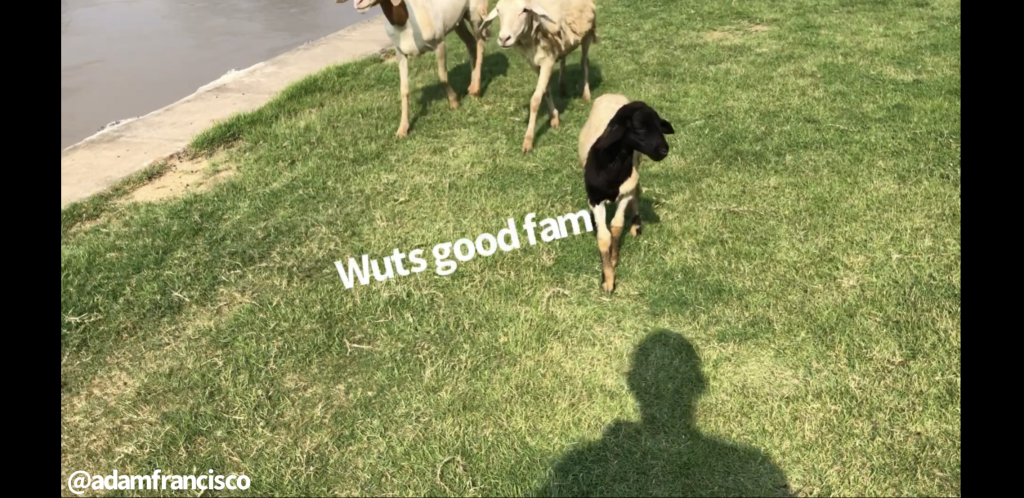 Around 3:30pm when the temperature started to drop below 100 F, we finally hit up one of the iconic and famous highlights of Ayutthaya, Wat Chaiwatthanaram. We were about to enter in our pedestrian clothing when a vendor presented us with the opportunity to enter the ruins wearing traditional Thai clothing. How could I pass up this opportunity??? I choose blue and yellow, my favorite colors, and only when I saw myself in the mirror did I realize that I actually looked and felt like Aladdin.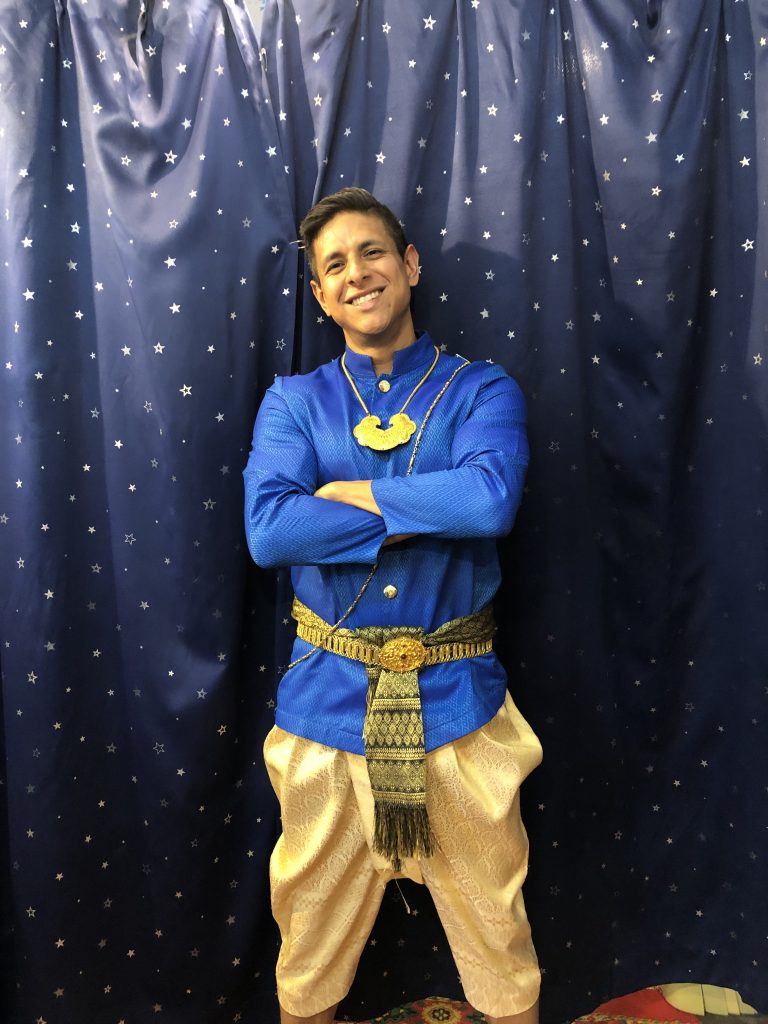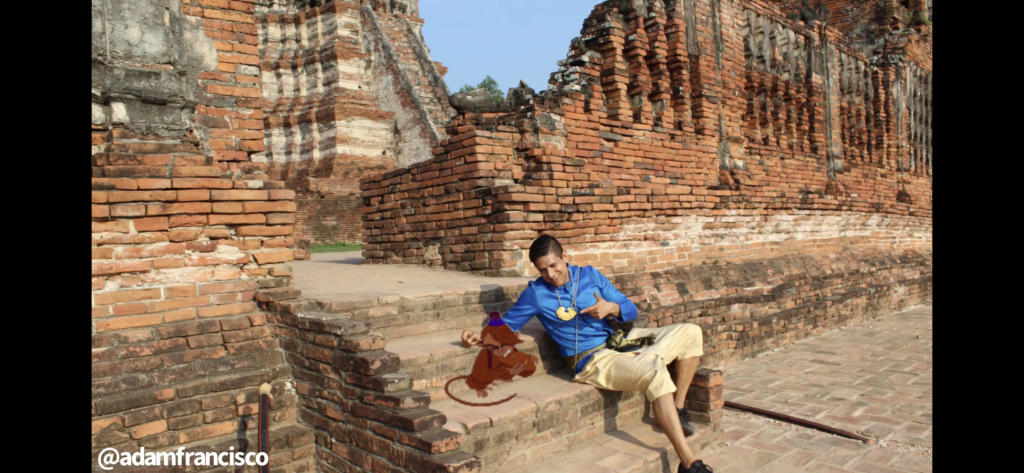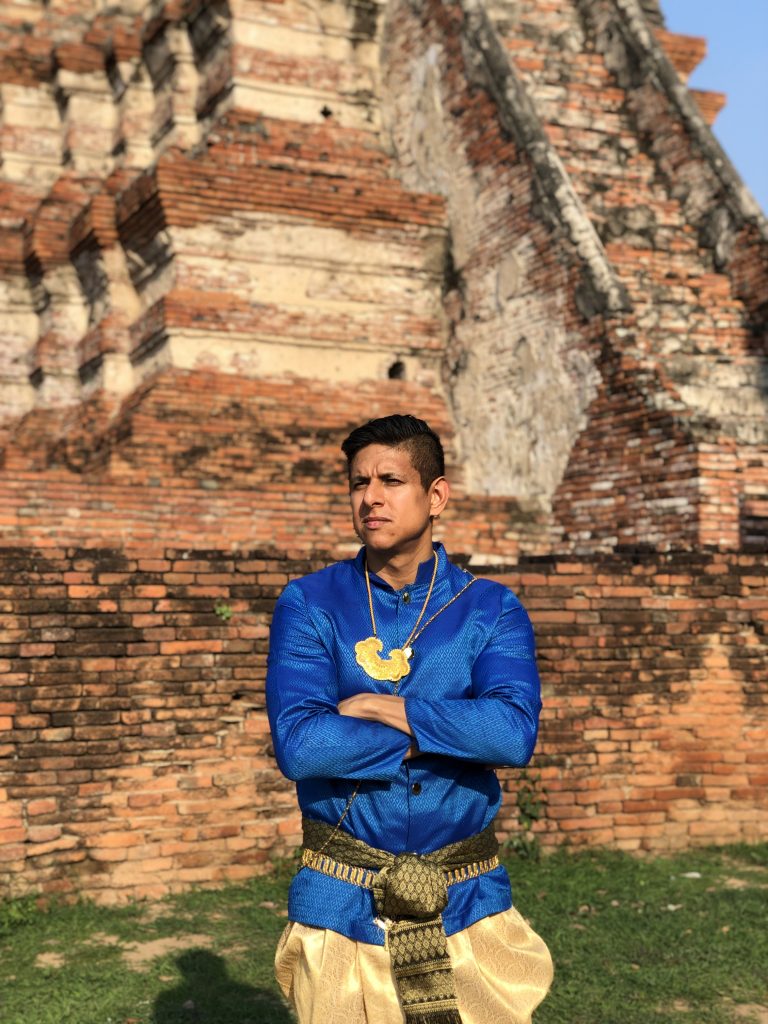 Another location I wanted to visit was Wat Lokaya Sutha which is home to the gigantic Reclining Buddha. To give you a perspective of how large this statue is, his individual toes were about the size of a person. You can watch the video up top to check out the statue.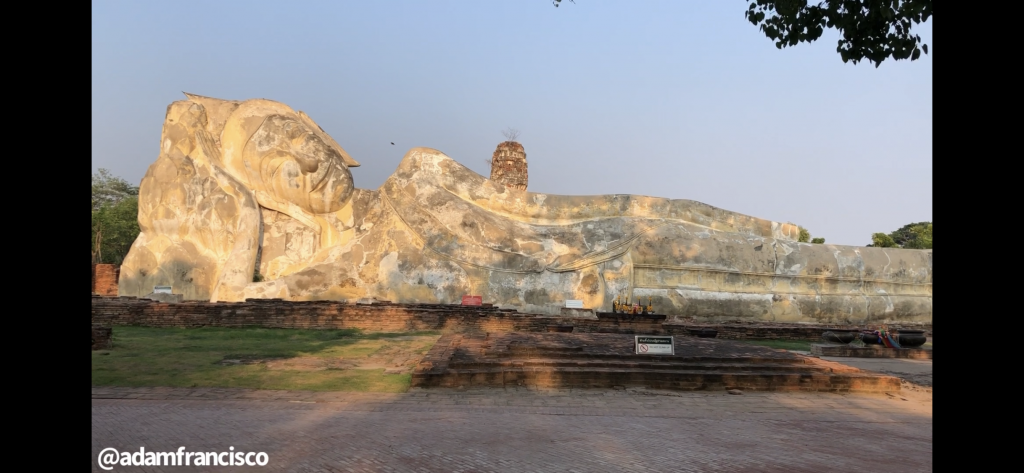 Our last stop was Wat Mahatat to see the famous and iconic Buddha statue embedded in a Banyan tree and this was certainly a special thing to see. In front of the statue is a little platform that you sit down on (no standing allowed) and take pictures with the Buddha statue in the background.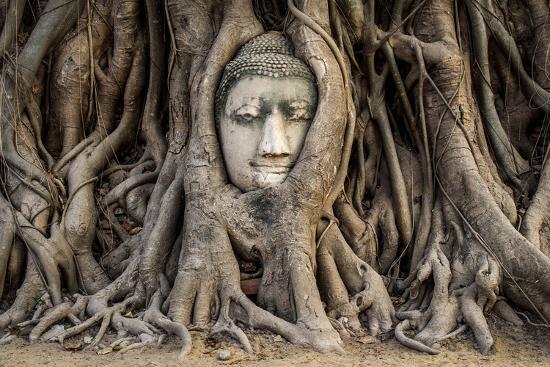 Is Ayutthaya Worth It?
100%. If you're already in Bangkok, it's worth spending the day heading to Ayutthaya. It is an important part of the history of Thailand and it's also a UNESCO World Heritage Site. Plus, think of all the Instagram pics you can take so you can pretend to be more cultured than you really are. A day trip is enough time to see the most famous locations, but I would recommend a weekend so you can take your time seeing it all.
Advice for Ayutthaya
If you need an amazing, knowledgeable and safe driver that will keep the air-conditioning running for you all day long, you can contact me and I'll refer you to my guy. He knew every detail about Ayutthaya so you get a tour guide in addition to a driver.
Drink plenty of water. If it is extremely hot in Ayutthaya and the best way to beat heat exhaustion is to stay hydrated and take shade/air-condition breaks.
Try to arrive as early as possible to beat the heat and try to stay until the sun sets when you can take really do some awesome sunset photography.
I do almost everything on my iPhone including editing videos but I would recommend bringing a real camera with you.
Bring a +1 so you have somebody to take epic photos of you. This is one of the few times where I think it's nice to have a significant other, but this one pro does not outweigh the 1,000 reasons not to be in a traditional relationship lol.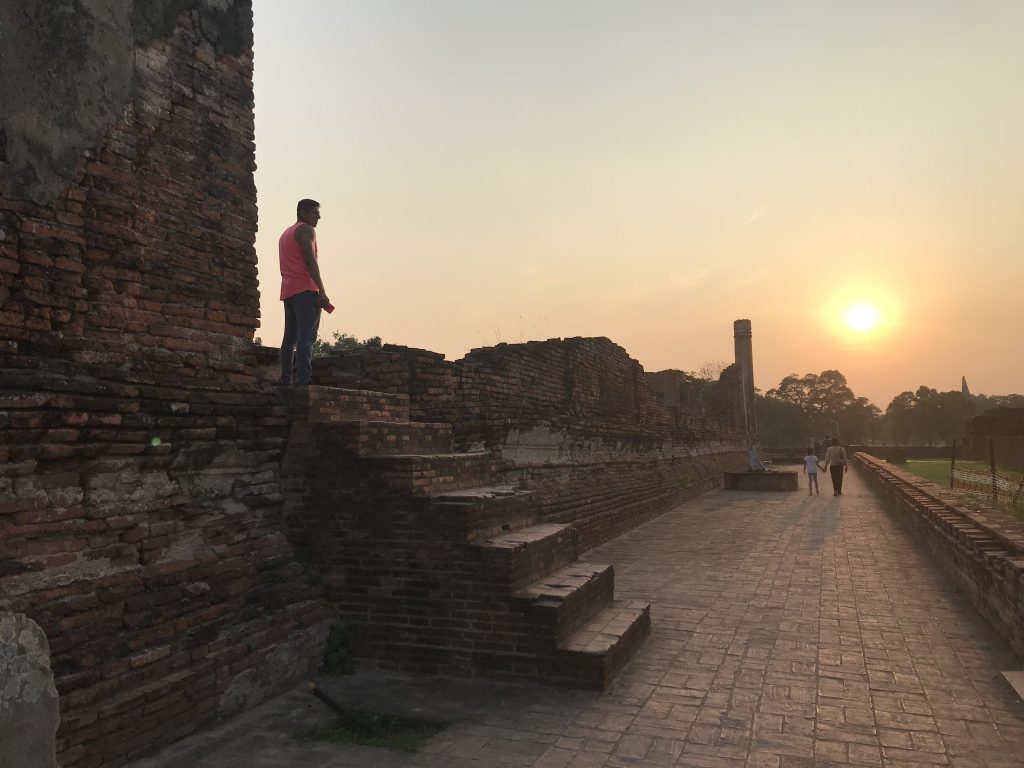 Is Ayuttaya Dog-Friendly?
While you could bring your dog with you (as long as you have a car with air-conditioning and a driver or friend to stay with them the entire time), I would ultimately say that Ayutthaya is not dog-friendly. On top of the brutal heat and minimal shade which could quickly give your dog heat exhaustion or heat stroke, dogs are not allowed inside the museums and I would imagine you'd get weird looks trying to bring them into ruins even though many dogs seem to live there. Also, Thai dogs are typically not trained to the same level as western dogs so that could cause an issue too when many of them operate in packs – although most of the dogs I saw were passed out in the few shaded areas they could find. Your best bet is to leave your dog in the comfort of an air-conditioned hotel room or with a dog-sitter. I recommend a dog-sitter as leaving your dog alone creates anxiety for them. And if you're going to leave your dog alone, at least get a friend for them so they're not as lonely. Hold leashes not hands!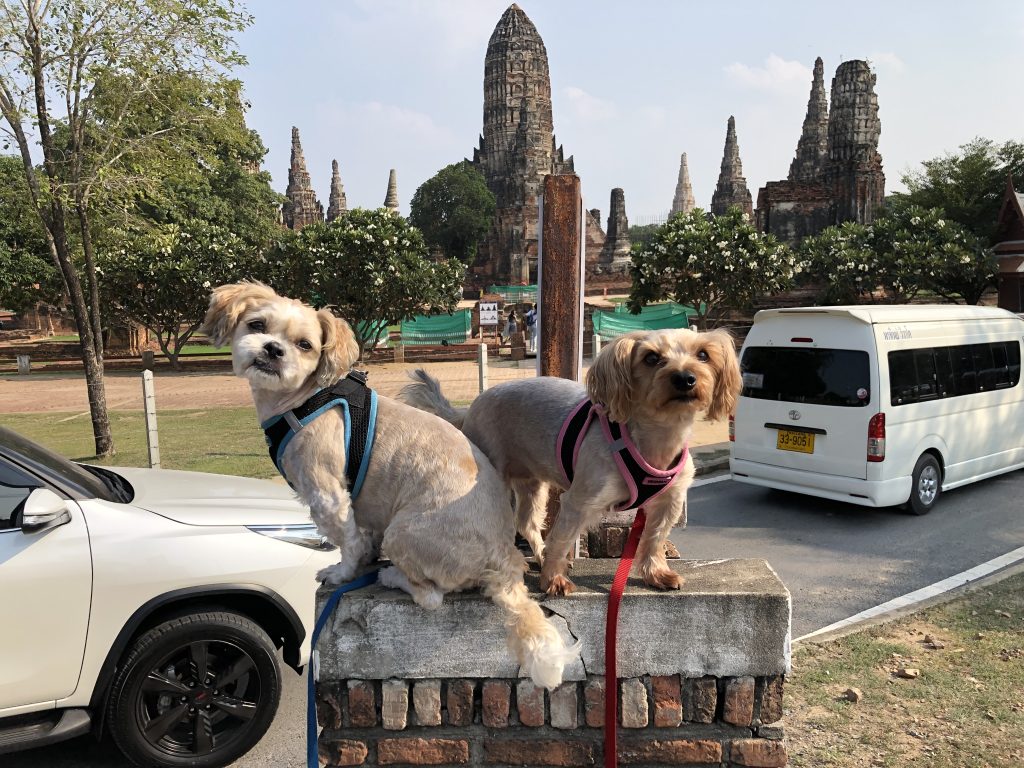 Bonus Vlog!
https://youtu.be/aPsoErx4kOQ
***
Have you visited Ayutthaya before? Leave a comment or you can e-mail me adam@befreemysheeple.com. If you enjoyed reading/watching this, you can follow me on Instagram, @adamfrancisco & @befreemysheeple.
Be Free My Sheeple!