I was invited on a short road trip from Chiang Mai to Phayao, a small lake town in northern Thailand that I had never heard of before. Being a man of both exploration and leisure, I was excited to check out a new city. But I told her "if my dogs can't go, then I'm not going" but they were of course invited. Is Phayao dog-friendly? Read on!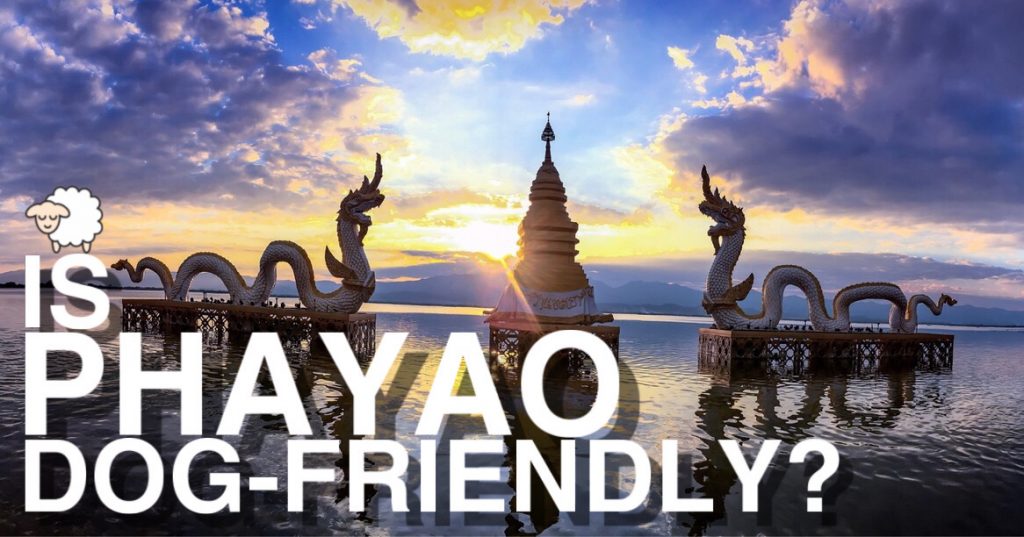 Road trips in Thailand are awesome
One of the best parts about Thailand are the road trips which I discovered out of necessity as dogs are not allowed in-cabin on any Thai airlines with the exception of guide dogs or assistance dogs for the deaf. Service dogs for disabilities such as PTSD, diabetes, epileptic seizures, anxiety or autism are not yet recognized in Thailand. Keep in mind that some Thai airlines will allow your dog to fly in the cargo hold, but I try to avoid that at all costs. Maybe next time I'll submit my medical documentation and service dog registrations to a Thai airline just to see if they'll make an exception (I haven't tried this yet). Stay tuned for that blog post.
This means I have to either drive everywhere or take chartered busses where dogs aren't allowed either but a few hundred baht to the driver usually solves this problem. One important note is that I doubt medium or large dogs would be allowed on a bus under any conditions. Mine are usually accepted because they're small enough to fit into bags which can go underneath the seat or between my legs.
I've driven all across Thailand from Phuket up to Chiang Mai and let me tell you guys – the countryside of Thailand is absolutely beautiful. As I'm usually the one driving, I have to stay focused meaning I can't fully enjoy the sights. This time however, I was invited as a passenger so I could finally enjoy the views between playing Call of Duty Mobile. My gamertag is PapiDaddy.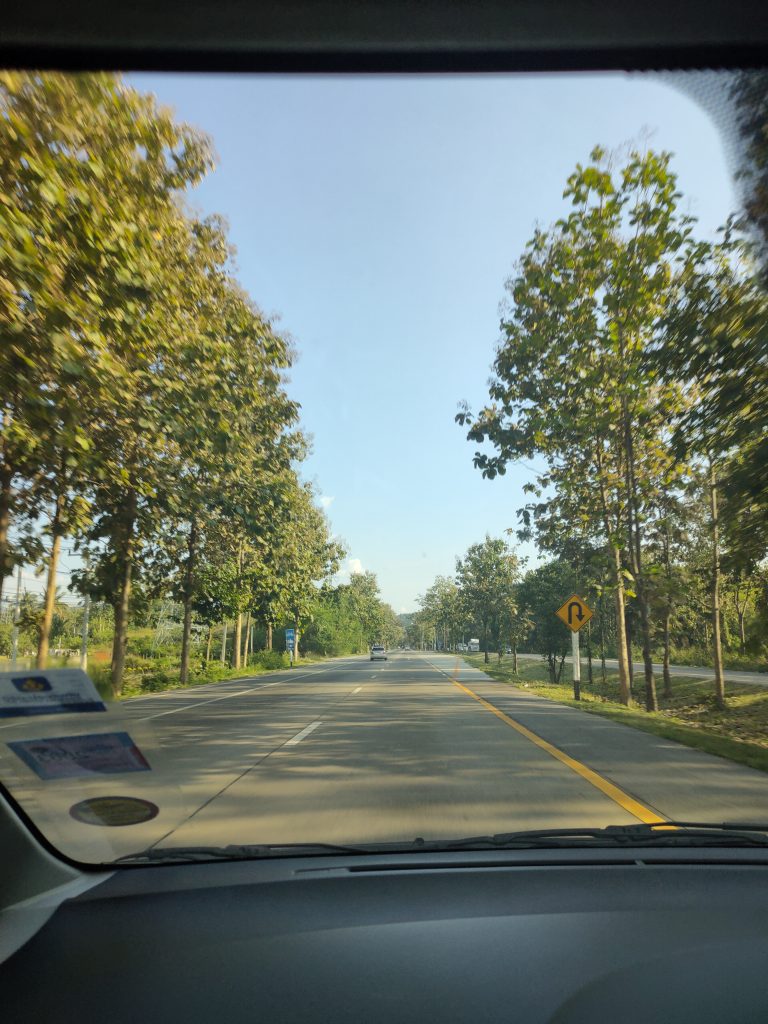 Another amazing thing about driving in Thailand is that outside of some police checkpoints (which you can see from the distance), you generally don't see highway patrol in Thailand meaning you can drive as fast as you want. Germany has the autobahn, but all of Thailand's highways are essentially an autobahn.
Chiang Mai to Phayao Routes
If going direct, Phayao is a 208 km (or 128 mi) roadtrip from Chiang Mai which you can easily do in one shot. We took the longer route through Lampang which added about an hour to the trip. You normally wouldn't stop at Lampang as it's completely out of the way, but my friend is a salesperson for the northern region of Thailand and she had to meet with a few clients in Lampang to pick up a few checks old-school style.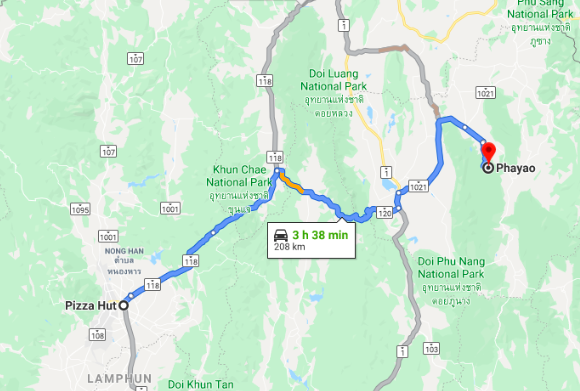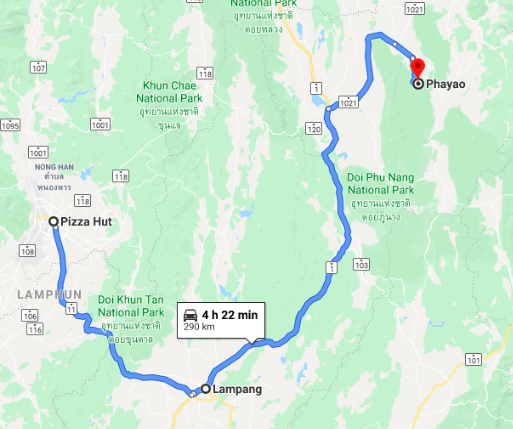 Lampang's Kala Outlet
We made a quick pitstop in Lampang for some food and coffee and we stopped at this beautiful and colorful outdoor shopping area called Kala Outlet featuring a number of highly-Instagrammable backgrounds. My dogs were welcomed into their restaurant Kala Kitchen with open arms. Our server recommended an order of chicken wings for the dogs. I suggest manually removing the meat as dogs can choke on chicken bones.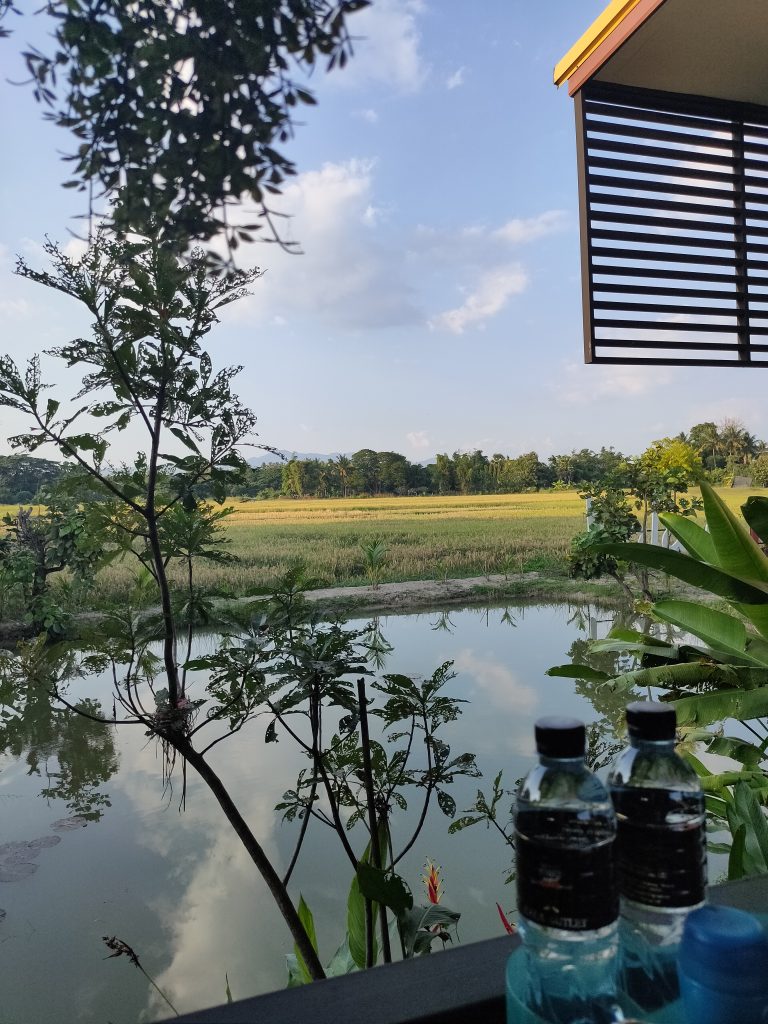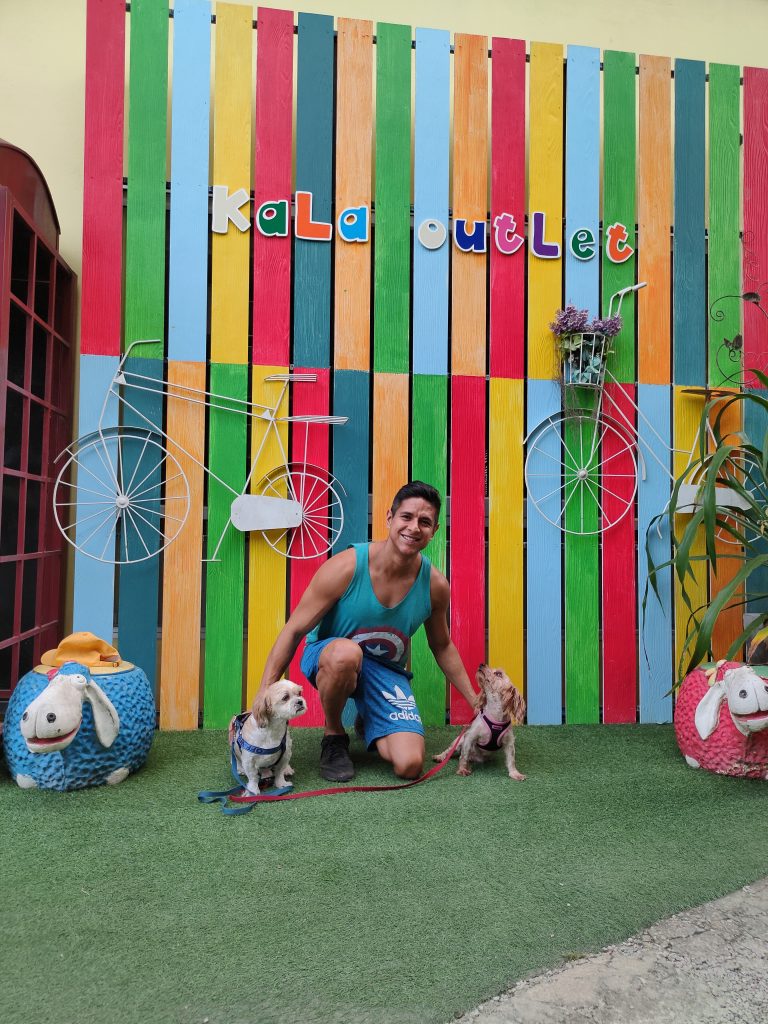 Arriving in Phayao at night
We arrived in Phayao right after sunset and the first thing we did was take a walk around the lake named … Phayao Lake (Kwan Phayao in Thai). I was warned in Chiang Mai that the north of Thailand "gets cold." Obviously, the meaning of the word "cold" is very different to a local Thai person than a New Yorker – anything below 75 degrees feels cold to a Thai person and anything above 32 degree during winter feels warm to a New Yorker. But they were right! There was a moment in Phayao where I thought to myself "I could really use a sweatshirt right now." If you're heading up north, pack some jeans and a long sleeve shirt. You'll survive in shorts and a tank top, but it's one of the few times in Thailand where you can rock some fall fashion.
I mentioned on my Instagram that Chiang Mai is beautiful in November during Loy Krathong as the entire city is decked out in colorful lanterns. It looks like Phayao keeps their lanterns up all year round as I saw walls of lights surrounding the lakes. Great opportunity to take a minute and flex.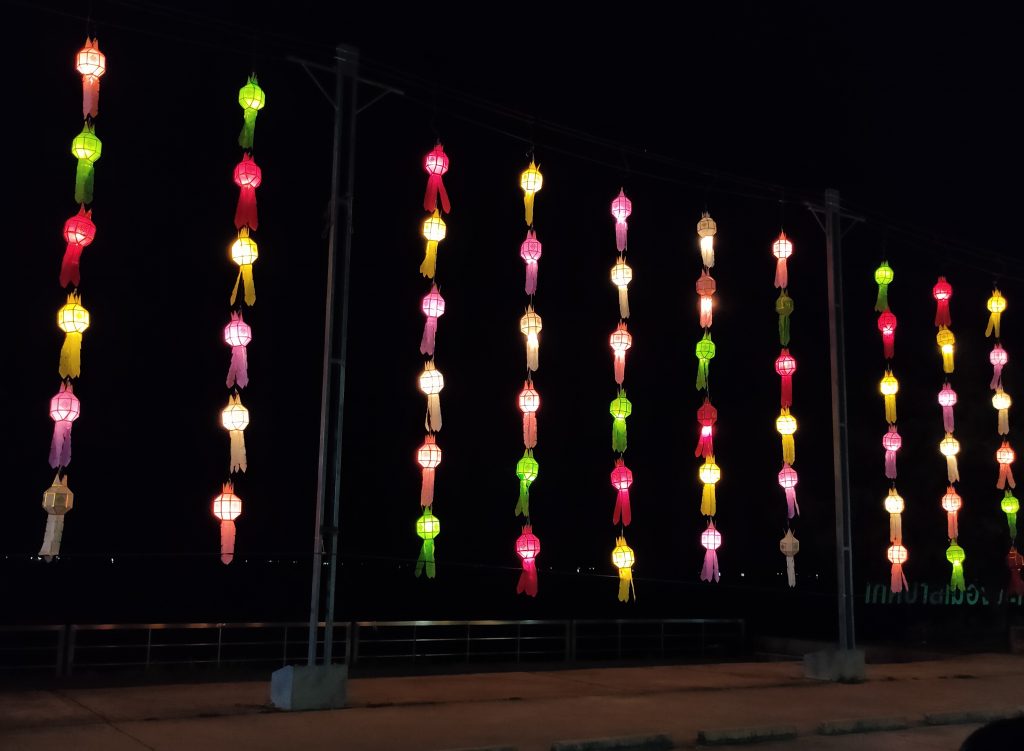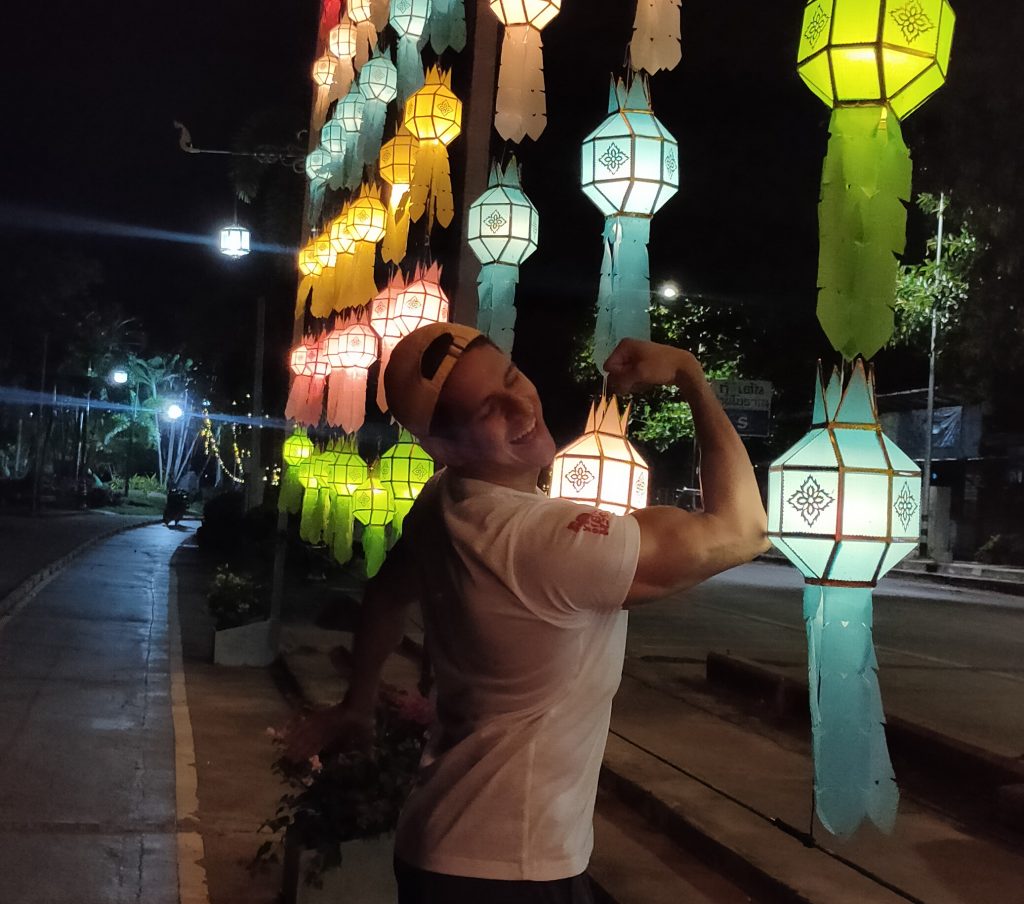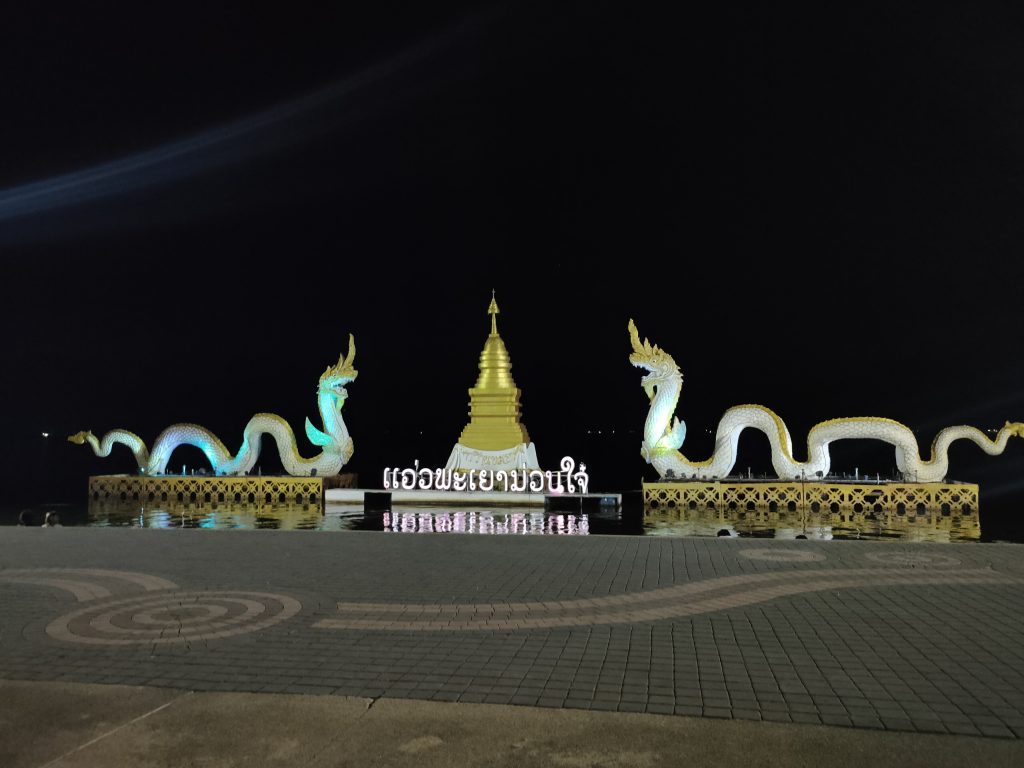 Dinner in Phayao at Chidlom Phayao
There are a lot of outdoor restaurants in Phayao which means a lot of dog-friendly places to eat with your best friend(s). Great news for Raindrop and Flex! We chose Chidlom Phayao, a beautiful restaurant overlooking the lake. My only regret is that we didn't arrive earlier to catch a gorgeous sunset. I pulled this image from their Facebook page.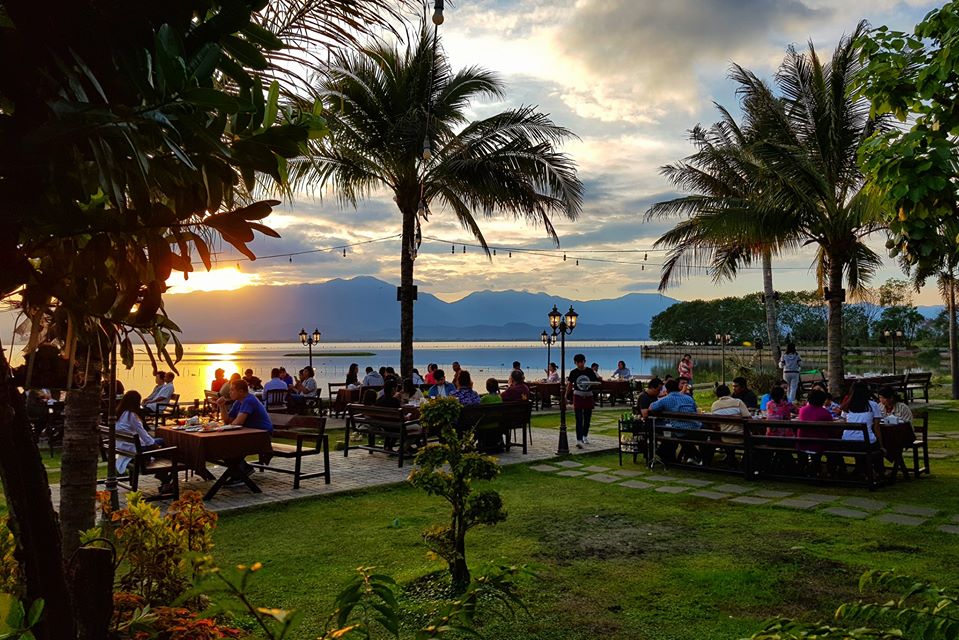 There are a lot of cute and colorful places in the restaurant to take pictures, including this pedicab rickshaw parked up front. Flex is like "what are we doing daddy?"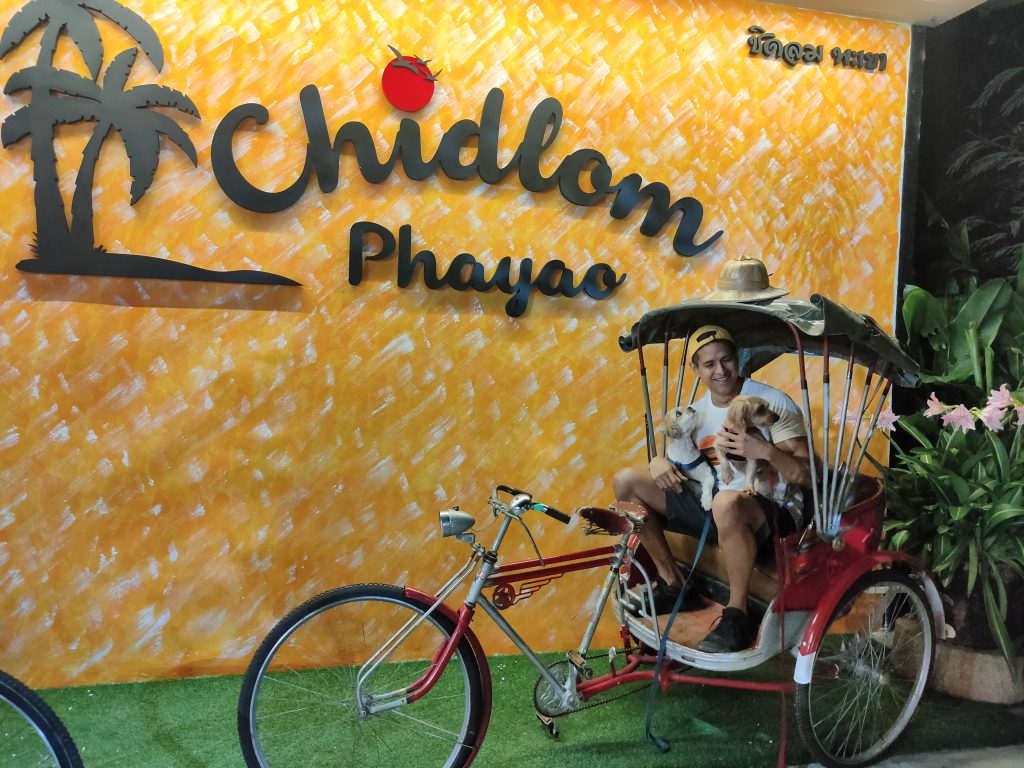 When we arrived there was a live musician singing the latest Thai hits. His voice was so smooth and tender that it sounded like butter.
The entire staff (shoutout to my server Giff!) welcomed my dogs with open arms and also suggested chicken wings as an entree for the dogs.
The menu was expansive with an emphasis on seafood dishes. We got raw shrimp with spicy sauce, shrimp cakes, crab curry, salmon sashimi and of course more chicken wings for my dogs. We paired this with a mango smoothie, iced coffees and a cookie and cream cake for dessert. This restaurant was on the pricier side (for Thailand) as you're paying for the ambiance and the view. The total bill was 1,650 baht ($55 USD) but remember – we had 4 entrees, 3 drinks and dessert. You can quickly see how my definition of "expensive" has changed. In New York City, a $55 dinner bill at an outdoor restaurant with a gorgeous view, live music and delicious seafood would seem too good to be true. And that would be correct – that is too good to be true and does not exist in New York City.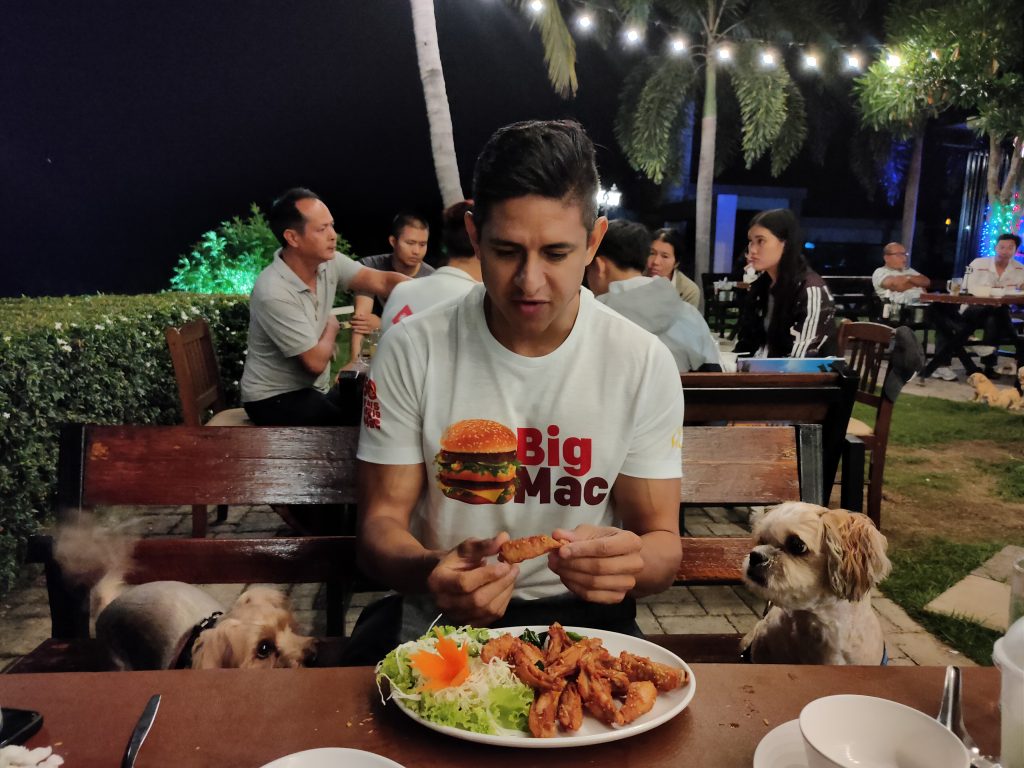 Where to stay in Phayao with your dogs
Staying at the nicer or brand name hotels in Thailand is generally out of the question as most of them are not pet-friendly. However, I kind of like this as you're forced to support local boutique hotels which are typically family run. I would rather put money directly into the pocket of hard-working local Thai people than feed the Hilton family.
We found this homestay a few kilometers from Phayao Lake called Baan Suan Jindarak. In case the spelling is wrong, here's the Booking.com link. We paid 500 baht ($15 USD) per night for what is essentially your own private home. What an amazing deal! This hotel is family-owned and the hotel is essentially a guesthouse that they built on-property. Respect the hustle!
The other rooms are 350 baht ($11 USD) a night making this an ideal place for those on a budget. I would recommend staying in the larger accommodation below for couples or families.
And the best part? They didn't charge me any extra for my dogs making this hotel extremely dog-friendly.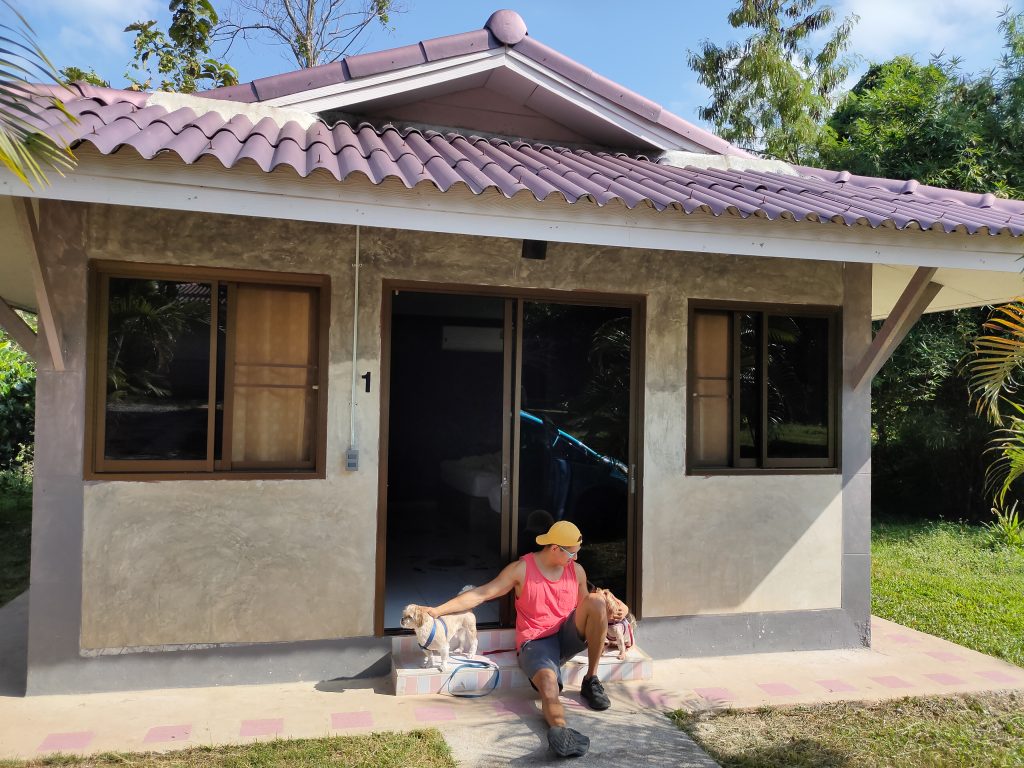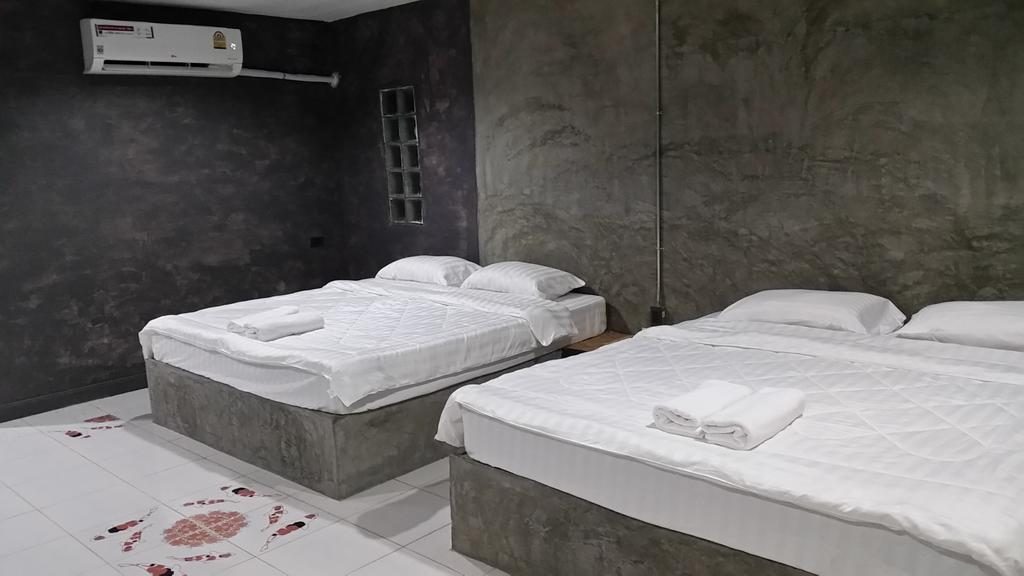 Phayao Lake during the daytime
After waking up I wanted to explore Phayao Lake during the daytime. It was just as peaceful during the day as it was at night – only a handful of people relaxing and chilling by the lake. For those of you who like fishing, they have fishing rods available along the lake. Also, I read online that motorboats are not allowed on the lake as they want to keep it free from pollution. Smart move Phayao!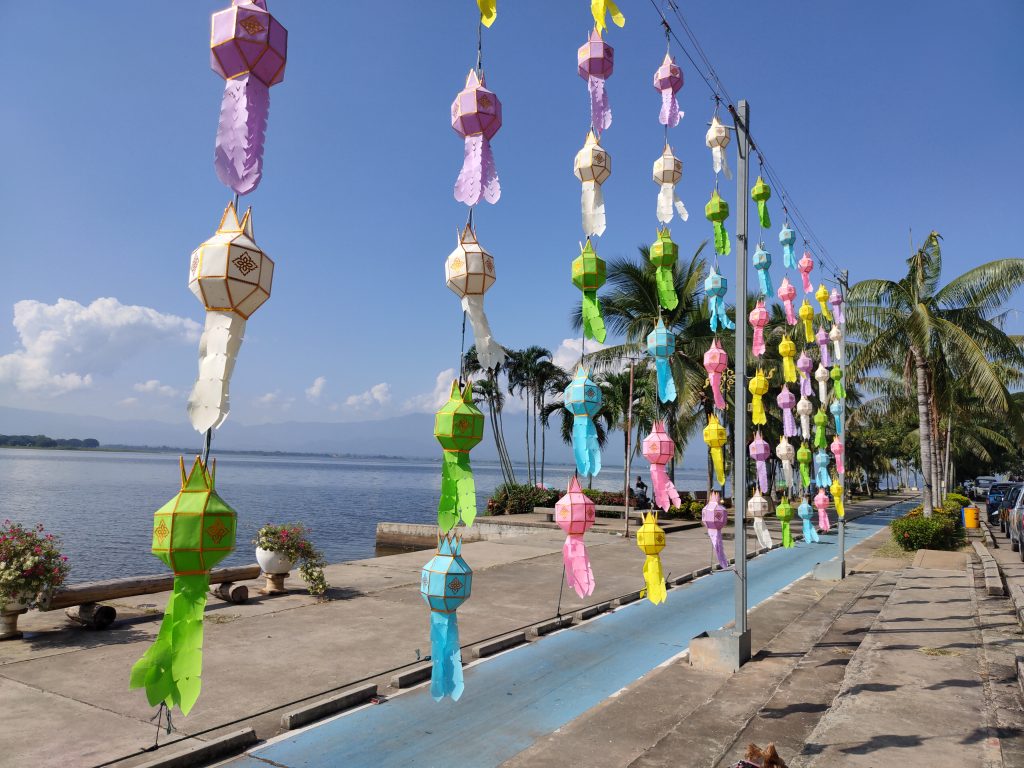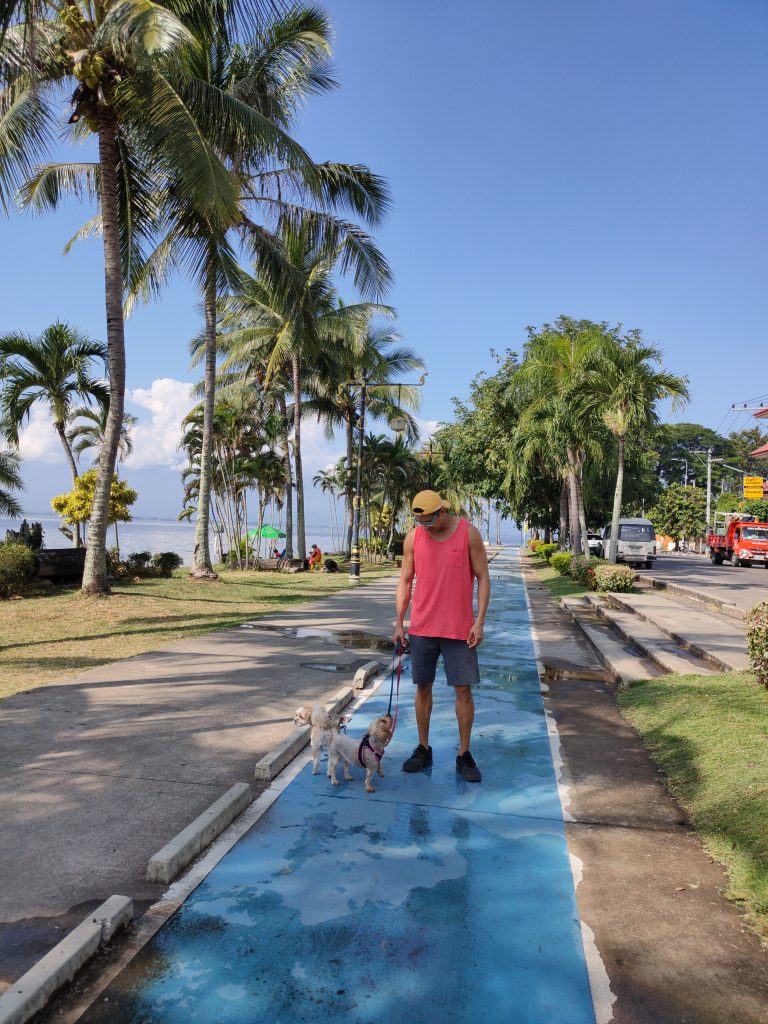 Breakfast in Phayao at Cupcake Cafe
If the name Cupcake Cafe isn't cute enough, wait until you see their outdoor garden. As seemed to be the theme in Phayao, this little cafe by the lake was very Instagrammable. I of course ordered my new favorite drink – mango smoothie with yogurt – and by far my favorite Thai dish pad kra pow gai (holy basil chicken) which I eat at least once a day. It came with watermelon slices which was perfect because that's one of Flex's favorite foods.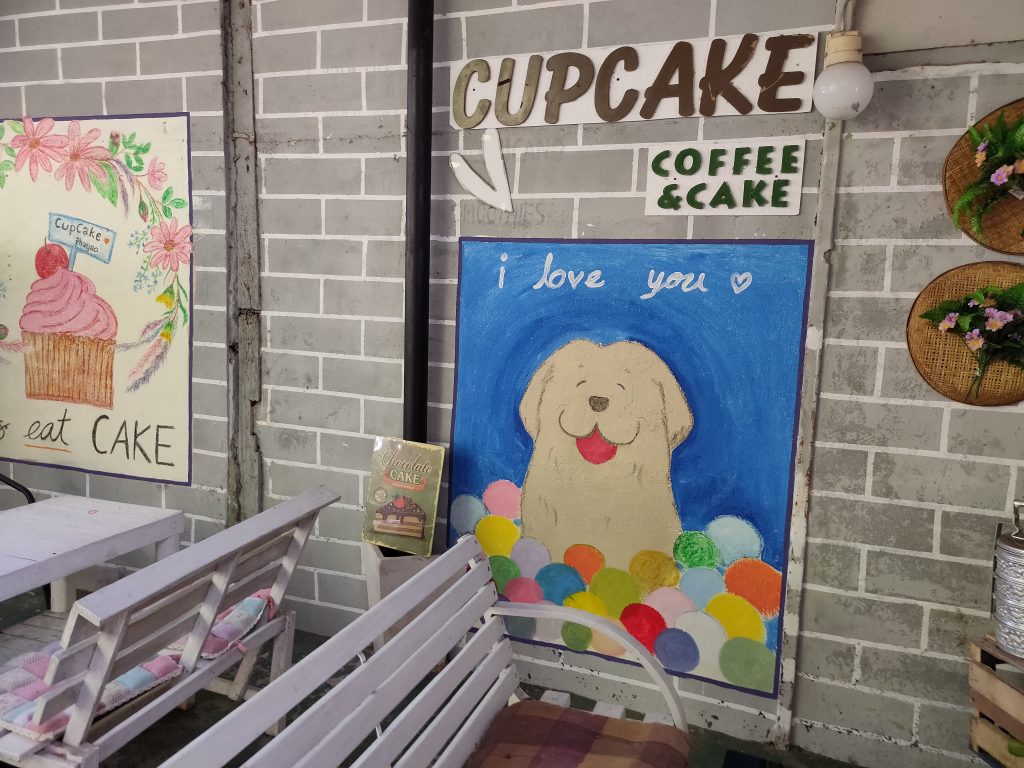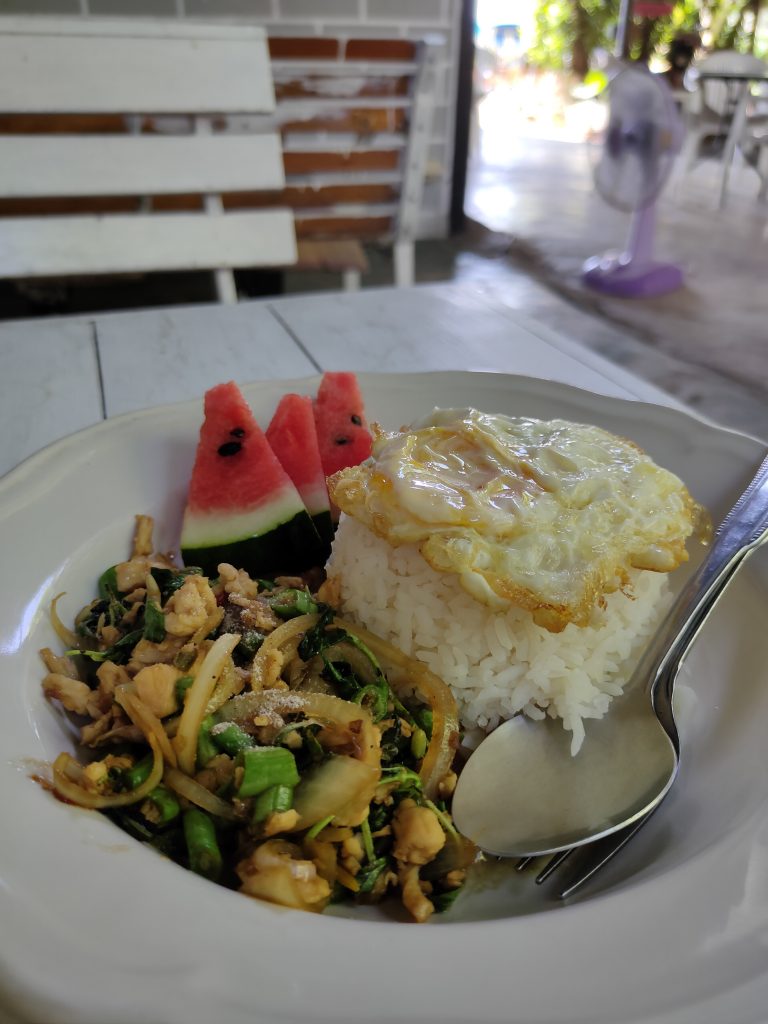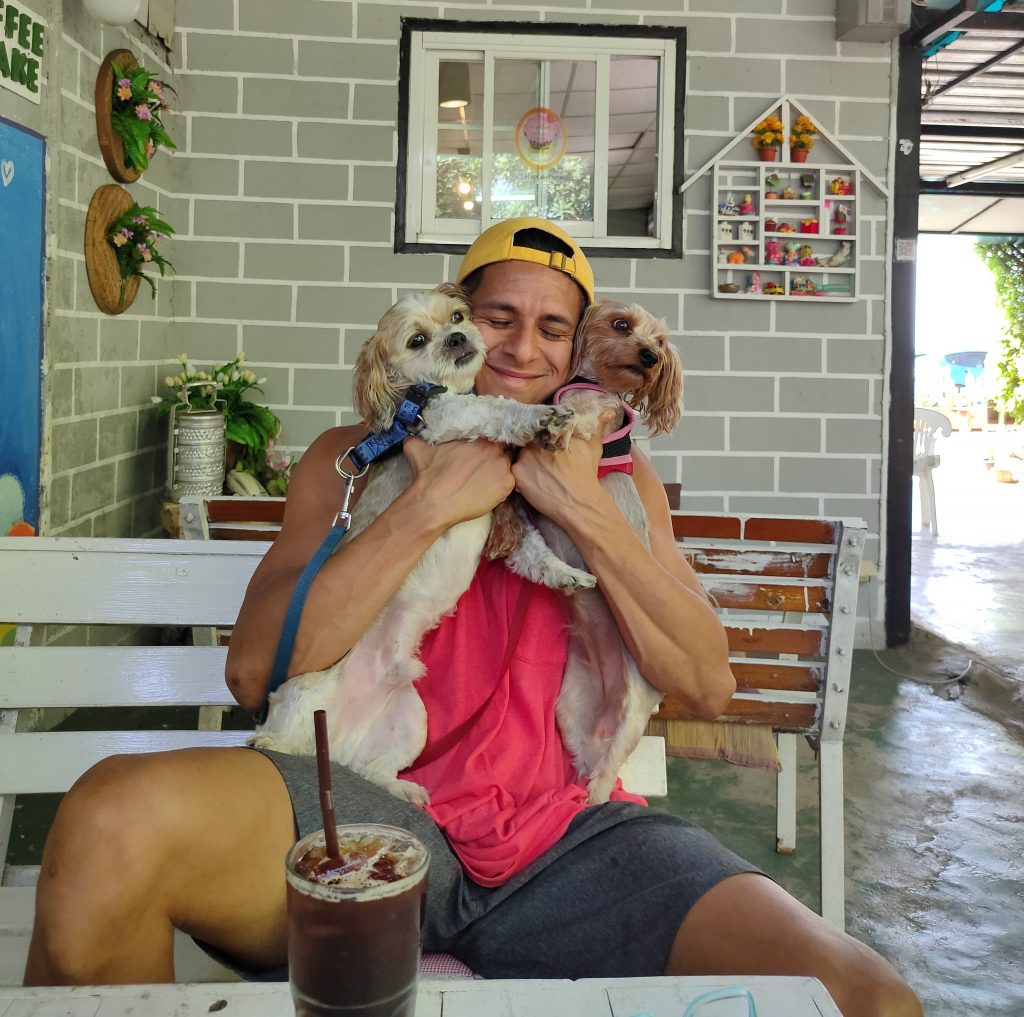 And for those of you who want to take a step back in time, there's a fully operational telephone booth right outside Cupcake Cafe. Hold on – that's my future calling and they're saying that it's very bright.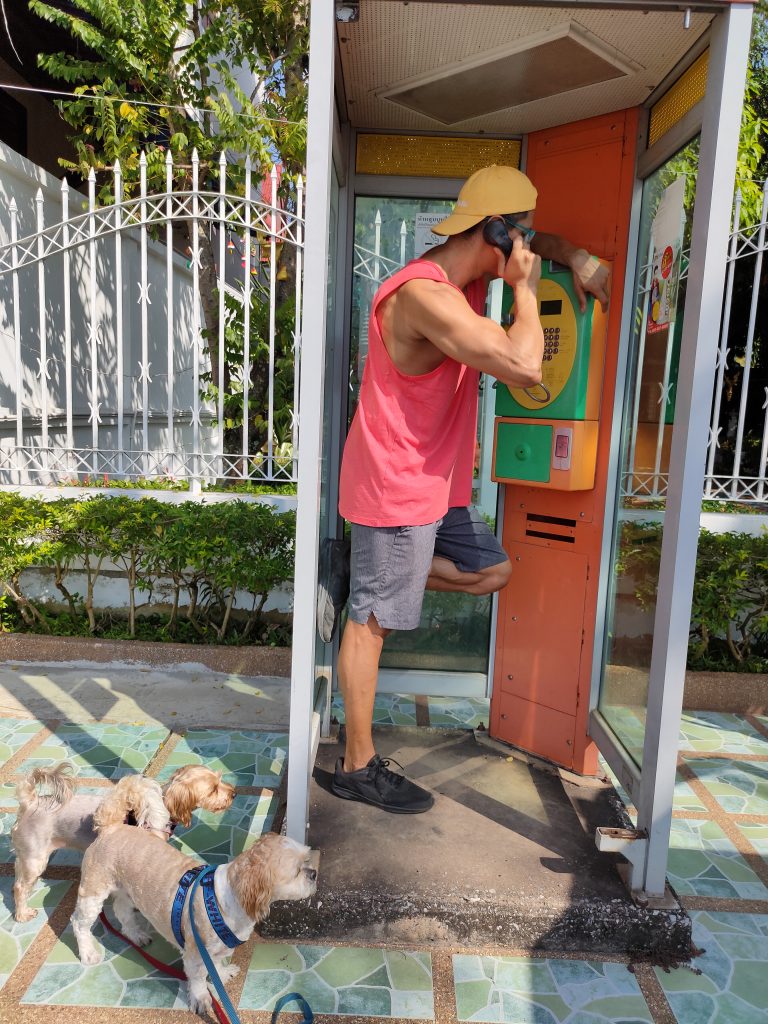 Final thoughts
Phayao is a very dog-friendly city in Thailand for the following reasons:
The weather is very pleasant. It's much cooler up north (especially at night) and you'll get a nice breeze from the lake. It's still hot during the day, but it's not as brutal as down south.
The lake is a wonderful place to take your dog for a walk.
Many restaurants have outdoor areas that are dog-friendly.
Everybody we met loved my dogs.
There are a ton of places to take pics for your Instagram
As a New Yorker, Phayao might be a bit too calm for me to live in, but I would love to spend more time here exploring the restaurants and cafes and maybe even renting a boat and spending a few hours on the lake drinking some Sang Som.
BONUS VLOG!
***
Have you been to Phayao with your dogs before?
Leave a comment or you can e-mail me adam@befreemysheeple.com. If you enjoyed reading/watching this, you can follow me on Instagram, @adamfrancisco & @befreemysheeple.
Be Free My Sheeple