New York City – the "Capital of the World." As a native New Yorker, I know how challenging it is to find a NYC rental apartment you like in a location you like, furnish that apartment (either through Amazon or the Ikea in Red Hook), find a roommate (if you want one), & of course be able to afford those insane broker fees (which can sometimes hit 5 figures!). Well that's before Roomors!
Roomors is an all-inclusive housing community for young professionals in NYC.
I was invited to stay at a Roomors apartment from 6/19-6/30 and I was truly impressed. If I was a young professional looking to live in New York City, this would be the first resource I would consider. Now let's talk about their 9 main selling points.
Fully Furnished
Yep, my apartment was absolutely stunning. It was very clear that an interior designer was responsible for the look of the apartment from the bedding, to the carpet, to the throw pillows on the couch. My favorite fruit is the pineapple (which is what I kind of modeled my hairstyle after) so it was a wonderful coincidence that the poster above my bed was a pineapple.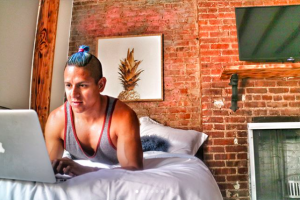 Community Events
Another aspect of Roomors is that they host events for their community. I was invited to host a fitness class in Central Park which was such a fun experience! Since we didn't have access to gym equipment (which was very refreshing), I modeled my class after some of the Anabolic Aliens 5-minute bodyweight workout routines.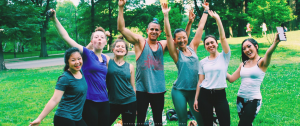 Flexible Lease Terms
Roomors leases can be as short as 3 months or as long as 1 year (with the option to renew). As you know, I am very strategic when it comes to what I make commitments to (my dogs, my health & traveling) so having a minimum 3-month commitment makes Roomors convenient for things like internships or a season in NYC.
Affordable
If you've moved into a NYC apartment before you know how insane those broker fees get. With Roomors, there are no fees. The monthly price you pay includes everything. It's a truly plug & play solution.
Free WiFi
Life without WiFi is not life. Roomors has WiFi. #blessed
Housekeeping
Roomors will hire a housekeeper to clean your apartment once a month. This is such an incredible amenity. If you live in a shared apartment, they'll clean your common areas. If you live in a studio, they'll clean the entire thing. Even you lazy people who are so lazy that you forget to hire a cleaning person won't have to worry about that because Roomors will take care of it for you.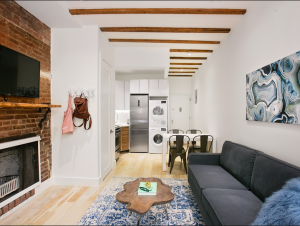 Utilities
All utility bills are included in your monthly rent to Roomors. I can't tell you how much peace of mind this provides. Water, gas, electric…no more bills.
Kitchenware
My kitchen was all set up for me to cook up a nice meal. Awesome Cuisinart kitchenware and a modern microwave, refrigerator & stove. You can order & cook all the HelloFresh you want.
Amenities
Roomors kills it here too. My apartment came with an in-unit washer & dryer. When I used to live in NYC I would have to use a delivery service to ship my clothes out and have it delivered (wash & fold). It was such a blessing to be able to do it from the comfort of my home. Brand new appliances too.
Speaking of cleanliness, their shower was hotel-quality. Newly renovated, I had a beautiful shower that made me feel like I was on vacation (like living in Los Angeles).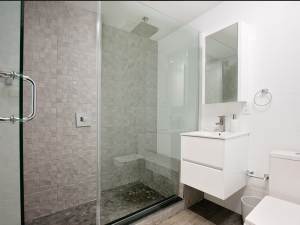 Marvel's Luke Cage debuted while I was in NYC so I was so excited when my Roomors apartment came pre-equipped with a a flatscreen HDTV including Roku & Netflix. Sweet Christmas.
Summary
Overall, I give RoomorsLiving 5/5 stars & highly recommend this NYC apartment service that fulfills a need for young professionals.
If you have any questions, you can contact me at adam@befreemysheeple.com.
And remember, always Be Free My Sheeple.