The 5 Best Tacos In The World
This article is sponsored by the best tequila from Los Cabos, Cabo Unico.
In the last 2 years I've visited 20 countries across Europe, Asia, The Americas & the Caribbean. As a Mexican-American, one of my favorite foods is tacos (it must be in my DNA) and one of my favorite days of the week is Taco Tuesday. I'm also a huge fan of tequila (skinny margaritas FTW) so whenever I travel, I always look for tacos, even if I'm in Asia or Europe. I'm addicted to you taco.
As you'd expect from a top 5 taco list, 3 of the restaurants are in Mexico and 1 is in California. The 5th restaurant will surprise you but you'll have to scroll down and find out what it is!
The Qualifications
The tacos on this list are NOT your standard tacos. In order to be a part of this list, the taco has to be unique, using an innovative recipe and ingredients you typically do not expect to see in a taco. I am also not considering the ambiance of the restaurant. This is just a straight up "best tacos I've ever had" list. So if you're looking for your standard chicken taco in a flour shell, you won't find it here.
La Lupita Taco & Mezcal – San Jose Del Cabo, Mexico
Do you know when the food is so good, that you just have to keep eating even after you're full? That's La Lupita.
I discovered this restaurant during my last trip to Cabo. I hopped in a taxi and asked the driver where to get dinner. He asked if I liked tacos and without hesitation I said "YES" and he said "La Lupita." The restaurant is on a quiet street a few blocks away from Plaza Del Centro with a very unassuming exterior. The interior however, is incredible.
I was taken by the host to the back of the restaurant which is an outdoor seating area. It has a full mezcal bar and a bright pink elevated stage with live music. Even though I am not considering ambiance as a factor in this article, this spot nailed it. Super fun, colorful & rustic atmosphere. The customer service is top notch. The live bands were amazing. They even did a few of Aretha Franklin's songs in her memory.
Onto the food.
The menu is intimidating! It's categorized by protein (beef, pork, lamb, seafood, etc.). It's one of those menus that looks so good you want to try everything. I recommend visiting this restaurant at the start of your trip to Cabo so you can come back a few more times and get the full experience. I asked the owner David Camhi (who happened to be sitting next to me) what his favorite tacos were (which is kinda cheating but if anyone would know what to order, it's him). My absolute favorites were:
Mexican Flank Steak – OMG this marinade was … I don't even have words for it. I'm not even a steak eater and I had 3 of these. The steak was like butter.
Baja Scallops – Scallops in tacos??? Who knew!!! I ordered 3 of these too. Cooked perfectly with a crispy, battered outside.
Pork Belly – It melted in my mouth. And you guessed it : 3 of these.
Respect to Chef Galindo!
After we ate, David was kind enough to give me a history of mezcal.
The good news for everyone is that they're opening more La Lupitas in the near future, including in the US, so you won't have to come to Mexico to experience this game-changing taco experience, but until then, you should come down to Mexico to experience the original.
Cabo Azul's Flor de Noche – San Jose Del Cabo, Mexico
Flor de Noche is the restaurant within Diamond Resort's Cabo property Cabo Azul. Not only is Flor de Noche an upscale restaurant, but it's attached to a swim-up bar that I've been coming to since 2012. There's nothing like crushing 2 for 1 margaritas while never having to leave the pool. You can get buzzed and tan at the same time. Plus, you'll make a ton of friends at this bar as everyone there is having a good time. One older gentleman next to me was drinking tequila out of a champagne glass until his wife said "stop drinking tequila out of a champagne glass or you'll go to the dark side." He looked at me and said "she's right." LOL.
Onto their taco.
The only negative about their best taco is that it's only available during the lunch menu, so if you want it for dinner, you're out of luck. But now that I think about it, we should all be grateful that this taco is even available at all. If it was only available for a 15 minute window, I would time my entire vacation around those 15 minutes.
Shrimp Diablo – This taco is loaded with shrimp, tomatoes, onions, with a generous layer of melted, crispy cheese within the inside of the shell, paired with some of the hottest hot sauce you'll ever taste (there's a milder version for those who can't handle the heat). This was my lunch every day. Are they the healthiest? Probably not. But they are definitely healthy for your soul.
If you're looking for a beautiful resort in Cabo, check out Cabo Azul. The bonus is that you can get 1 of the best tacos in the world. Everyone that has tasted this taco per my suggestion also agreed.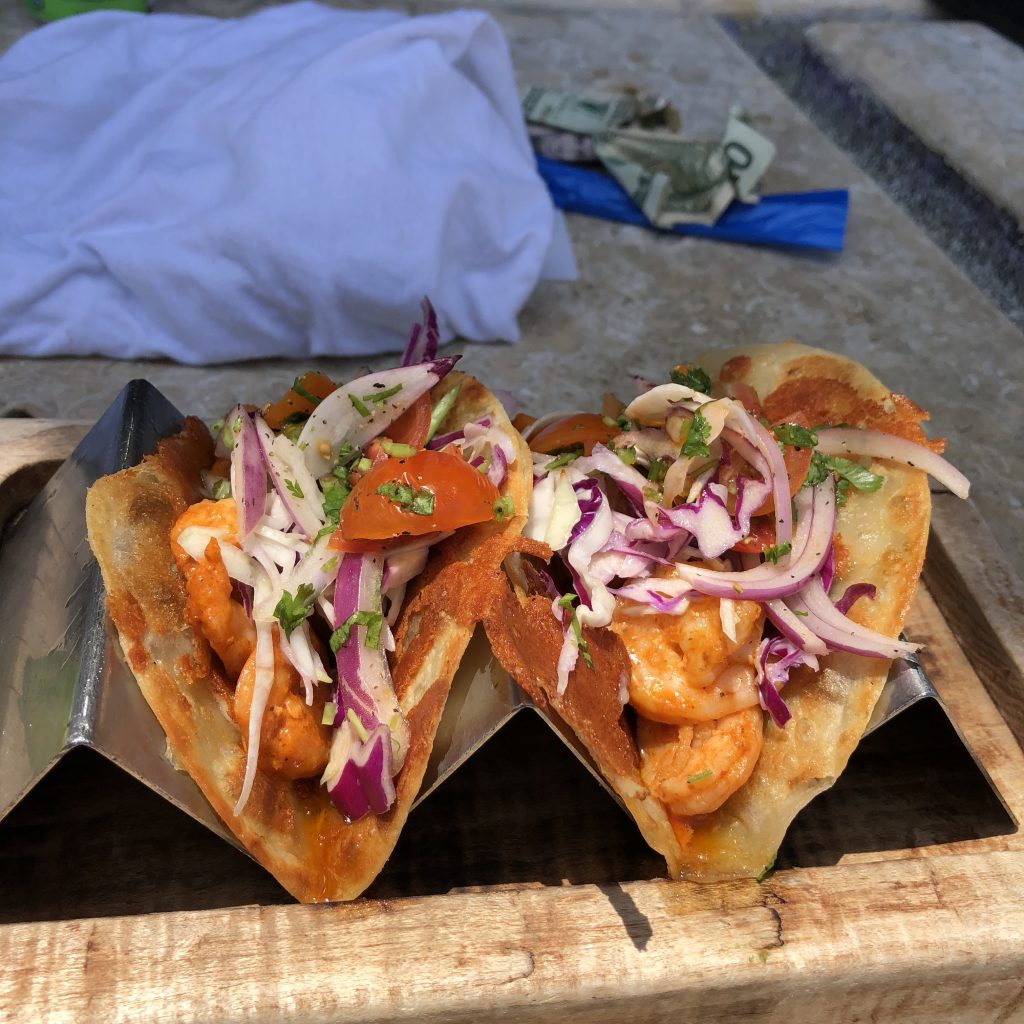 Acua Bar Y Mar – Rosarito, Mexico
Rosarito is less than a 30 minute drive from Tijuana. It's an adorable little beach city with a raging summertime nightlife scene from the famous club Papas y Beer to the 24-hour bar & restaurant, Acua Bar Y Mar.
Don't let the Yelp ratings fool you. Yelp reviewers take all factors into account but I am only focused on the quality of the specific taco and the taco that I had here was proudly suggested by the owner. As he handed me the taco, he stepped back and watched me like a proud father, waiting with anticipation for my reaction. My reaction? Speechless.
Marlin Taco with Pesto Sauce – First, I never tried a marlin taco before, but when you slather it in a delicious, creamy, pesto sauce, it will force you to open up your mind and expand your horizons.
I was so mind-boggled that I forgot to take a picture of my taco (bad food blogger bad!) but I was able to take a screenshot from a video of me eating the taco. Afterwards I said "this is one of the best tacos I've ever had." And that's why it's on the list.
Blue Plate Taco – Santa Monica, California
I put my money where my mouth is on this one. In the last 3 years that I've been living in LA, I've gone to Blue Plate Taco in Santa Monica at least once a month. Not only are the food and drinks absolutely delicious, but it's right on the beach so you get a view of the ocean & the sunsets and it's a few blocks from one of the greatest shopping areas in the world, Santa Monica's Third Street Promenade.
The one thing I love about LA is that fitness & health is a huge part of the lifestyle because when it's always summertime, you need to always keep your body beach-ready. It's very easy to find healthy food options no mater where you are on the west side. Restaurants that don't cater to a healthier crowd (or at least have healthier options), do not last long on the west side. This goes for Mexican restaurants too.
If you want to keep your meal lean, Blue Plate Taco's got your back. You can order tacos a la carte and put them in lettuce shells (which they call flacco tacos, meaning "skinny" in Spanish).
The 4 tacos below have been my go-to combination for 3 years. If you're feeling adventurous, ask for a side of the green hot sauce (habanero). The first time I tried it, I didn't believe the waiter when he said to be careful. After all, I'm Mexican, I can handle it right? WRONG. My mouth was on FIRE for 30 minutes. Yo soy en fuego! Papi caliente!
Flacco Tacos (your choice) – Like life, I prefer diversity so I always ordered a shrimp, a lobster, baja fish & a pork belly taco. Each one comes topped with a different sauce meant to complement the meat. The best part is, it's completely guilt-free. Zero carbs. #winning
Also, if you like ginger ale, they have homemade ginger beer which is basically a stronger-tasting version of ginger ale (but it doesn't have any alcohol). If you're THIRSTY thirsty, I recommend a pitcher of the red sangria. You will leave feeling quite lovely!
Taco NGON – Da Nang, Vietnam
Surprise! Didn't expect to see Vietnam here, did you??? I didn't either. I found this restaurant when I visited Da Nang in 2017. I hopped on TripAdvisor's "Cheap Eats" section and was surprised to see a taco place as #1! You can imagine my excitement.
Getting to eat these tacos was quite an adventure, so I want to share some advice before you go.
First, it's kinda hard to find Taco NGON. If you don't have a sim card with access to a map, good luck. It's basically the only restaurant within a residential area. After a bit of trial and error, I finally found it. The logo is like a dragon/crocodile/lizard. I didn't really understand it until I sat down in the open-aired restaurant and saw actual tiny, real life lizards hanging out around the walls. Remember – you're in a beach town that has a lot of humidity. Sometimes you gotta put up with a few lizards while you eat.
Also, this place doesn't accept credit cards. A good rule of thumb when you're visiting Southeast Asia is to always have cash on you. If you're a tourist, I recommend keeping some money in your shoes, and some in your pants, just to be safe.
If you don't have cash, you'll have to walk 10 minutes to the main street and try different ATM machines until you find one that works. So just make sure you always have cash with you in Southeast Asia and you'll be fine (unless you're in a major city as there are ATMs everywhere).
Onto the food.
One of the best parts about Southeast Asia is how cheap everything is as a tourist and the food is a highlight. These tacos were 35k dong (about $1.50 USD), so for less than $5, you could get 3 reasonably-sized tacos. If you want to sit down and eat with the lizards, you can get tequila shots for 25k dong, or a beer for 15k dong. In US terms that's $1 tequila shots, $.60 beers…and it's not even happy hour (actually, these prices would make any hour happy)!!! It's incredible what $10 USD can get you on this side of the world and a big reason why I'm moving to Thailand in 2 weeks. Your money can last a very long time here.
The tacos I recommend are :
ALL OF THEM – Their menu is small but as some people say, "fewer, bigger, better" or "focus on fewer things and do them really well." Both apply here. You pick your protein and then add whatever sauce you want. They recommend specific pairings such as pork + wasabi coleslaw, fish + ginger lime & chicken+ tamarind BBQ sauce but if it was up to me, I would put that tamarind BBQ sauce on everything. I want it for breakfast, I want it for lunch, I want it for dinner. I asked if I could buy a bottle to bring back to the US and the answer was a firm no. This is one of their secret recipes and I can't blame them. Guess you'll have to fly to Da Nang and try it for yourself! YOLO!
There's a reason this place is called Taco NGON. NGON means "tasty" in Vietnamese and this place more than lives up to it's name.
So, what did you think about my list? I'd love to hear if you've been to any of these restaurant and if not, what some of your favorite taco places in the world are. As a world-traveler, I am sure I'll be able to get out there in the near future to validate your claims!
If you have any questions about these restaurants, you can contact me adam@befreemysheeple.com. I know some of the owners so I can make an introduction 🙂
And as always, Be Free My Sheeple. Bah.
And check out Cabo Unico tequila below.