I wanted to put together a list of the best pet-friendly hotels in Thailand that I have stayed at in the past 6 months. If you're like me, you consider your dogs family and you want to travel the would with them in style and in comfort. I have been living exclusively out of hotels since October 1st so I have found some of the best pet-friendly hotel deals across Thailand.
This is going to be an on-going series with cities such as Hua Hin, Phuket, Chiang Mai, Koh Phangan & more being added. As I travel to Vietnam next month (and then South America towards the end of 2019), I will create pet-friendly hotel guides for each city. You can find them on my homepage under Dogs>Pet-Friendly Hotels.
Back in November when I first arrived to Thailand, I answered the question : Is Thailand Dog-Friendly? Five months later, my opinion remains that Thailand is very dog-friendly. I've had significantly more positive experiences than negatives ones. The hotels below are being listed in alphabetical order.
And if you book a hotel from this article, please support the website by using this Booking.com link which gets us both a $15 coupon!

Pet-Friendly Hotels in Thailand (Bangkok)
66 Soi Thonglor 23, Khlongtan Nuer, Watthana, Sukhumvit, Wattana, 10110 Bangkok, Thailand
Charge of 500 baht per night per pet (maximum 10 kg pet is allowed)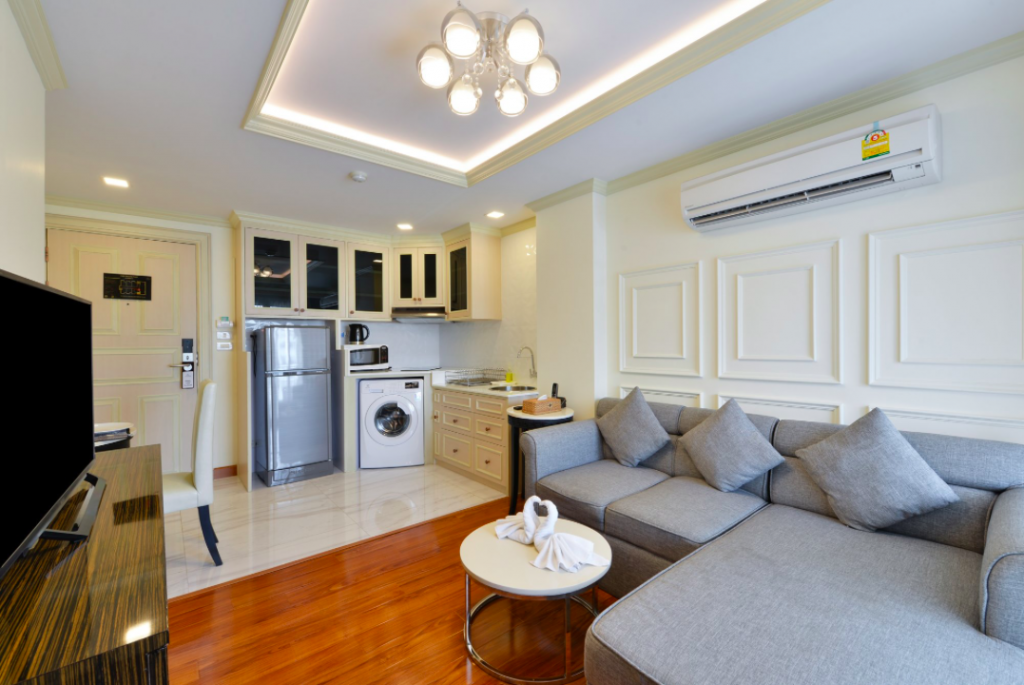 How They Describe Themselves:"Aspira Hana Residence Thong Lor is a brand new serviced apartment conveniently located in one of the city's trendiest neighborhoods for dining and night out."
Location: Aspira Hana is located in Thong Lor which is one of my favorite areas of Bangkok because it's clean and more upscale. With a large Japanese population, many of Bangkok's pet-friendly hotels and condos are located in Thong Lor making this specific neighborhood more pet-friendly (you'll find cute little pet shops). There's also many Japanese restaurants with my favorite one being Shakariki 432″ (get the "penis dessert."). You're also a short cab ride away from RCA, the club district of Bangkok. Massages, hair salons and cosmetic surgery is available all over Thong Lor. I was also excited to find a number of mixology bars. Cocktails!
Room Pros: The rooms in Aspira Hana are beautifully designed and decorated. The pet-friendly rooms are located on the 2nd floor. Each hotel room has a washing machine which is convenient because Bangkok is considered the hottest city on the planet (so you're going to sweat a lot). If you like to cook, there's a kitchenette (but why would you want to when you're in Thailand surrounded by all the eats???)! I also had a king-size bed (which at this point in my life is a mandatory). The bathrooms are very clean, spacious and modern. And the toilets have those jet-streams to leave your butt sparkling clean!
Room Cons: The rooms did not come with a drier so you have to dry your clothes the old school way by letting them air-dry on the balcony.
Hotel Pros: The hotel is very safe. There's security 24/7 as well as parking. On the rooftop is a mini-gym (treadmill, dumbbells) as well as a pool. There are no buildings obstructing the sun so you can get your tan on all day. There's also a free coffee machine in the lobby (I recommend the matcha green tea latte).
Hotel Cons: During my stay, there was a lot of construction in the area making it sometimes difficult to sleep in late. Not the biggest issue because I'm a deep sleeper but definitely something to call in advance and ask about. But then again, you're in Thailand! It's better to wake up and explore the city!
Recommended for: Those who are looking for a more sophisticated take on Bangkok.
Favorite Restaurant: My favorite restaurant in walking distance from the hotel is Somtum Der, Isan-inspired Thai food that's both cheap and delicious. This restaurant is also in New York City's East Village but the prices in Thailand are way, way cheaper.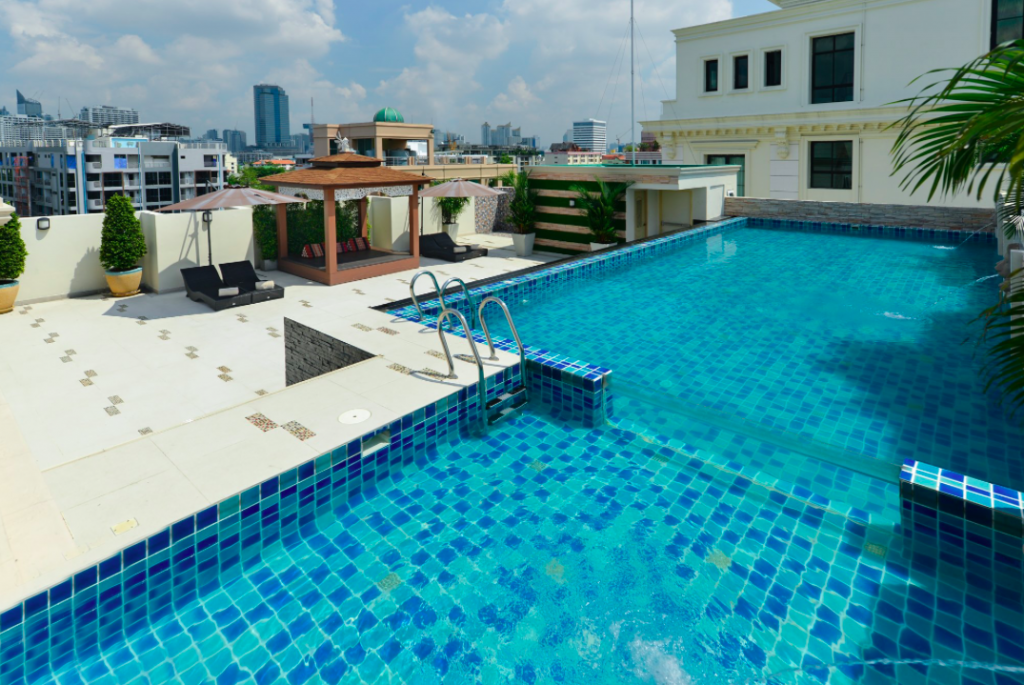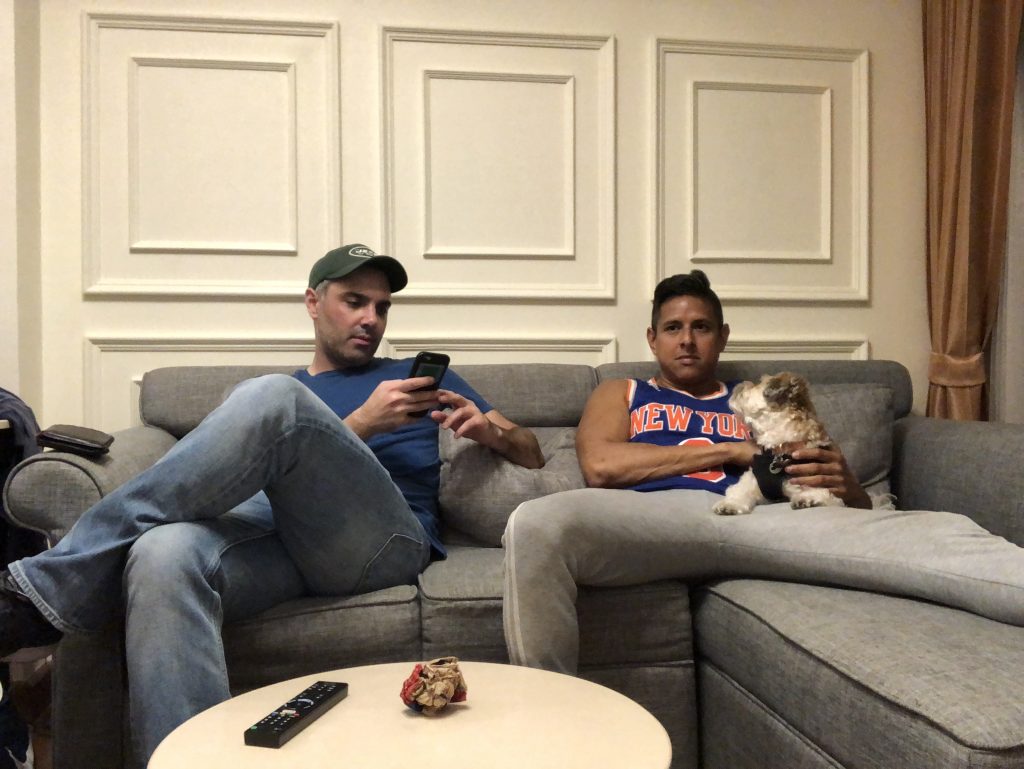 66 Sukhumvit Rd, Soi Sukhumvit 34, Klongton, Klongtoey, Khlong Toei, 10110 Bangkok, Thailand
2,000 baht security deposit for pets
How They Describe Themselves:"The hotel and residence is situated in the heart of Sukhumvit Road. The wide array of sizes allows you to choose the unit most suited to your lifestyle with cheap and chic prices."
Location: Kaze 34 is located in Khlong Toei, a few blocks from the main road Sukhumvit which has everything you want in Bangkok from cheap eats, massages, to an ultra-fancy mall (EmQuartier) as well as my favorite public park in Bangkok (Benjasiri). The park is great because it has basketball courts as well as a random assortment of dumbbells and barbells (and it's FREE).
Room Pros: I have stayed at 2 different types of rooms at The Kaze. The first room (pictured up top) is the more modern room at a slightly higher price. This room is modern, clean and colorful. Like an apartment, you'll have a bedroom, living room and dining area. It's fantastic if you need or want a lot of space. The other room was a bit outdated but still very spacious (pictured below). From what I hear, they are renovating all rooms so every room will be a winner. Also, the rooms have a washing machine (again, very important in Bangkok due to the vast amounts of sweat you will generate).
Room Cons: The only con is if you're expecting the newer rooms and you get the older one. If you're unsure, just call and ask in advance. Very helpful customer service.
Hotel Pros: The hotel is very safe. There's security 24/7 as well as parking. There's a vending machine right outside the lobby for late-night beverages (non-alcoholic). They also have tuk tuk service available between 9-7 to bring you to Sukhimvit (the main road) and back. The manager also speaks perfect English.
Hotel Cons: One thing to keep in mind is that the hotel is a bit hard to find as it's located in the middle of winding roads so taking the hotels' tuk tuk is recommended. Otherwise, it's a deceptive 15 minute walk to Sukhumvit.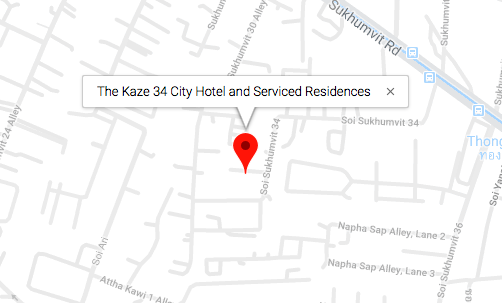 Recommended for: Those who are looking for a true apartment-style hotel at a great price in a quite neighborhood.
Favorite Restaurant: I must have eaten at Im Chan every day. It's located on the corner of Sukhimvit and Soi Ari. Fantastic food and very cheap! As an additional note, if you're married or with your wife, do not get a massage on Soi Ari as tempting as it looks as you're eating pad Thai.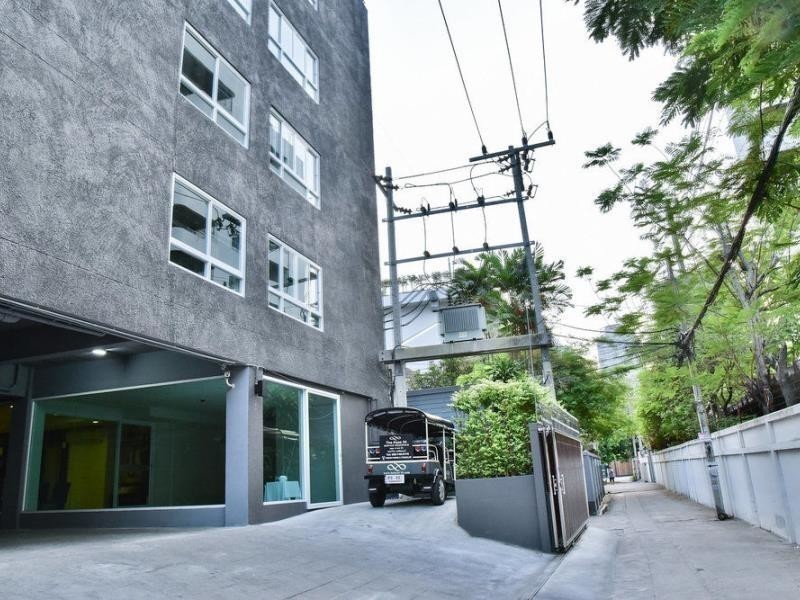 37 Thanon Samsen, Wat Sam Phraya, Phra Nakhon, 10200 Bangkok, Thailand
No pet fee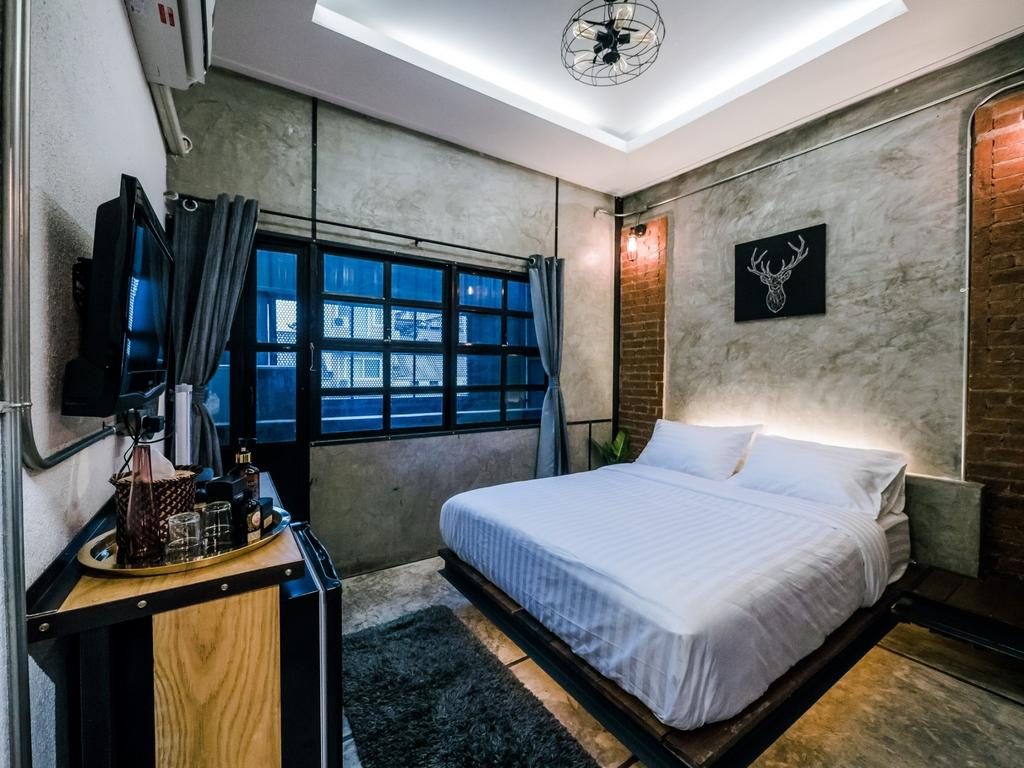 How They Describe Themselves: "Located in Bangkok and with Khao San Road reachable within a 9-minute walk, Zeds provides a terrace, non-smoking rooms, free WiFi and a shared lounge. "
Location: What makes Zeds such an ideal location is that it's close to many of Bangkok's top tourist attractions such as Chao Phraya river (lots of upscale restaurants), The Grand Palace (absolutely stunning and worth spending 2-3 hours) and the world-famous backpacker center of the universe, Khao San Road. I've already featured Khao San Road on my blog twice: (1) The Craziest Party Streets I've Been To In The World!!! (2) Celebrating a 35th Birthday in Bangkok, Thailand
Room Pros: I've seen Zeds go by 2 different names, Zeds Hostel and Zeds Innovative Guest House. I think both names are appropriate because they offer both shared rooms (the hostel experience) and single rooms (with a private bathroom). The architecture is what makes this hotel completely unique. The hotel (including the rooms) is designed from massive industrial storage containers which is certainly innovative. How cool is that? The manager also wanted to point out that they use organic products in the bathroom as they believe in sustainability (and yes, they smelled delicious…lemongrass). I stayed in both single rooms that they offer (room 301 and 302) and while they are on the smaller side, the design makes them feel quite spacious. I especially loved the romantic lighting and unique design elements featured in each room.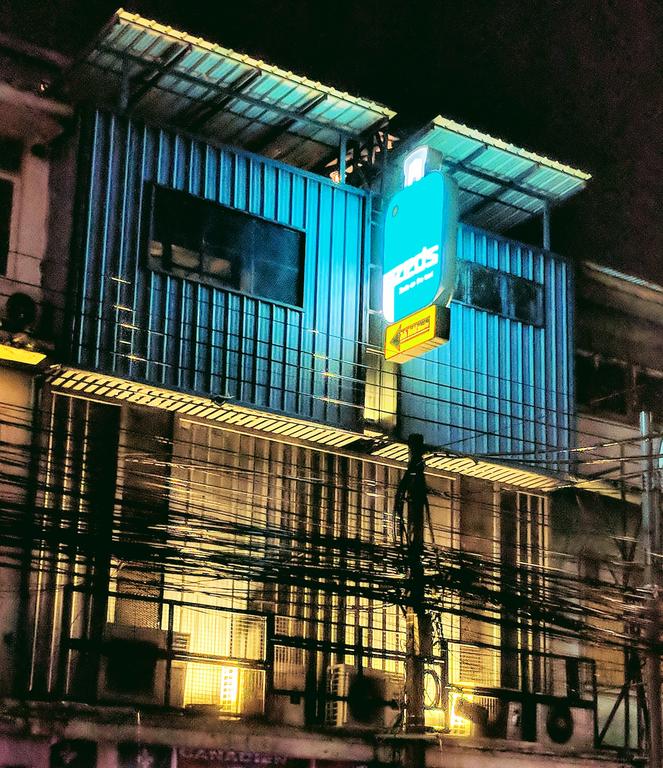 Room Cons: If you're living out of a giant suitcase like I am, then the rooms are little bit too small but chances are, you have a normal suitcase so these rooms will totally work for you.
Hotel Pros: The location here is outstanding. You're inches away from cheap eats, massages, and 7/11, the most important store in Thailand (ask a local where to get something and the answer is almost always "7/11."). There's also a rooftop with a decent view. I believe a pair of French bulldogs live on-site. So cute!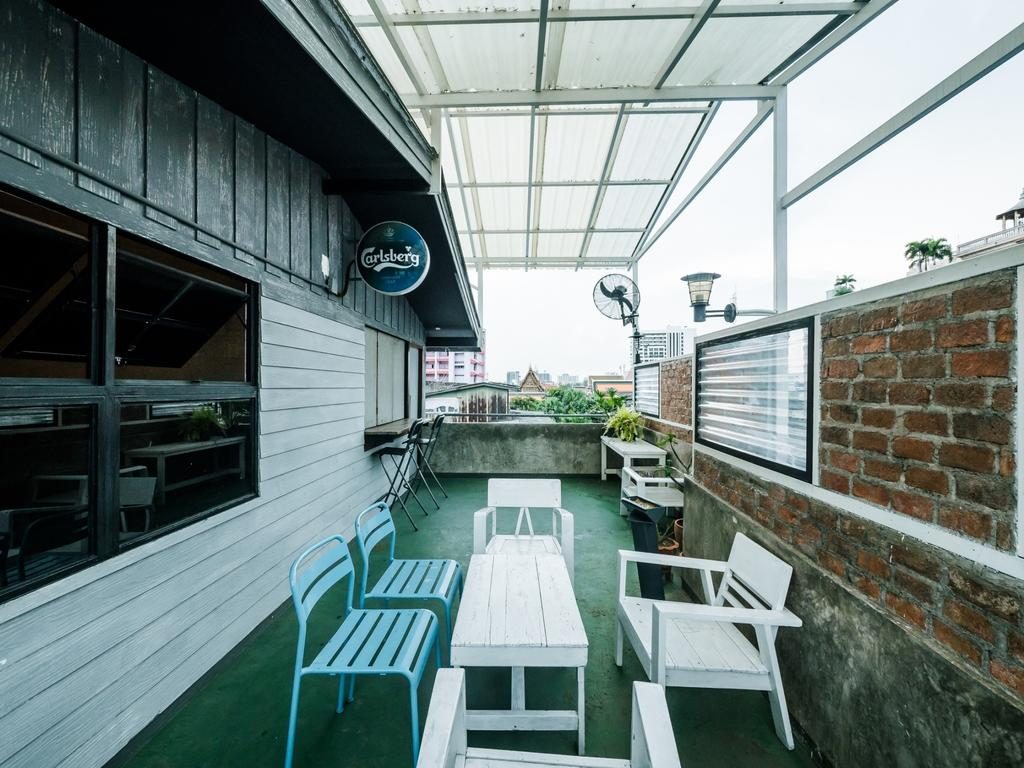 Hotel Cons: The entrance is a bit difficult to find at first as you have to go through a small alleyway and enter from the back of the building. Also, the door is a bit tight so you'll need to learn how to open both doors in order to get larger luggage pieces through. There's no elevator in this hotel so if your luggage is heavy, get ready for a workout.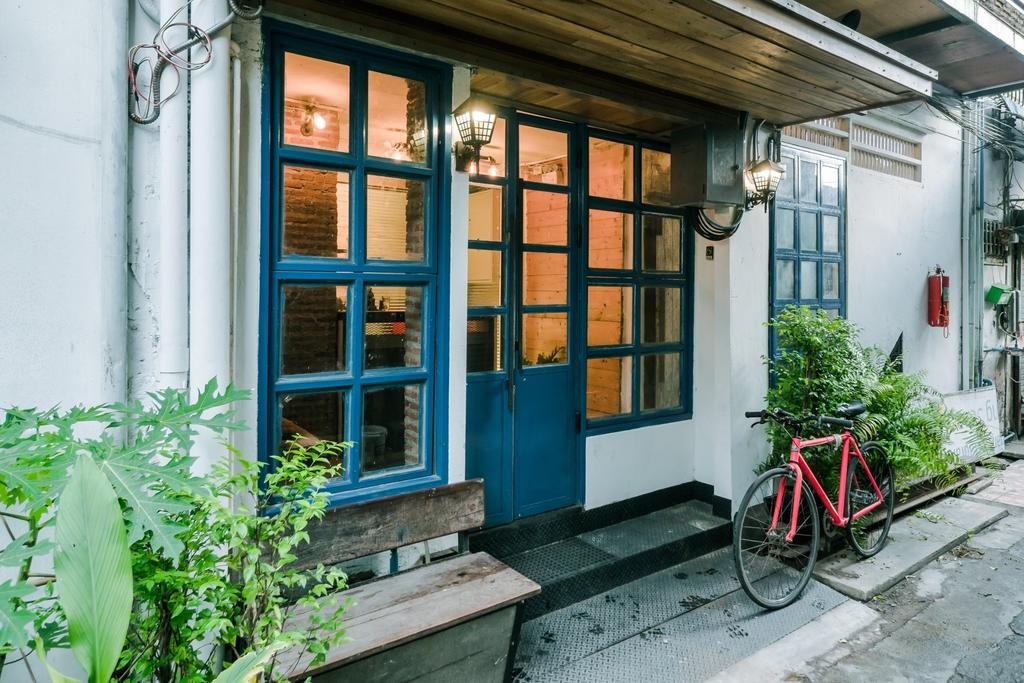 Recommended for: Those who want easy access to Khao San Road, one of the greatest party streets in the universe.
Favorite Restaurant: I would just walk to Khao San Road and eat all the delicious street food! And if you try the scorpion, send me a video of you eating it!
***
Have you stayed at a pet-friendly hotel in Bangkok that you absolutely loved? Leave a comment or you can e-mail me adam@befreemysheeple.com. If you enjoyed reading/watching this, you can follow me on Instagram, @adamfrancisco & @befreemysheeple.
Be Free My Sheeple!