I've been living in LA for almost 3 years and I never checked out the iconic Santa Monica Stairs until this week. I've always heard that running up and down the stairs (170 steps) a few times is a good workout and they weren't wrong.
First off, this neighborhood is absolutely stunning. The houses are quite expensive. I hopped on Zillow to check out the prices and you can see the prices range from $3 million USD up to $18 million USD. Yeah, that's probably not happening in my lifetime.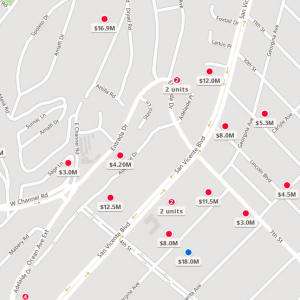 Once you get close to the stairs, you start seeing a lot of people exercising in the general area. I saw a lot of runners, a woman using resistance bands for a thigh workout, and a guy shoulder-pressing 30 pound dumbbells that he keeps in the back of his SUV (not sure why I haven't thought about throwing a few dumbbells in my trunk and basically having a mobile gym). It's a good place to workout because seeing all the people exercising can be more motivating than working out alone. However, keep in mind that you can't park on the streets after 6pm or you might get a ticket. Shout out to the fellow stair-climber who mentioned this to me at 5:57pm as I was filming my vlog. She's the real MVP.
Here's a good workout routine:
-Run up and down the stairs 10 times as fast as you can (but not too fast or your heart might explode like mine almost did)
I did 1 climb and I was sweating, out of breath and my heart rate was certainly elevated.
I'm going to hit these steps tomorrow as my diet has been a little brutal lately (including a Happy Meal from McDonald's last night).
If you live in LA or you plan on visiting anytime soon, definitely check out the Santa Monica Stairs as a tourist or to get a workout in. You won't regret it (or maybe you will). As my friends over at Anabolic Aliens say, "if it was easy, everybody would do it."
And if you liked my pants, you can get them on Amazon. Super comfortable and very affordable. Just look for SUPERBODY.