I travel everywhere with my dogs. In America, due to wider-ranging service dog laws I can bring them everywhere. But once we go international, service dog laws typically only apply to guide dogs (for the blind). That's why we are always on the lookout for dog-friendly restaurants. Huge shout to Philippine Airlines for acknowledging US service dogs!
Since Bangkok is the hottest city in the world, it was very important for me to find indoor, air-conditioned restaurants that provide my dogs relief from the heat. Dogs can't sweat or tell us when they're uncomfortable so we as owners have to make sure our fur-babies are safe!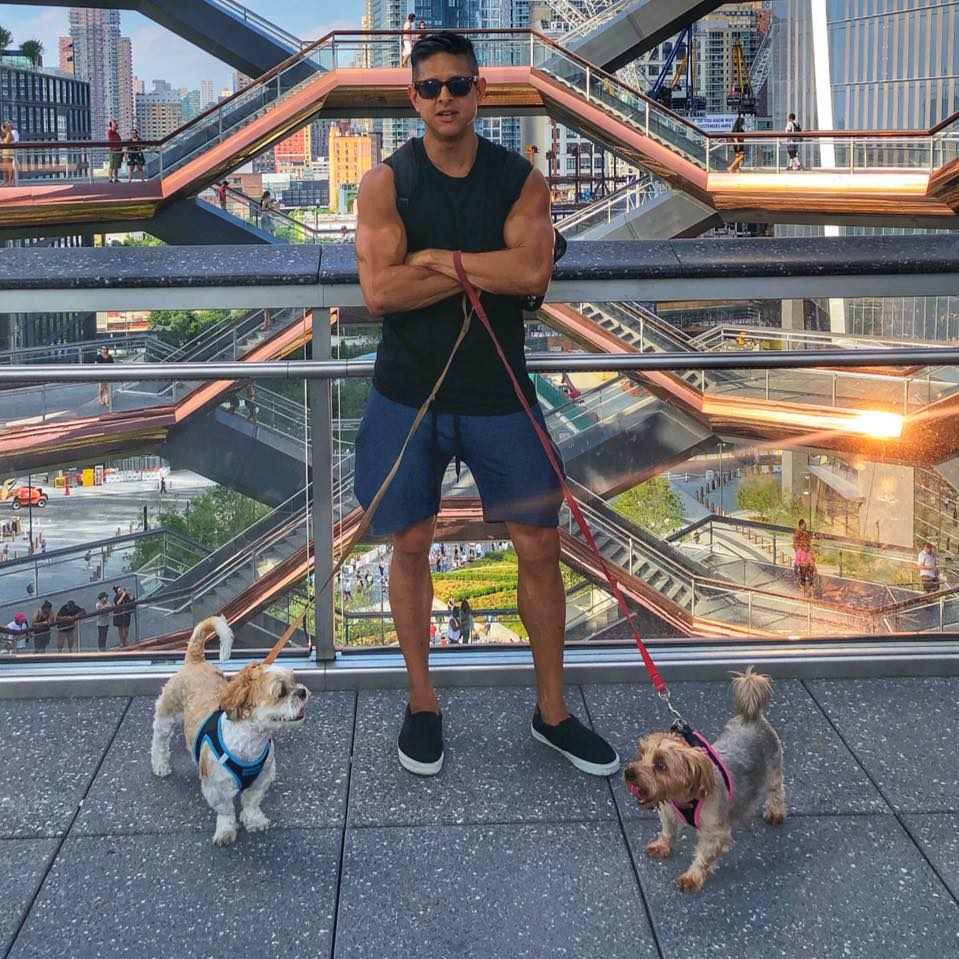 This is my 1st dog-friendly restaurant guide and I'll be covering Bangkok, Thailand.
The restaurants on this list have all been personally vetted by me (and will be updated each time I am in Bangkok)
The list is in alphabetical order and all rankings are from Facebook
Only restaurants with a 4.0+ rating on Facebook were considered
All restaurants have dog-friendly indoor seating area with air-conditioning. There are a lot of dog-friendly restaurants in Bangkok with outdoor seating but this list is meant to provide you with relief from the heat
My dogs were the only dogs when I visited reach restaurant (except for Big Dog Cafe) so I am assuming the presence of a dog will be a rare occurrence
Whether you're looking for dinner, drinks or coffee with your best friend, this list has you covered!
And if you're looking to jump ahead, here's the quick links:
And if you'd like to support this blog, you can subscribe to my Youtube and follow me and my dogs on Instagram.
Baan Dusit Thani – 4.9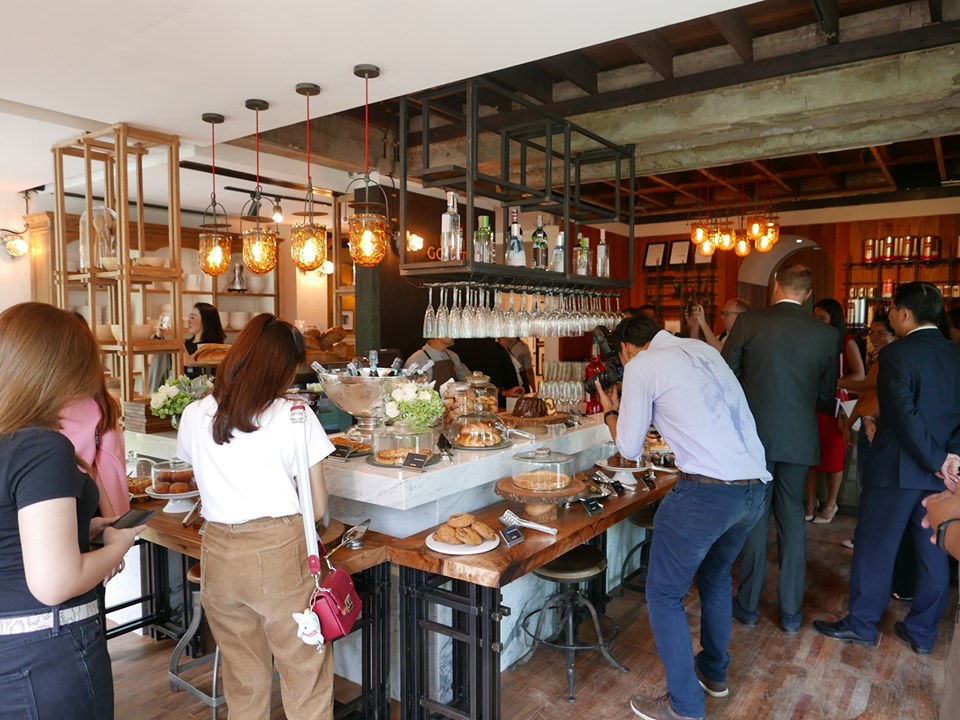 https://www.facebook.com/baandusithani/
Baan Dusit Thani is a very classy, upscale restaurant in Silom close to Lumphini Park. There are few different types of restaurants on this sprawling piece of green real estate including fancy Vietnamese and Thai restaurants. The dog-friendly restaurant is their cafe, Baan Dusit Thani Gourmet, and boy is it gourmet! If you're driving there, they'll offer you valet service (that's how classy this place is).
With a beautiful interior, you can get your sweet tooth fix as well as delicious meals such as their avocado toast, chicken club wrap, and salmon omelette on toast. The coffee was great too and I was happy to see that they have kombucha on the menu. Kombucha is a regular part of my diet when I am in America but it hasn't gone mainstream in Thailand yet. Hey Tribucha/Health-Ade/BTS – let's bring it here!
Most of the customers seemed to be business professionals but there were a few obvious tourists as well. My dogs were immediately welcomed with individual bowls of fresh, cold water. Great food, great drinks, great vibe!
Bangkok Poutine – 4.9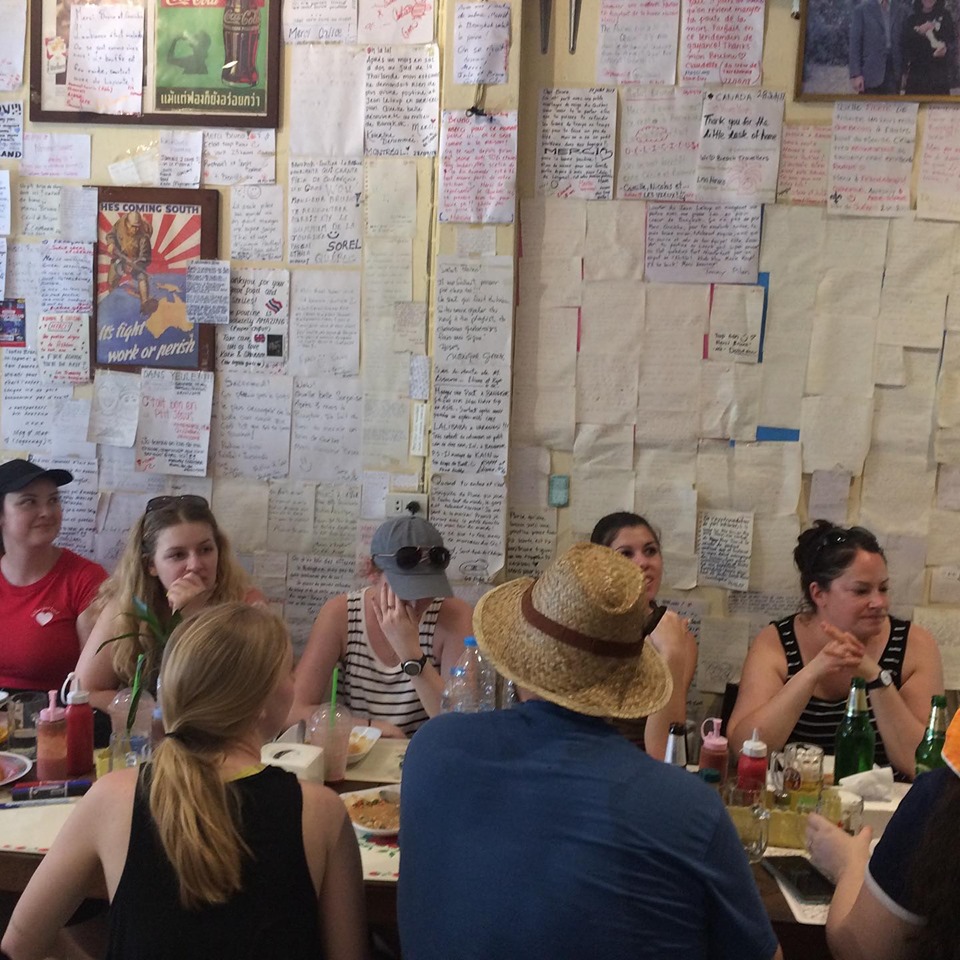 https://www.facebook.com/bangkokpoutine/
I usually stay at Zeds Innovative Guesthouse when I am in Bangkok, a pet-friendly hotel right on Samsen Road in walking distance to Khao San Road, the backpacker center of the universe. One of the restaurants directly underneath the hotel is Bangkok Poutine, a casual restaurant that is usually frequented by tourists and backpackers. They have everything from Thai, Italian, Greek, American and their speciality poutines. I also love their smoothie menu. Along the wall you'll find hand-written notes of support from around the world. Ask for a pen and paper to leave your own.
The restaurant is labeled as a "Canadian Restaurant" which probably explains why I meet so many Canadian customers here.
As a bacon cheeseburger addict, I absolutely love their Monster Burger. It's got bacon, egg, a generously-sized beef patty and veggies. Casual , fast service and delicious food, I come here every time I'm in Bangkok.
Big Dog Cafe – 4.8
https://www.facebook.com/bigdogcafe/
One of the quirkiest restaurants in Bangkok, Big Dog Cafe is home to several breeds of big dogs that you can visit and play with. And when I say big, I mean B.I.G. While these dogs may seem scary due to their sheer size, they're extremely friendly and adjusted to interacting with a lot of people. Here's some pics of their giant husky interacting with babies. Cuteness overload:
The cost is 199 baht/person and definitely worth checking out if you're in Bangkok. Just a quick note – the front rooms (which are the restaurant and cafe) are dog-friendly but they understandably don't want you bringing your dogs to the back room. The last thing they need to do is rattle their dogs!
Cheesecake House & Restaurant – 4.1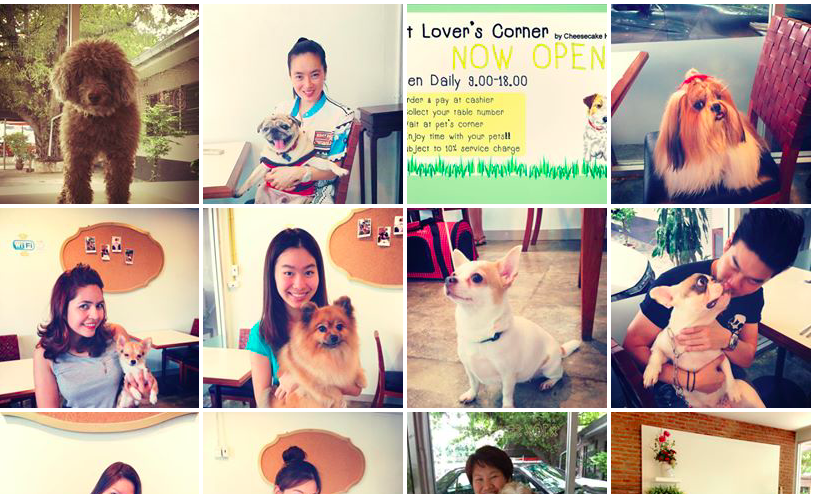 https://www.facebook.com/cheesecakehouse.restaurant/
The Cheesecake House & Restaurant, located in the upscale neighborhood of Thonglor, has a separate dog-friendly restaurant called Pet Lover's Corner. As you can see from the screenshot above, they love having canine customers!
The pet-friendly restaurant is attached to the main restaurant. You might not get the ambiance as their primary restaurant, but the food tastes just as good, especially their desserts. With cheesecake in their name, their blueberry cheesecake lived up to the expectations. As a bonus, the owners brought me a tray of their freshly-baked "date cookies" which they said is their secret recipe that you can't find anywhere else.
Great customer service, I would definitely come back here the next time I am in Bangkok.
The Exile – 5.0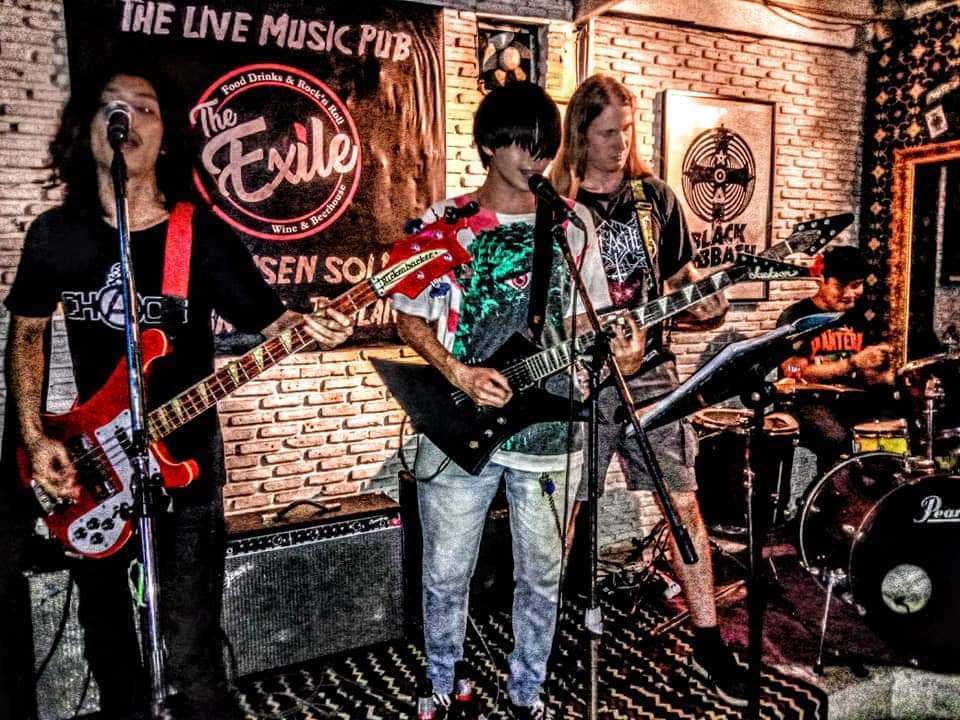 https://www.facebook.com/theexilebkk/
Another restaurant close to Zeds Innovative Guesthouse on Samsen Road is The Exile. I've been coming here for the past year for the good food, good juices (I like their carrot/orange/beet drink) and at nighttime, good music, especially if you're into rock. Samsen road is pretty quiet at night and this live music venue is one of the few exceptions.
With everything from Thai to Italian to American, the food here is outstanding as well. We ordered their chicken club which was a massive sandwich with lettuce, tomatoes, egg and bacon making it a very filling meal and enough to share with the kids.
This restaurant is so pet-friendly that I met my first sugar glider here (although to be fair, sugar gliders are so small that you can sneak them in anywhere). If you visit, say what's up to my boy Matthias (the guy that looks like a rocker).
If-It-Is – 4.5
https://youtu.be/e3iyIJm5dZU
https://www.facebook.com/IfItIs/
If-It-Is, in Thonglor, was one of my first dog-friendly restaurant discoveries in Bangkok, walking distance from Aspira Hana Hotel, one of the classier pet-friendly hotels in Bangkok. This restaurant is one of the more upscale restaurants on this list making it perfect for date night with your insignificant other + your fur baby (your significant other). I haven't been here since 2018 but I remember that they had a great selection of cocktails and a very sophisticated menu. In the video above, you'll see I ordered their smoked duck meat, and boy was it good.
I also crashed a bachelorette party photoshoot that was happening in their front yard just to give you an idea of how cute this restaurant can be. Don't I make a beautiful bride??? If only I thought marriage worked lol.
The Macaroni Club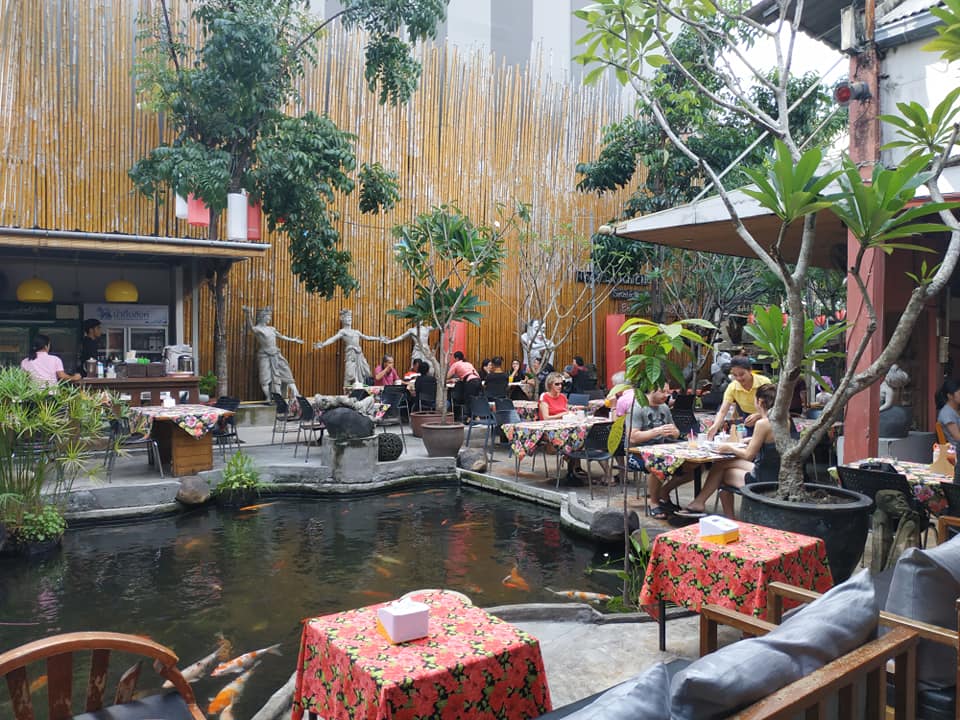 https://www.facebook.com/Themacaroniclubbkk/
Who said restaurants on Khao San Road can't be classy??? The Macaroni Club is one of my favorite restaurants in Khao San Road, due to the overall ambiance, great food and the air-conditioned room in the back. The Macaroni Club is like a hidden zen oasis with waterfalls, statues and great design. This restaurant is always packed.
The staff here is especially friendly to dogs as almost every employee that sees my dogs comes to say hi and play with them. Some of them even know my dogs by name (in Thai, Flex is Din, Raindrop is Nam Fon)!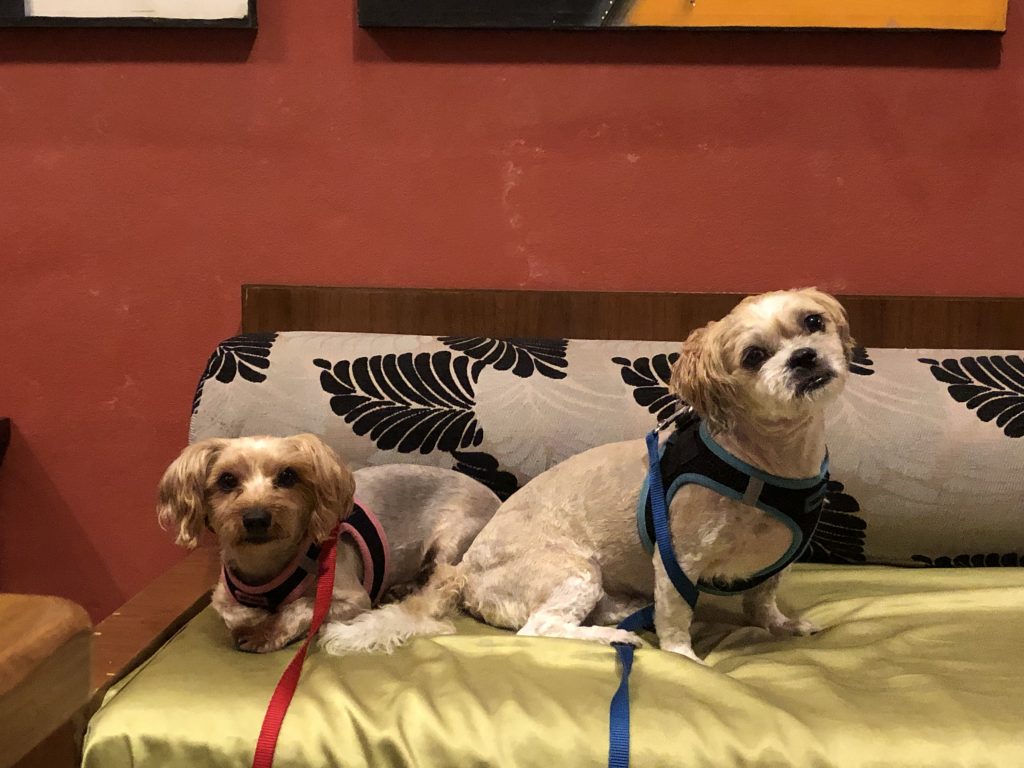 Since I like to share my food with my dogs, I got the Volcano Chicken which has a fun presentation. Don't worry – it's not spicy unless you want to add hot sauce yourself.
Melange Restaurant – 4.9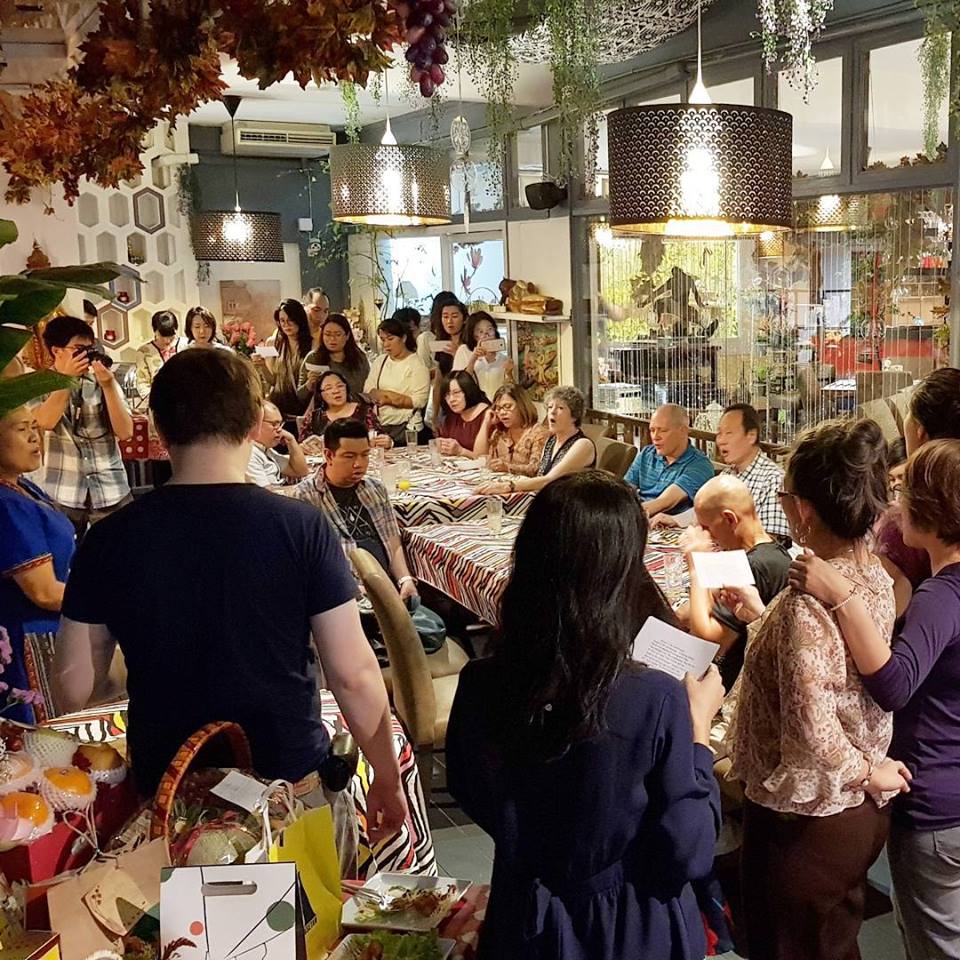 https://www.facebook.com/melangeresto/
The Melange Restaurant right off Sukhumvit 63 (Thailand's "Broadway"), is one of the most family-friendly and dog-friendly restaurants I found in Bangkok. With a beautiful interior, this restaurant also has an outdoor swimming pool for the family. How cool is that? The best part is, your family is welcome to stay all day!
We ordered one of their Italian fusion dishes that came with chicken pesto, pasta and apple slices. Absolutely delicious. The chicken was so tender (much like my Tinder game). We also ordered their fruit punch which can come with or without alcohol. I of course opted to add some vodka and it was truly the most delicious and freshest fruit punch I've ever had.
We finished the meal with a generous serving of chocolate cake. If I had a family and dogs, this would be my go-to restaurant in Bangkok.
Warm Welcome Bakery & Cafe – 4.9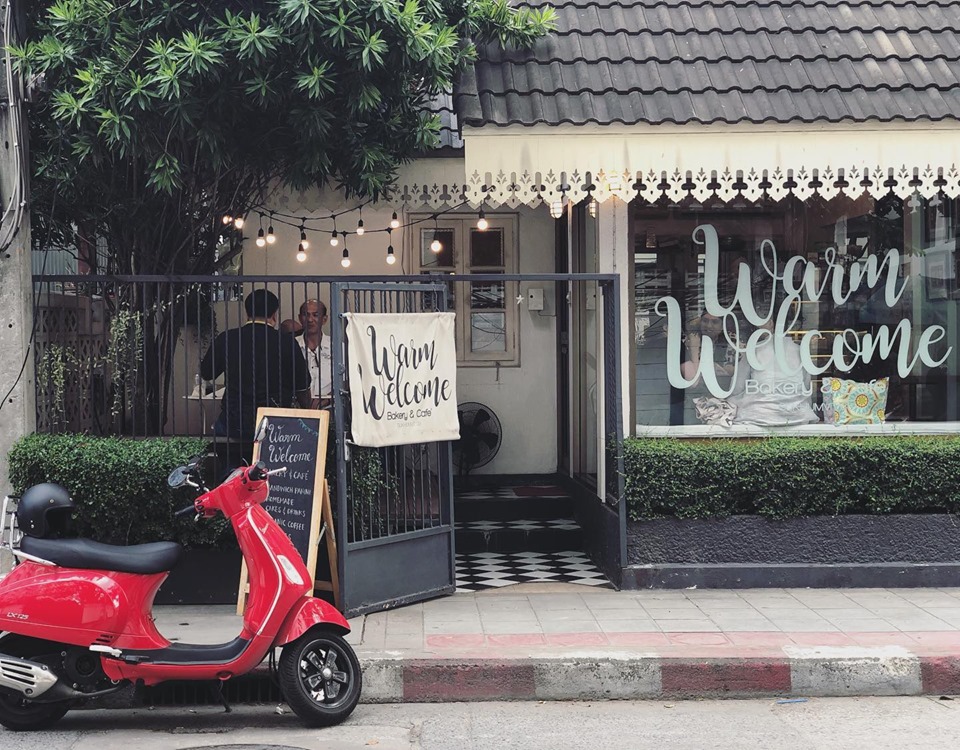 https://www.facebook.com/warmwelcomebakeryandcafe/
The Warm Welcome Bakery & Cafe, off Sukhumvit 33, lives up to their name by giving every customer, including dogs, a warm welcome! This is a great place to get some relief from the heat with an iced cold latte (which was delicious) and a piece of fresh cake (we got the carrot).
The concept of this cafe is an open kitchen where you can watch the owner bake fresh desserts. She also takes custom orders so if you want an amazing, freshly-baked dessert baked with the most important ingredients (love and passion), this is your spot.
With both indoor and outdoor seating, you and your furbabies will have options. Great wifi here as well.
***
Is there a dog-friendly restaurant in Bangkok that I missed? Leave a comment or you can e-mail me adam@befreemysheeple.com. If you enjoyed reading/watching this, you can follow me on Instagram, @adamfrancisco & @befreemysheeple.
Be Free My Sheeple!