Here is a list of the best pet-friendly hotels in Hua Hin that I have stayed at. If you're like me, you consider your dogs family and you want to travel the world with them in style and in comfort. I have been living exclusively out of hotels since October 1st, 2018 so I am always looking for pet-friendly hotels.
This is going to be an on-going series as we travel the world! We plan on exploring more of Thailand throughout 2019 before heading to the Philippines in 2020. You can find them on my homepage under Dogs>Pet-Friendly Hotels.
Pet-Friendly Hotels In Thailand (Hua Hin)
Surf & Sand Resort
121/20 Takiab Road, Nong Kae, Hua Hin, Prachuap Khiri Khan , Khao Takiab, 77110 Hua Hin, Thailand
Pet fee: +500 baht a night per pet for daily stays, +250 baht a night per pet for weekly stays, +100 baht a night per pet for monthly stays
How They Describe Themselves: "Conveniently located within walking distance of Khao Takiab's local tourist facilities and just across the road from the beach, Surf & Sand Resort offers a combination of a fresh modern contemporary experience with the traditional spirit of Thailand."
Overview: Surf & Sand Resort is a family-owned hotel just meters from the beach in Khao Takiab (which I recently found out translates to Chopstick Hill). This hotel has a wide range of amenities such as a pool, a child's playground, an on-premise bar and restaurant (with free cookies!), and a very modern feel.
Location: Located in Khao Takiab, you are in walking distance to a number of local restaurants, spas and laundromats and most importantly, the beach. 7Eleven (open 24 hours) is a 6 minute walk away where you can find anything you need all hours of the day. While the night markets (Cicada, Tamarind, Hua Hin) are a few kilometers away, there's a green taxi that runs every 10 or so minutes that only costs 10 baht which makes everywhere along the main Hua Hin strip very convenient.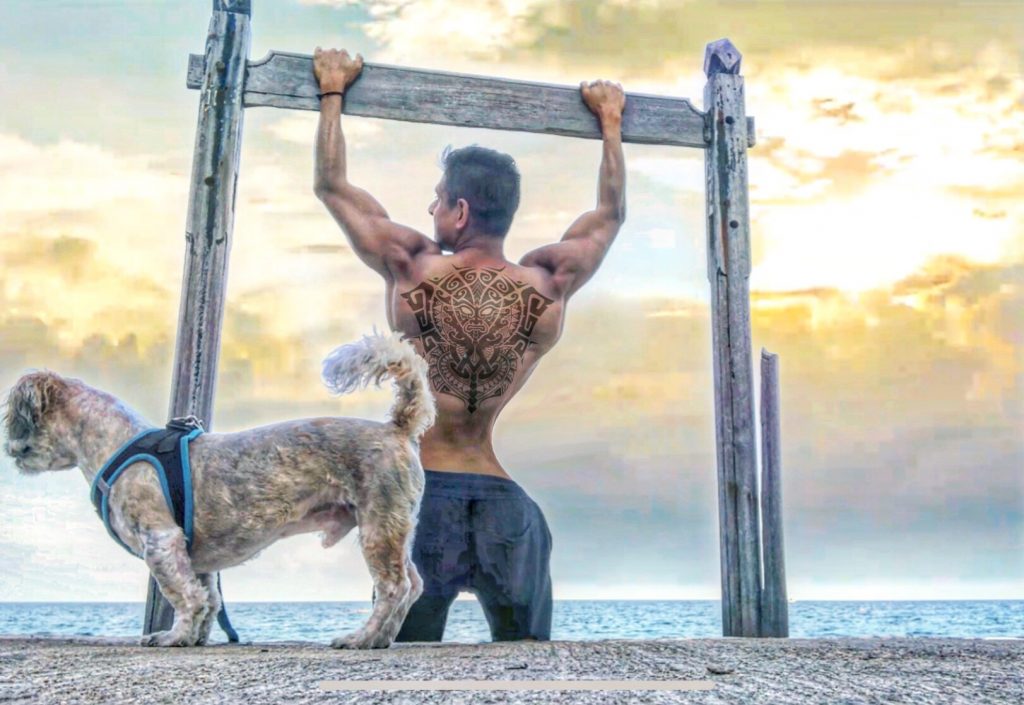 Room Pros: The rooms are absolutely gorgeous. Everything feels and looks brand new and that's because it is. With fast wifi, a flat screen TV, mini-fridge, modern showers, views of the pool and a lot of sunlight, this is tremendous value for the price. I love that the hotel provides a laundry basket making it easy to bring my laundry to the laundromat. The hotel also provides housecleaning 2 times a week with long-term stays. Plus, my room had a lot of colorful artwork making my hotel feel like a tropical getaway.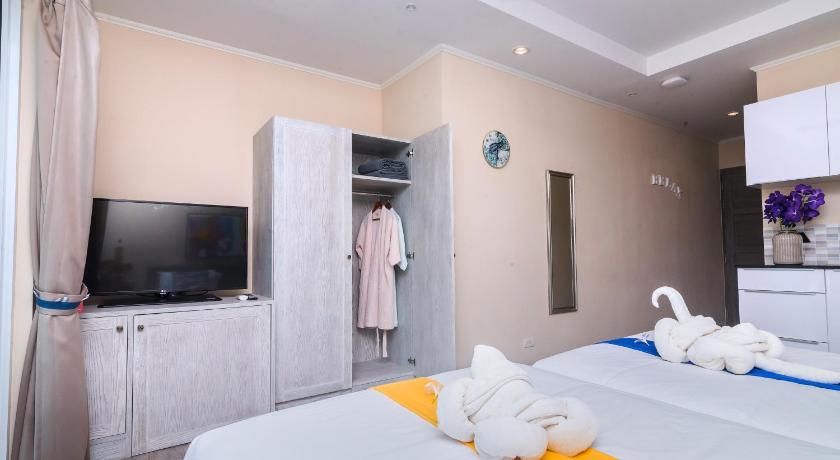 Hotel Pros: Everything feels clean and looks brand new. I also love how friendly the staff is to my dogs. Every time they see them they refer to my dogs by their Thai names (Raindrop is Nam Fon and Flex is Din). The pool water looks so clean that it doesn't seem real. With a bar and restaurant, and on-premise massages, you'll never have to leave the hotel. Great staff and the owners Sam and Pooky are really nice.
Hotel Cons: While the hotel has a bar, don't expect much nightlife here. Takiab is generally the sleepier part of Hua Hin.
Recommended For: I recommend this hotel for families that can take advantage of the children's playground, bloggers that need access to fast wifi and a quiet hotel to work from, and couples that want all the amenities of a modern hotel at an affordable price.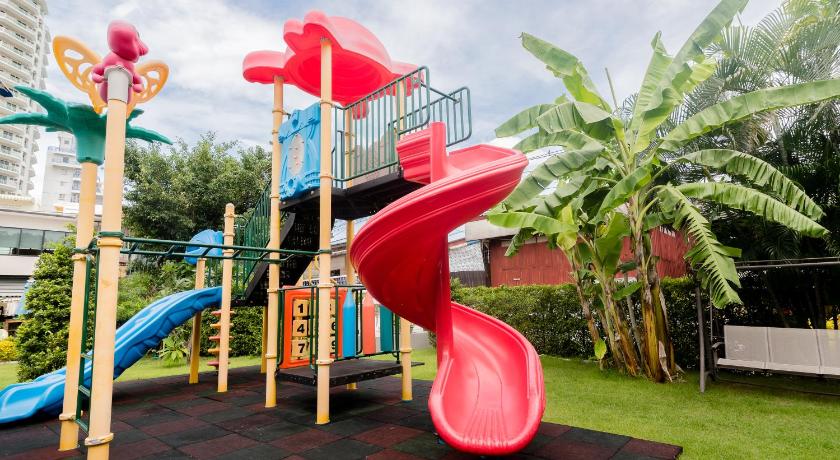 Pro Tip: Walk to Khemtong's, a delicious (and also dog-friendly) family-owned restaurant just 1 minute from the hotel. Great music playing from YouTube and fast Wifi. And use the 10 baht green taxis to get around Hua Hin.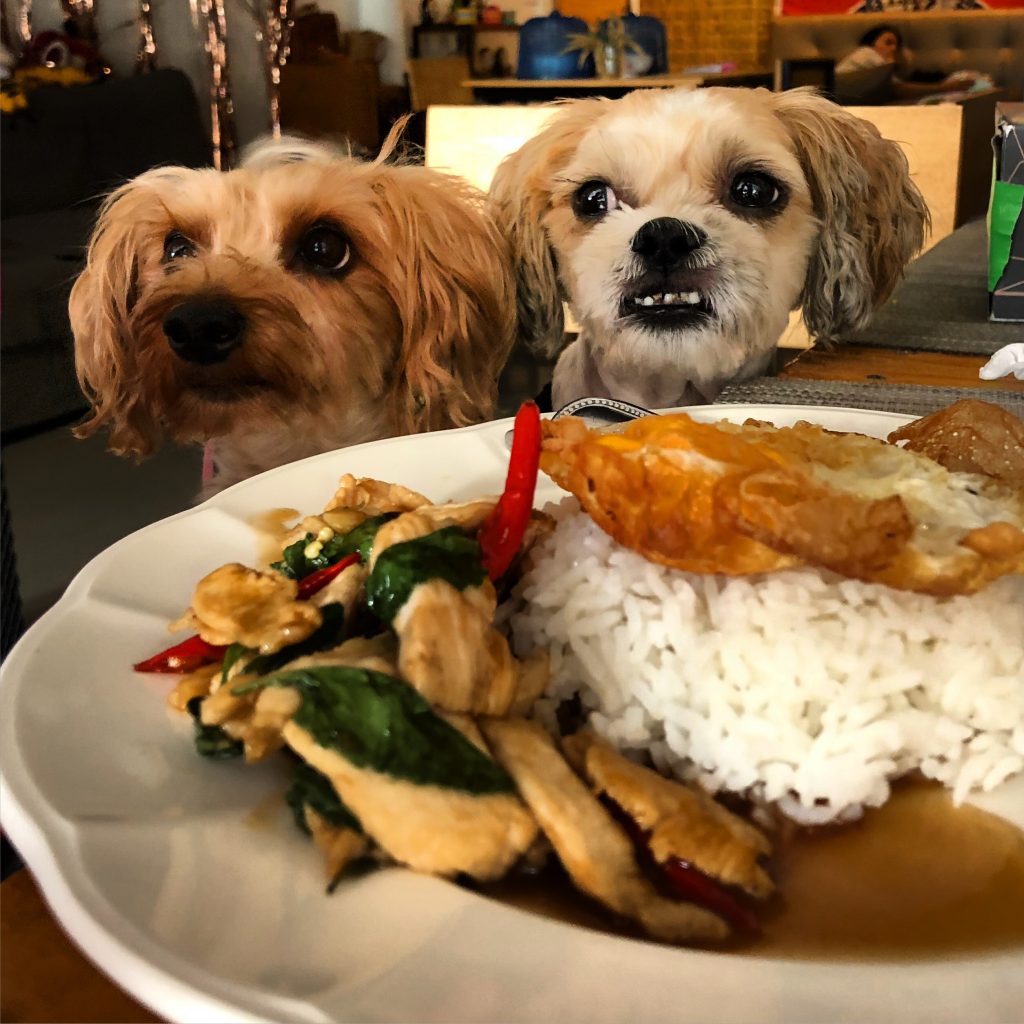 EU Bakery Guesthouse
38-40 Soi Condo Tanawit, Amnuay-sin Rd , Hua Hin, 77110 Hua Hin, Thailand
Pet fee: +400 baht a night, per pet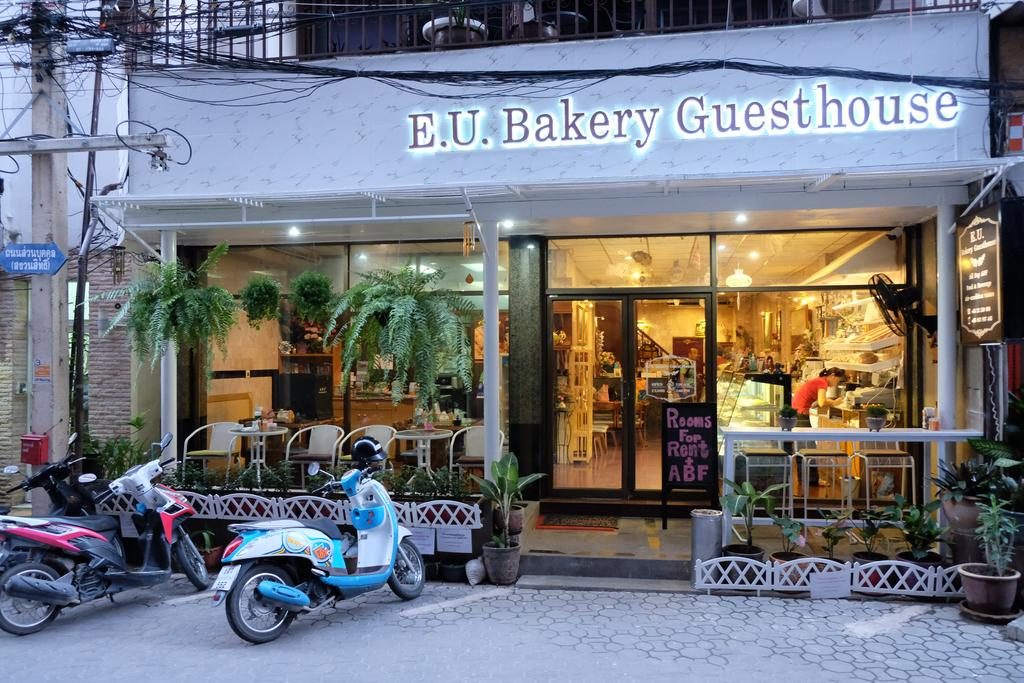 How They Describe Themselves: "EU Bakery Guesthouse apartment set in the Hua Hin Night Market district features a restaurant, bakery and luggage room. Guests can benefit from the 24-hour front desk and housekeeping service."
Overview: EU Bakery Guesthouse is an apartment-style walk-up building with one of the best locations in Hua Hin, on the same block as the Hua Hin night market. With some parking available and a delicious bakery and cafe downstairs, you'll look forward to waking up and grabbing an iced latte before starting your day.
Location: This location is amazing. It's right next to the Hua Hin Night Market which is one of the best places for cheap eats, light shopping and outdoor foot massages (at night, the weather is very nice with a relief coming from the ocean). I find myself coming to the Hua Hin night market almost every day. It's also walking distance to the beach (10 minutes) and the nightlife area Soi Bintabaht. This is prime location on a quiet street.
Room Pros: These rooms are basic hotel rooms but they are very sizable and I believe all of them come with a little terrace so you can sit outside and enjoy a coffee.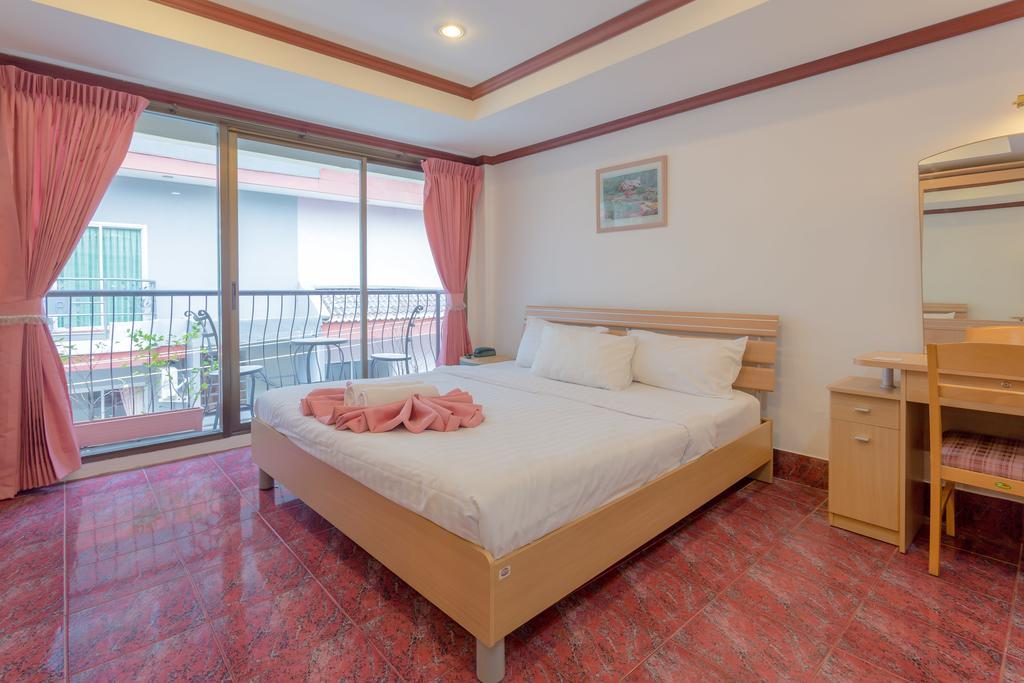 Hotel Pros: The location is awesome. It's a quiet and peaceful hotel. The bakery downstairs in the lobby has delicious coffee and desserts. Turn right, you'll it the beach. Turn left, you'll hit the night market. You can't lose!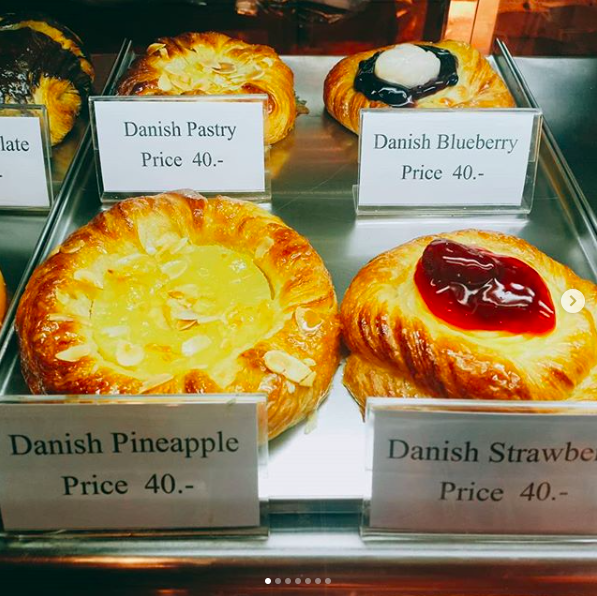 Hotel Cons: The desserts in the lobby are so delicious that you'll want one every day and that's not good for weight management! The biggest con was that the hotel is walk-up building so if you're traveling with heavy luggage, it makes checking in a bit challenging.
Recommended For: Couples, coffee lovers and solo travelers that want something more than a hostel.
Pro Tip: Walk to the Hua Hin Night Market for your daily foot massage with both options indoors and outdoors! And lucky us, many of these places will accept your dogs (as long as they seem friendly and well-trained).
Aloha Hua Hin
12/9 Soi Hua Hin 51, Hua Hin, Prachuap Khiri Khan, 77110 Hua Hin, Thailand –
Pet fee: +300 baht per night, per pet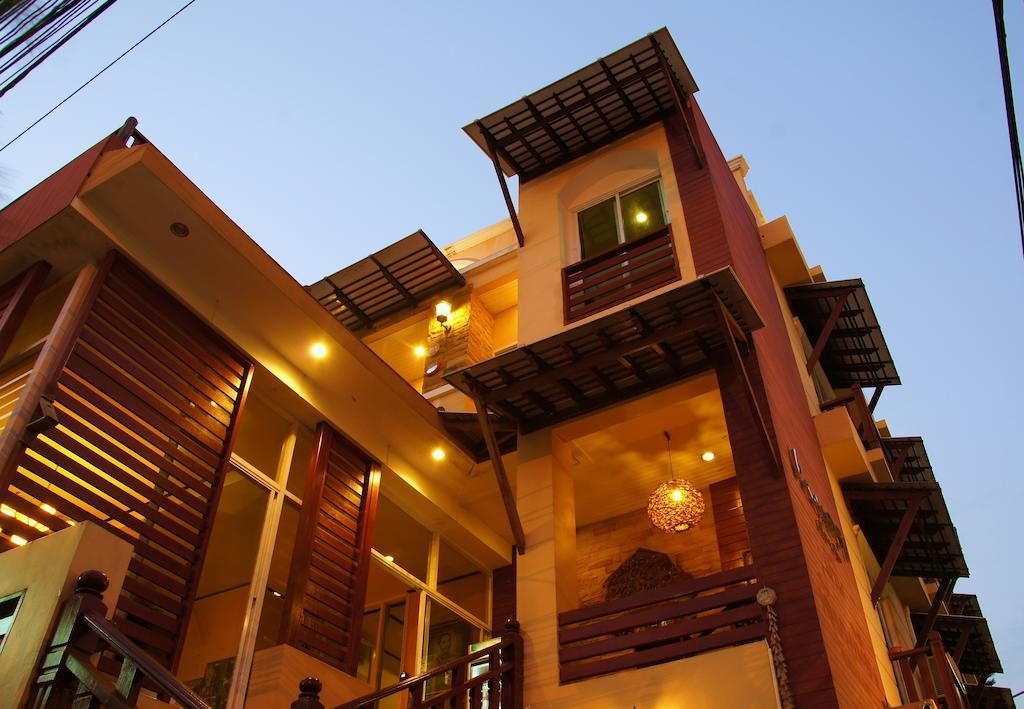 How They Describe Themselves: "Aloha Hua Hin has 13 rooms in 5 different decoration styles, including rooms with sea views. All of our rooms have air conditioning, private bathroom and shower, flat-screen TV with satellite channels, free WIFI internet, refrigerator, water heater, a safe and king size bed. No smoking in the room."
Overview: Aloha Hua Hin is a nice little hotel just steps from the beach but due to the location, you'll have to walk further north or south along the beach to find a sandy area.
Location: The location is solid. It's walking distance to Hua Hin Beach, the Hua Hin Night Market, and there's a wide range of local restaurants, cafes and spas. There's a 24 hour market right across the street from the hotel as well as a 7Eleven in walking distance (a few minutes away)
Room Pros: All beds have a king size bed so you won't have to worry about getting stuck with a small bed. The rooms are cleaned and well managed and housekeeping was available daily. Each room has a little balcony so you can get some fresh air and views.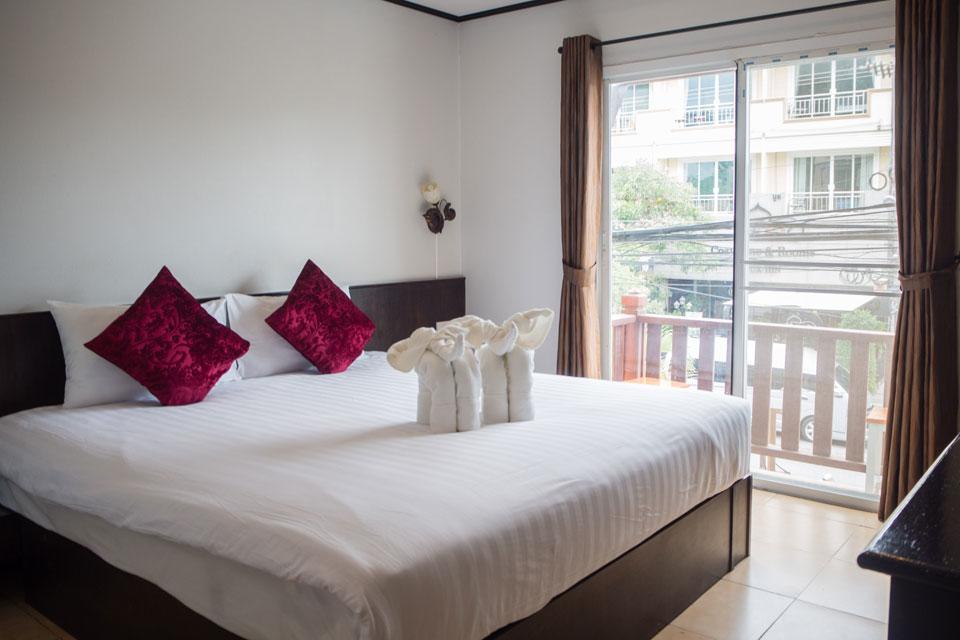 Room Cons: The rooms are on the smaller side so there isn't much room but unless you're planning on working out in your hotel room, this isn't too much of a problem. The rooms feel slightly outdated, but they're in good condition and they're clean. Good value for your money.
Hotel Pros: The owner Chujern is very nice and will make sure you have a comfortable stay. With access to everything you need right around the hotel, you won't have to walk too far. Plus, there's some cheap eats right downstairs. Delicious meat skewers that are only 10 baht each.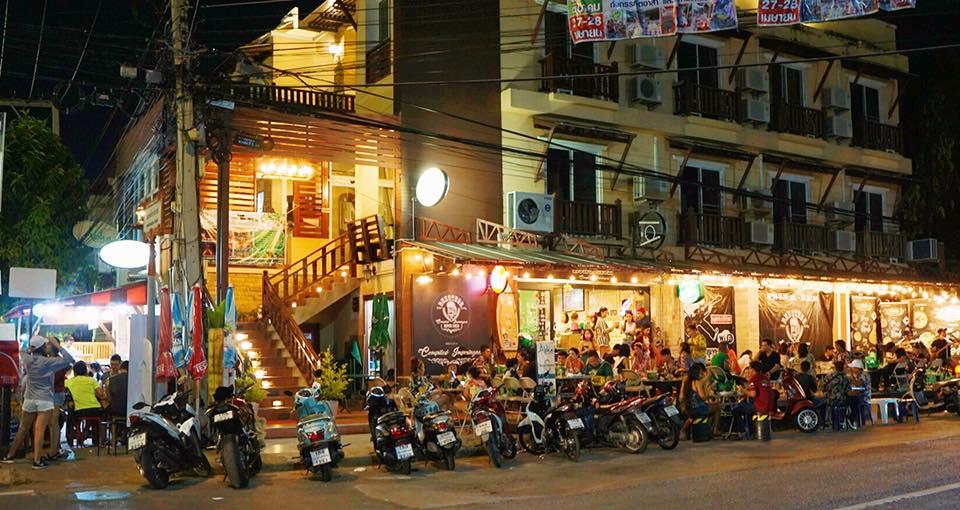 Hotel Cons: At least when I stayed here in 2018-2019, there were a number of soi (street) dogs that roamed the streets at night. I never had any issues with them (and I was always with my dogs) but just exert caution and don't act afraid or run. Walk normally and you'll be OK. If you are afraid, you can always throw something to distract them (but don't aim for them) and they'll either chase the item or they'll run away.
Recommended For: Solo travelers, young couples or backpackers who want something more than a hostel.
Pro Tip: There's a very romantic restaurant called The Living Room Bistro 1 block away. It's a great place to eat right on the ocean and they've always welcomed my dogs.
BONUS VLOG!
https://youtu.be/sPTUSoeb_yk
***
Have you stayed at a pet-friendly hotel in Hua Hin that you absolutely loved?
Leave a comment or you can e-mail me adam@befreemysheeple.com. If you enjoyed reading/watching this, you can follow me on Instagram, @adamfrancisco & @befreemysheeple.
Be Free My Sheeple!