Create your own career.
This is some of the best advice I can give to anyone.
In 2016 I quit my job to travel across Asia. In those 3 months, I never felt more alive getting lost on the Tokyo trains or exploring the temples of Angkor Wat in Cambodia or visiting the same jungles in Vietnam that my dad fought the Vietnam War in or hiking in pitch black darkness in Hong Kong. I had zero work e-mails to worry about. I didn't even think of how many vacation days I was using or how many I had left because for that moment, they felt infinite. (The only thing missing was my dogs).
When I came back to the US, I wanted to enjoy my time in LA so I didn't work for 4 months. It was glorious. I fell in love with the freedom of not having a job, not having a boss to report to, and every single day of the week being my own. A Monday-Friday felt like a Sunday-Sunday for me. I would wake up and forget if it was a weekend or a weekday because it didn't matter. I didn't have to wait for the break between Christmas and New Years to do something epic.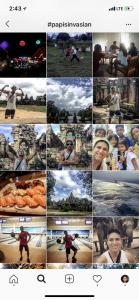 But of course there's this limited resource called money and LA & NYC are not cheap cities to live in so I started to rack my brain about how I could generate income (without dipping into my investments which would continue to multiply if I didn't cannibalize myself) but still have a relatively easy work schedule and the freedom of traveling whenever I wanted and waking up whenever I wanted. Was it possible to work smarter and not harder?
While these thoughts crossed my mind, it also happened that LA taught me the value of TIME & HEALTH over MONEY & THINGS (both of which NYC prioritizes) so I also realized that I didn't need to make that much money anymore to have the lifestyle that I wanted. Yachts, penthouse apartments & brand names lost their allure to me. Freedom, time with my dogs and the ability to travel started to matter more. You can always make more money but you can't make more time.
The question I get from people the most is "Adam – how do you live your lifestyle?" And the answer is that I created my own career (and stayed single – relationships come with limitations lol). I launched my own influencer agency called YourFavoriteInfluencer and as it is a business based (mostly) in Instagram, I can work and generate income from anywhere in the world because guess what! Email works everywhere! Do I make the same amount of money I made in NYC? Not even close, but it's enough to maintain the comfortable lifestyle that I want (and the income will be worth 10x more in Thailand lol). I also take the job very seriously and it's important to me that all of my clients have a positive experience.
I also set up my own consulting firm and I am exclusively working with VodelMedia to drive revenue from agencies (which is what brings me to NYC 10-14 days a month). I'll be continuing to work with VodelMedia when I am in Bangkok. Very excited!
Lastly, I rent out my apartment for a rate which far outweighs my actual daily rent and this has given me a rent-free lifestyle (until Thailand).
A big reason for my Thailand move is because you can have an extremely high quality of life for a very low cost. 🇹🇭 YOLO!
So there you have it. That's the secret to my lifestyle and my happiness. I created my own career. When you create your own career, the money may not be as steady or as predictable as a full time 9-5 job (and lord knows you have to pay for your own health insurance 😂), but the freedom is what life is all about. 2 or 3 weeks of vacation is not enough to live the life you were meant to live and I'm sure it's not enough to live the life that many of you want to live! Your health is not guaranteed long term. Do you want to finally be free at 60+ when you might not even make it there and even if you do, you might not be physically fit to enjoy hiking Hong Kong Peak or touring Angkor Wat?
If you need advice, feel free to DM me! Don't be miserable at your job. Travel more. Be more free. In other words…
Be Free My Sheeple! 🐑
P.S. follow me on Instagram either @adamfrancisco or my vlog @befreemysheeple if you aren't already. I need more followers #addicted. 🚶🏽‍♂️🚶🏽‍♂️🚶🏽‍♂️🚶🏽‍♂️🚶🏽‍♂️