Is Thailand Dog-Friendly? If you're obsessed with your dogs like I am and you're either thinking about moving to or visiting Thailand with your fur-babies, then read this! I'm going to talk about my personal experiences having not one – but TWO dogs with me during my 1st month in Thailand.
First – it's important to know that I have what are considered small breed dogs : a Yorkie (Raindrop) & a Shih Tzu (Flex). Combined, my dogs weigh 28 lbs (or 12.7 kg). If needed, I can always quickly scoop my dogs up and carry them. I also have the option of putting them in dog bags and carrying them. If I zip the bags shut, most people won't even realize I have dogs with me.
I love all dogs but I've always preferred smaller breeds because they're simply more convenient due to their size.
Before we get into it…
Is Thailand safe for my dogs?
The answer is mostly yes! I did a lot of research before moving to Thailand and the safety of my dogs was of utmost importance. In Thailand, I at least know my dogs will not end up on a dinner plate.
So, is Thailand dog-friendly?
Thailand is a weird combination of being very dog-friendly and then not dog-friendly. Here's some observations from my 1st month living in the Land of Smiles.
PRO: Whenever I walk down the street with my dogs, most people smile or make kissy noises at them. Thai people love dogs.
CON: Bangkok is the hottest city in the world and I quickly realized the impact this has on my dogs. It simply is not safe to take your dogs for long walks during the day-time due to the high temperatures and humidity. My solution was to invest in a baby stroller so I now look like a crazy dog daddy. Yolo?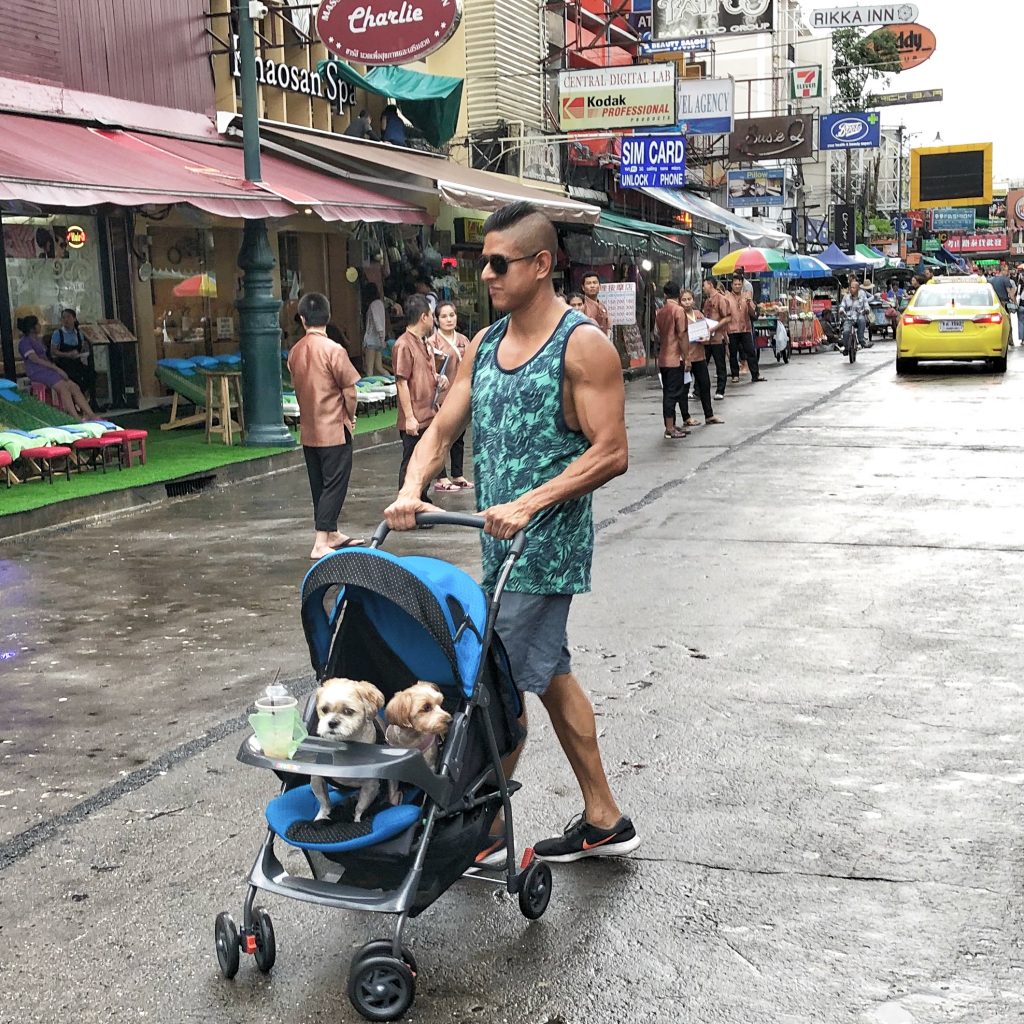 PRO: While many Asian countries continue to eat dogs today, Thailand is one of the few where eating dog never became part of their culinary history (outside of few remote villages). Since then, the Thai government passed animal welfare laws in 2014 for dogs, cats and other animals. Bravo! You can read more here.
CON: Many streets do not have full sidewalks so you have to share the road with cars & motorbikes. I strongly recommend keeping your dogs on a short leash while walking them.
PRO: Some restaurants & spas (that aren't dog-friendly) have allowed my dogs in (when I have them in the baby stroller) without much fuss. After they see how well-behaved they are, I'm basically allowed in with my dogs after that (with or without stroller).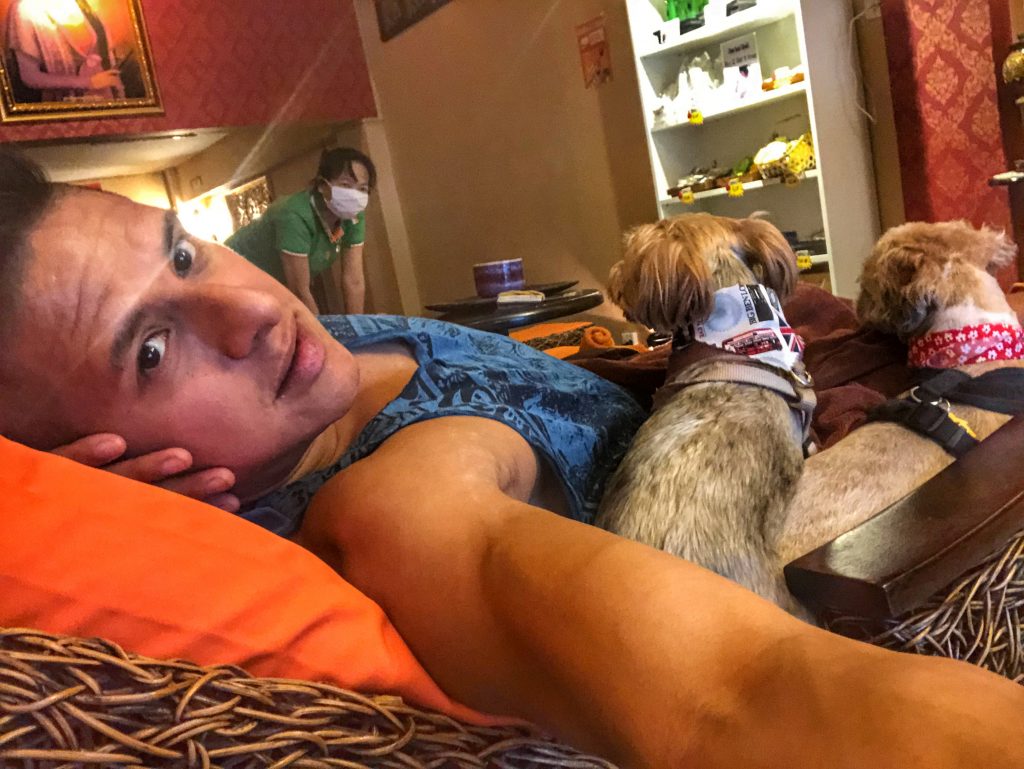 CON: Not only are there homeless dogs in Thailand, but many owners keep their dogs unleashed in front of their stores or in a front yard that isn't closed. If your dog likes to bark at every dog he sees or hears, you'll have dogs seemingly coming out of nowhere!
PRO: There are a number of hotels, spas, cafes and restaurants that are dog-friendly catering to this specific audience. In America, your dog has to be a Service Dog to be allowed into an indoor restaurant (or most establishments) and even (some) pet-friendly hotels will charge fees but here it really just seems up to ownership/management.
Note : I have successfully snuck my dogs into some non-pet friendly hotels & restaurants by keeping them in their stroller or in their bags. If it's in a stroller and whatever's in the stroller is quiet, people assume it's a sleeping baby. WRONG. It's 2 awesome dogs. #winning
CON: If you happen to be in a grassy area, insects will swarm your dogs. I put Raindrop & Flex in their baby stroller on a grass field and Raindrop started freaking out. I quickly checked on her and ants had climbed all the way up the stroller and were covering my dogs bodies. These tropical ants are lit. No wonder Thai dogs prefer sleeping on concrete here.
PRO: If your dogs love the beach, it seems like all beaches in Thailand are dog-friendly as there are a number of local beach dogs already hanging out. When I lived in Los Angeles, I'd have to drive to specific beaches.
CON: It's sometimes very hard to find a taxi that will accept your dogs. This is very frustrating when I have places to be (luckily I don't really have places to be because I'm a digital nomad😂).

PRO: Thailand uses Grab (instead of Uber) and you have the option to pick a motorbike. So far I haven't had any issues holding my dogs on the back of a motorbike. If your dogs like to stick their heads out your car window when you're driving, then they'll love this!
CON: Dogs cannot fly in-cabin on any Thai airplanes. They must be in-cargo. If you have to fly your dog in/out of Thailand, try to schedule your flight at night when temperatures have cooled down.
PRO: Even the temple grounds are dog-friendly! While your dogs cannot go into the temple themselves, they're more than welcome to hang out outside of the temple. I saw many monks with pet dogs.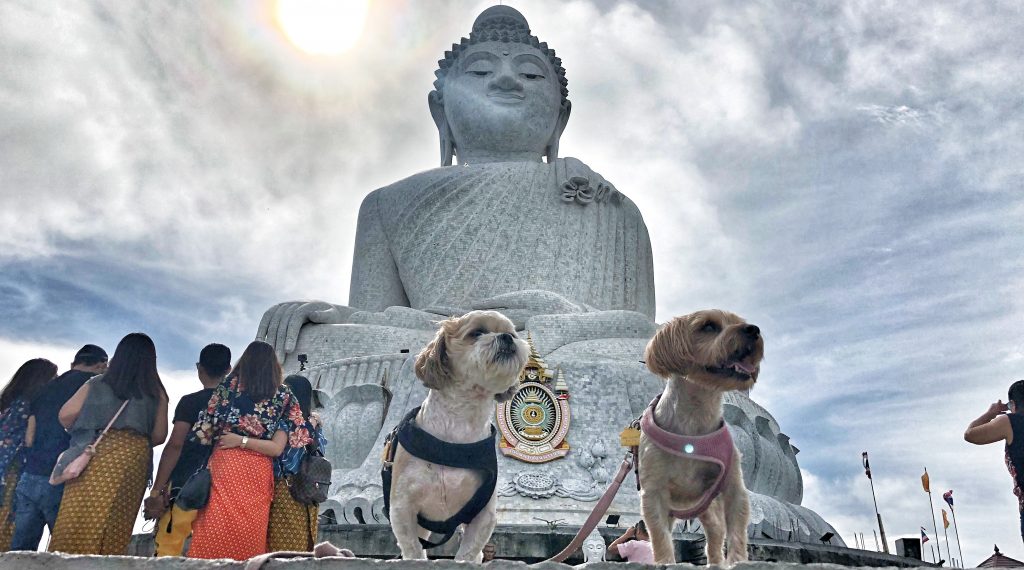 CON: There are street dogs here so they are untrained animals which means they piss, shit & bark wherever they want so there's a perception from some people (likely non-dog owners) that all dogs will piss, shit & bark in their place of business.

PRO: Thai women love dogs. I think all women love dogs. As a single guy, this helps. If you're single, get dogs. You won't be as needy and you'll automatically become more desirable. If you're not single, get dogs so when your inevitable breakup happens, you won't care as much because you'll have unconditional love from your dogs. Just make sure you figure out who owns the dogs before you get them. The worst thing is losing your dogs during the break-up.
CON: Emotional Support Animals and Service Animals are yet to be recognized in Thailand so even if your dog is required for an actual medical need, this isn't recognized or protected by any laws (yet).

PRO: Many restaurants and bars have outside seating areas, so even if the restaurant or bar is not dog-friendly, you can still sit outside with them.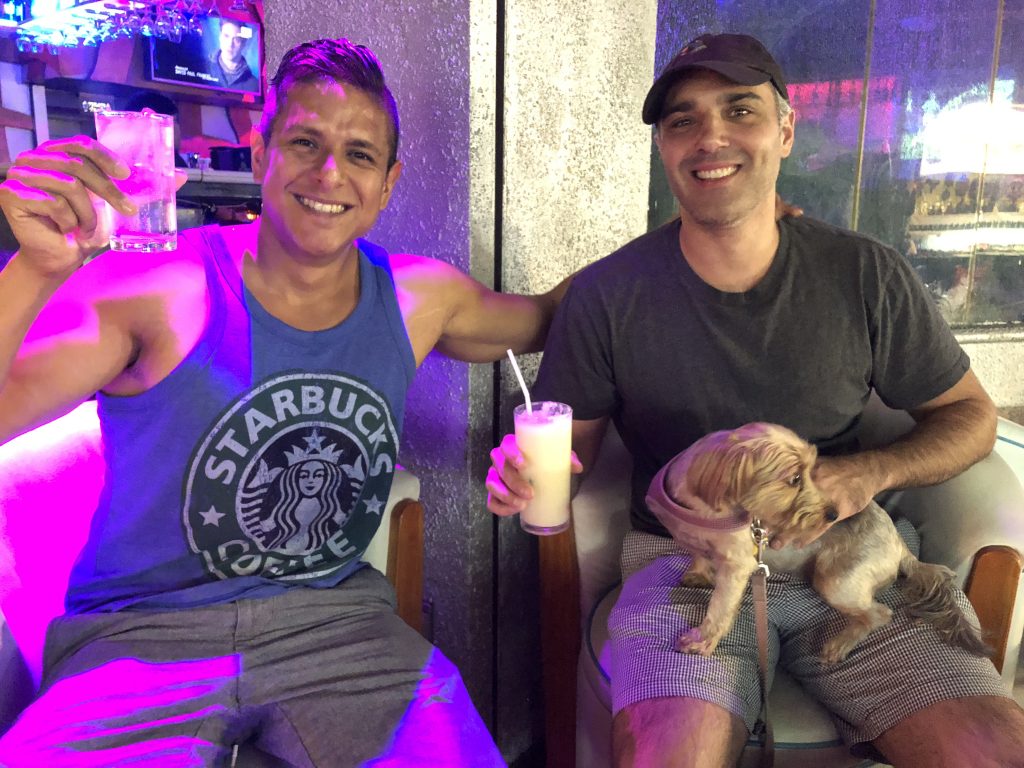 CON: Most public parks are so perfect for dogs with grassy areas & huge parks to play fetch in, but many of them are not dog-friendly.
PRO: Getting your dogs groomed or going to the vet is so cheap here! The following services were $80 total!:
-2 dog haircuts
-2 dog nail clippings
-2 dog anal gland cleanings
-2 dog teeth cleanings
-2 vet appointments
-2 medications (for ear infections)
CON: But pet stores are expensive. Buying high-quality dog food costs about the same price as the US.
PRO: You get to live in Thailand, the Land of Smiles, with your best friend(s)???? What else could be better!!!
So there you have it. Some idea of what to expect if you bring your dog(s) to Thailand. Just make sure you go through the entire pet permit & import process correctly. It's a bit of a headache but I was able to figure it out with a little help from a Thai friend.
My next article will include some of the best dog-friendly hotels that I've stayed at so far.
If you have any questions about owning a dog in Thailand, feel free to contact me adam@befreemysheeple.com.
And of course follow me on Instagram, @adamfrancisco & @befreemysheeple.
Be Free My Sheeple!