These are the craziest party STREETS I've been to in the world! You will NOT find the typical party places or cities on this list such as Miami, Las Vegas, New York City, Los Angeles, New Orleans, Ibiza (which I haven't actually been to yet – am I too old at this point???), etc. Everyone already knows about these places and almost every person I know (in the US) has been to them. Instead, this list is going to focus on the party streets I've been to in the world that the average person has not been to (unless they're a travel addict like me). Think Bourbon Street, which passes all qualifications described below: contained, convenient, approachable, absurd, raging. (Bourbon Street is seriously nuts).
This list is in no way a definitive list – this is just from my personal experiences (that I can remember). If there are party streets you'd like to suggest, please leave them in the comments or shoot me an e-mail adam@befreemysheeple.com and maybe I'll come up with Part 2 (Party Streets I Must Go To Before I'm 40).
The Qualifications
Contained : There needs to be a number of alcohol-serving establishments along the same street
Convenient: You must be able to bar-hop quickly by foot
Approachable : Dress code is optional at enough locations that you do not feel the need to dress up
Absurd : The music/noise from the establishments must freely pour into the streets
Raging : The average person is there to rage
This list is not in any order.
Camelback Road(Scottsdale, Arizona)
Let's start with something local for my fellow Americans: Scottsdale, Arizona. Scottsdale somehow developed a reputation of being a nice, upperclass city with great resorts, spas and golf courses, maybe for your parents or grandparents, but nobody ever talks about the raging nightlife which reminded me of a mini-Cancun the first time I saw it (with open-faced bars & clubs blasting music into the streets). Seriously, ask anyone in the US where they should party and nobody ever says "Camelback Road in Old Town Scottsdale" but I've been saying this for years! The locals told me that the college kids & 20-year-olds party in Tempe, and when they turn 30 & start having some disposable income, they graduate to Old Town Scottsdale.
In full transparency, there's a lot of plastic surgery & steroids in Scottsdale. It's as if you took the stereotypical women from Los Angeles and the stereotypical men from New Jersey and put them in the middle of the dessert. While this probably isn't a selling point for visiting Scottsdale, if you can get past this (as I have), the day clubs (like Maya) and night clubs & bars, are insanely loud & fun, with great music filled with beautiful people. You don't have to get dressed up to get into many of the bars, but you definitely feel like you should. Dancers on stages, bottle girls in bikinis, smoke machines, and cover charges everywhere, a night out in Scottsdale is going to be legendary & expensive, but worth it.
Also, there's a casino really close by to the nightlife which is always a great idea after a night of drinking.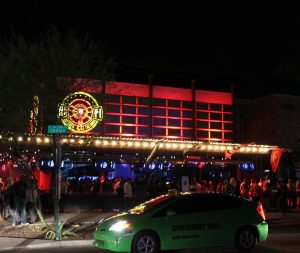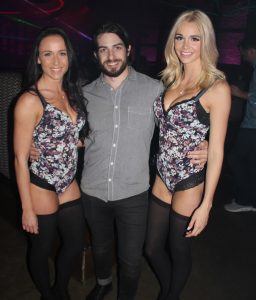 Best Memory:
I was at Maya nightclub crushing tequila shots when a gorgeous brunette pulls up to the bar right next to me as if she was sent by the gods above. Wearing a skintight outfit, this girl was an absolute bombshell. Given that we were in a nightclub, I offered to buy her a shot of her choice and she picked a "red-headed slut" (which is Jägermeister, peach-flavored schnapps, and cranberry juice). I ordered a pair of shots, and while we were waiting for this 3-ingredient cocktail to be made, I got a good look at her face and realized she looked familiar. Turns out it was none other than Amia Miley, award-winning adult film actress. I told her it was my honor to buy her a drink but before she could take hers, she was pulled away by some gigantic guy (much larger than me so there was nothing I could do lol). You can check out her instagram here if you are unfamiliar with her work.
Golden Gai (Tokyo, Japan)
Have you heard of Golden Gai? It is one of the coolest, most unique places in Japan. It's a few rows of very small streets & very small bars (some can only seat a few customers), hidden between the industrial, modern complexes of Tokyo. Its' history is incredible. In the 1980s, many of the bars were set on fire so the land could be purchased by developers, but it survived because supporters/defenders took turns guarding the buildings 24/7. It truly is like stepping into a time machine and entering an older Japan.
While Golden Gai is not as loud as some of the other streets on this list as music is kept to respectful volumes within each establishment, the authenticity & history of the atmosphere can be felt throughout the entire area with each bar having its' own gimmick. There's no dress code, but some bars only allow regulars in.
You can read more about it here.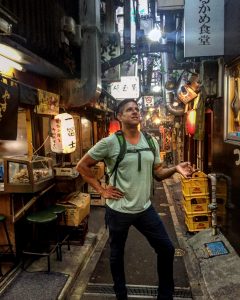 Best Memory:
Sitting in one of the micro-bars for hours drinking Hibiki Whiskey which seemed relatively cheap compared to drinking it in the US (where it's more expensive because it's an import – duh) and then eating Japanese noodles for a snack, cooked by the bartender free of charge.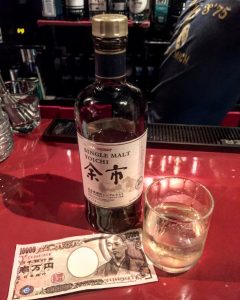 Dotonburi River (Osaka, Japan)
When people visit Japan they usually visit the trio of Tokyo, Kyoto & Osaka. The recommended way to commute between cities is the Japanese Bullet Train operated by JR – Japan Railways. Pro tip: if you're in the US, make sure you buy your tickets from a travel agent before you go to Japan to save significant yen.
Before we talk about Dotonburi River, if you're in the area, make sure you hit up Japan's #1 tourist attraction in Kyoto : Fushimi Inari-Shrine. I spent 4 hours wandering around this absolutely stunning shrine. You've seen it on Instagram, now go see it in real life. You can read more about it here.
The Dotonburi River is like beauty & the beast – it's a gorgeous river (the beauty) with clubs & nightlife (the beast) on both sides. There were so many options I was overwhelmed but ultimately I decided on a club that didn't have a strict dress code. They did however, have glowsticks so I was thrilled. Any time glowsticks are organically introduced into your night is a good night. After turning my glowsticks into a makeshift crown (obviously), I was officially in rage-mode. At one point, the DJ played "American Boy" and I turned up and got lit before turning up & getting lit was even a thing – or maybe it was and I was just late to both.
On a side note, I've been saying "Get Lit. Stay Woke." and someone told me I sound like a dad who is trying to sound cool. I don't know what's more offensive – sounding like a dad when you're not a dad or someone thinking you're trying to sound cool instead of just sounding cool. Awk.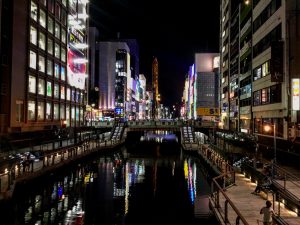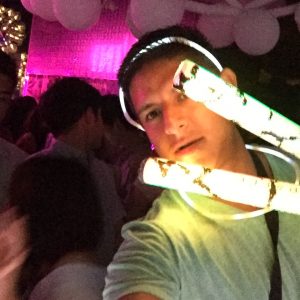 Best Memory : It is very hard to find fluent English speakers in Japan. Even basic English was very hard to come by. It was so hard in fact, that I went on a date communicating exclusively through Google Translate. We would take turns speaking into our phones in our native language and letting the robotic voice speak the words that we could not express. It was my first date where silence wasn't awkward, it was necessary.
RCA – Royal City Avenue (Bangkok, Thailand)
And here we are, my new home!
If you ask anyone in Bangkok where to party, RCA is usually the number one answer, especially if:
You are not a backpacker (backpackers are usually trying to minimize costs so they avoid $6+ cocktails)
You are older than 21
You have disposable income
You want to get dressed up (not mandatory at all places here, but you can find those kind of places)
RCA (Royal City Avenue) is a long street with everything from restaurants, sports bars, dive bars and massive nightclubs (usually with a dress code). Some of the clubs even have outdoor areas that go right into the street so you can sit outside and get cocktail service. This is an amazing element for those times when you want to have an actual conversation with someone. Whether you're looking for live music or club DJs, RCA is a must. Open 7 days a week, the Bangkok nightlife never takes a break. In Bangkok, people don't just party during brunch on Sundays.
Best Memory :
After having one too many cocktails on RCA, leaving my debit card in an ATM machine, rushing back to find it, and then of course not finding it. Without any access to cash, I booked a flight and went back to NYC that same night. Ahh to be young! (in 2016).
Soi Cowboy (Bangkok, Thailand)
If you are in a relationship or traveling with your significant other, avoid Soi Cowboy at all costs (unless you're both very very confident about your relationship or very very open-minded). This street is absolutely insane. The first time you walk down this street, it will probably catch you off-guard and be a bit overwhelming (as it was for me). 100s of bar girls dressed in revealing bikinis standing outside pulling every trick in the book to get you to stop walking and go into their bar to start buying them (and the bar hosts) drinks. If you stop for a second, you're done for. Prepare to buy rounds of drinks!
Like strip clubs, there's music and poles inside each club, except unlike strip clubs the girls here do not get naked. They dance in their bikinis trying to get your attention so that you can buy them, their friends, and their hosts a few drinks. If you're inside, it's common courtesy to buy a few drinks (and they're usually around $5 USD/drink).
You can also find some well-known ladyboy bars on this street. Here's a list on Bangkok.com.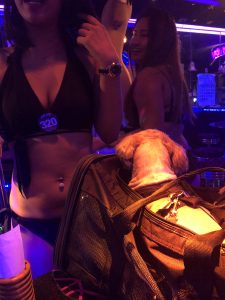 You will see a lot of foreign tourists here (lonely and/or drunk) trolling the streets looking for a companion. At only 150 meters long, this street is one of the most intense experiences you'll have in that short of a distance.
There's also great street food, live music & karaoke so there is truly something for everyone.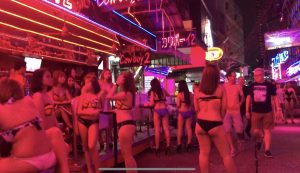 Best Memory :
Leaving without being suckered into spending more money than I wanted to.
Khao San Road (Bangkok, Thailand)
Khao San Road is like Thailand's version of Bourbon Street, except for backpackers (it's sometimes called "the center of the backpacking universe"). There's tons of loud music pouring into the street outside every bar which offer cheap drinks by the buckets, edible scorpions & tarantulas for sale, custom suit salesmen, street vendors cooking fresh Pad Thai, durians and mango sticky rice, endless massage chairs on the street for impromptu foot massages, budget hotels & hostels, cheap tank tops & NBA knockoff jerseys, and of course many drunken fools who have gone way past their limits and are either passed out or being held up by their friends after they just vomited.
My suggestion is to get here before the sun sets (around 4p) for an early street dinner, some light shopping, maybe a massage or 2, a few cocktail buckets and then get out before 1am when all hell breaks loose.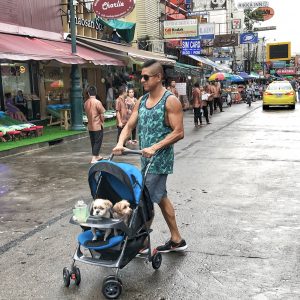 Best Memory :
Exactly what I mentioned above with one of my best friends Jeff Bukhari (still single ladies, per usual) and my kids Raindrop & Flex. I can't wait to go back.
So there you have it. Some of the best streets I've partied on. Do you agree? Do you have other suggestions? Leave it in the comments or shoot me an e-mail : adam@befreemysheeple.com.
And of course follow me on Instagram, @adamfrancisco & @befreemysheeple.