Have you ever heard of Hot Pot?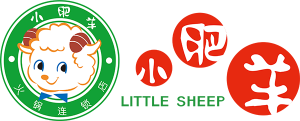 According to Wikipedia : "Hot pot is a Chinese cooking method, prepared with a simmering pot of soup stock at the dining table, containing a variety of East Asian foodstuffs and ingredients."
I define hot pot as "THE MOST DELICIOUS WAY TO GET YOUR LEAN GAINS ON." Seriously. Hot Pot is basically broth, with thinly-sliced meats (proteins) & veggies (super healthy). Of course you can add in noodles and other carbs if you wanted, but if you leave those out, you have a really healthy meal. I like to add spinach, baby bok choy, lotus root & broccoli. I always pick the spicier broths. Yo soy Mexicano!
Now I've been to many hot pot restaurants from Taiwan, to Hong Kong, to Cambodia, to New York City to Los Angeles & many more, and I was surprised that my favorite hot pot restaurant is a global chain! Ironically (based on my blog name), the restaurant is called Little Sheep Mongolian Hot Pot. The first time I tried this restaurant was completely by happenstance.
Early 2017 I was staying in NYC for a work trip and the only pet-friendly, affordable and convenient hotel I could find on Hotel Tonight was in Chinatown, NYC (Best Western Bowery Hanbee Hotel). At 10pm I went searching for food when I stumbled across an "All-You-Can-Eat" hot pot sign. Sold. Being that I was in LEAN GAINS mode (building muscle while losing fat), I made sure to only order meat & veggies. Here's a wonderful picture of my flexing at the excitement of this clean meal.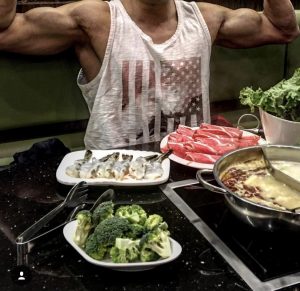 Back in LA, I was absolutely thrilled when I found out there were multiple Little Sheep Mongolian Hot Pots in the Los Angeles area! The one closest to me is in Torrance, CA, a city of LA that's known for their authentic Asian cuisines. Torrance has the 8th largest Asian population in America at almost 40%. It's no wonder this is a go-to area for delicious Asian cuisines. Source. I'll review some more restaurants from this area in the future!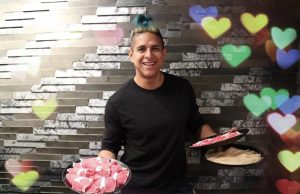 In mid-2017, Little Sheep Mongolian Hot Pot stopped offering an All-You-Can-Eat menu but it didn't matter. I was hooked. I was happy to pay almost double the price for the same amount of food because I enjoyed the flavors and the experience that much. I love their strategy – get the people hooked on their food at an affordable price, and then increase it after we're addicted because we'll pay anything!
In late-2017, I spent a few weeks in Cambodia (Phnom Penh). I was riding in the back of a Tuk Tuk when I looked up and saw the legendary logo of the Little Sheep!!! I made my Tuk Tuk driver pull over immediately so I could try Cambodia's version. I assumed it would be significantly cheaper than their US counterparts but I was wrong – it was more expensive! This restaurant is one of the higher-end establishments catering towards tourists & rich Cambodians. With the average monthly income in Phnom Penh (Cambodia's most expensive city) being $340, this is a meal that is unfortunately out of most locals budget (which is why I thought it would be priced to the market). Source. If you haven't been to Cambodia, I highly recommend Siem Reap (for the stunning Angkor Wat) & Phnom Penh (for the nightlife & history). Your dollar will go very far here so it's a cost-efficient place to travel to. Beautiful country. E-mail me if you have any questions or want some travel advice. adam@befreemysheeple.com
And some good news everyone! Little Sheep Mongolian Hot Pot recently brought back their All-You-Can-Eat menu!!! #winning. I'm not sure what the prices are across the country but the Torrance location was $23.95. If you haven't been here yet, check it out!