After a few glasses of wine at The Lincoln, in Venice CA, I was craving a cheat meal. Luckily for me, there's an IHOP in walking distance from the bar. I bet IHOP makes a killing every Friday & Saturday with the 2am intoxicated crowds.
As an advertising professional, I always appreciate a good marketing campaign, so when I saw the uproar and madness that IHOP was changing their iconic name to IHOB, I had to check out their burgers for myself and compare it to their pancakes. Despite the importance of fitness in my life, I am a cheeseburger connoisseur. I probably have a cheeseburger 1-2 times per month and I truly savor those moments.
We ordered their Vanilla Spice pancakes (a brand new addition to the menu), even though my waiter strongly recommended the Mexican Tres Leches pancakes. As to be expected, these vanilla-infused pancakes were absolutely delicious. However, because I cover my pancakes in syrup, sometimes I can't tell if it's the pancake I like or the syrup. Yolo. For those who don't know, I'm allergic to chocolate but fortunately for me I've always preferred vanilla. Definitely recommend these pancakes for any pancake and/or vanilla lover.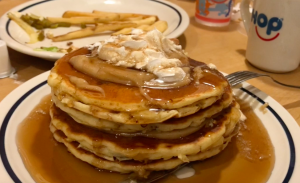 Because I like my burgers like I like my women (spicy), we ordered the Jalapeño Kick. Wow was it spicy! Their jalapeños had a nice bite to them. I especially loved the addition of crispy bacon (which I shared with my kids). Just to feel less guilty about eating a cheeseburger at 1am, I split half with my friend. The burger had a little too much sauce but it was still a delicious cheat-meal.
Bottom line is that IHOP's marketing campaign worked. I probably wouldn't have gone into IHOP if it wasn't for the temporary IHOB rebrand. Their burgers are definitely good enough for a burger lover and they had about 6-7 different burger entrees. However, I would say that IHOP does pancakes slightly better than they do burgers (which is to be expected).
Final Verdict
Pancakes: 4.5 stars
Burgers: 3.5 stars