I wanted to put together a list of the best pet-friendly hotels in Thailand that I have stayed at in the past 6 months. If you're like me, you consider your dogs family and you want to travel the would with them in style and in comfort. I have been living exclusively out of hotels since October 1st so I have found some of the best pet-friendly hotel deals across Thailand.
This is going to be an on-going series with cities such as Hua Hin, Phuket, Chiang Mai, Koh Phangan & more being added. As I travel to Vietnam next month (and then South America towards the end of 2019), I will create pet-friendly hotel guides for each city. You can find them on my homepage under Dogs>Pet-Friendly Hotels.
Back in November when I first arrived to Thailand, I answered the question : Is Thailand Dog-Friendly? Five months later, my opinion remains that Thailand is very dog-friendly. I've had significantly more positive experiences than negatives ones. The hotels below are being listed in alphabetical order.
And if you book a hotel from this article, please support the website by using this Booking.com link which gets us both a $15 coupon!
Note : this guide only contains 1 hotel because I got super lucky with my first pick. Pricing, service, amenities – this hotel is amazing.
Pet-Friendly Hotels in Thailand (Chiang Mai)
117/1 Moo 11 Soi 4B, Ban Chang Kham,Tha Wang Tan , 50140 Chiang Mai, Thailand
Pets stay free!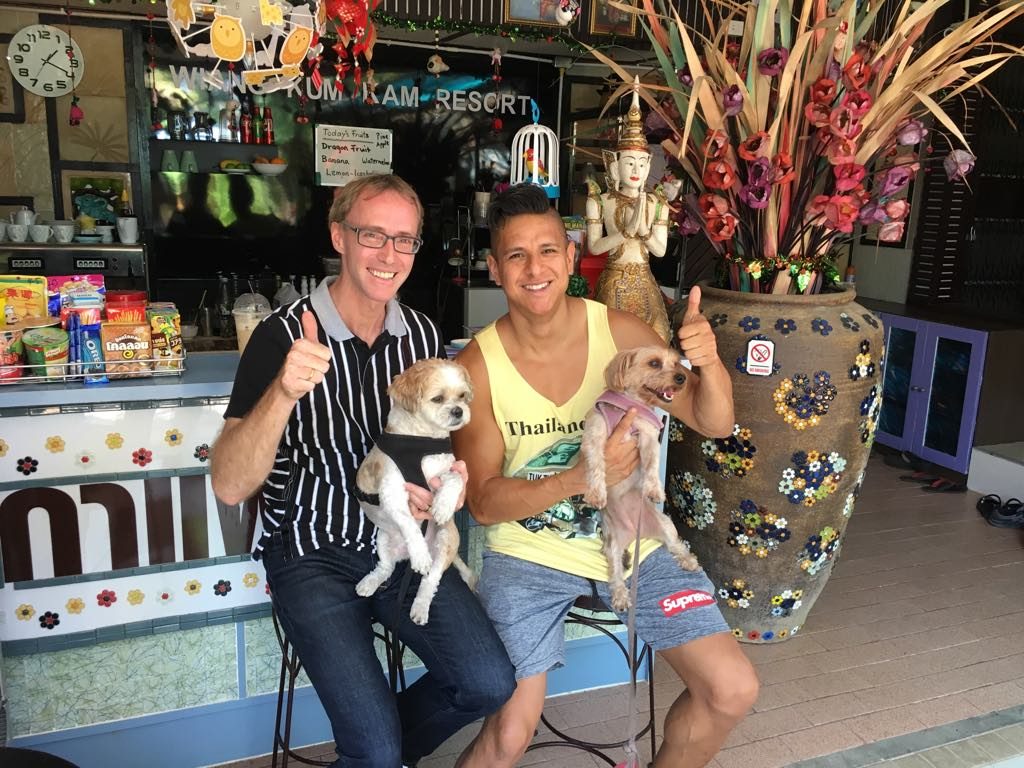 How They Describe Themselves:"Wiang Kum Kam Resort in Saraphi features accommodations with free bikes, an outdoor swimming pool and a garden. With free WiFi, this hotel offers a tour desk and luggage storage space."
Overview: If I had to give one adjective to describe this hotel it would be "zen." The design and architecture are extremely unique (it was built by the husband and wife owners) making you feel like you're in a wonderful Chiang Mai garden or sanctuary. The owner Rolf is one of the nicest guys I met during my entire time in Thailand. He goes above and beyond to make sure your time in Chiang Mai is awesome. You literally never have to leave this charming resort if you didn't want to – he has coffee, personal food delivery, and a massage room where you can order a masseuse for an incredible 200-baht massage.
Location: What I like about the Wiang Kum Kam Resort is that it's quiet, peaceful and serene. It's perfect for a couple on a romantic Chiang Mai getaway or a family trip. For those who want to be closer to the nightlife that Chiang Mai's Old Town offers, you'll need to take a taxi or borrow one of the resort's motorbikes. Personally, I always rented a car when I went to Chiang Mai and there's parking available within the resort.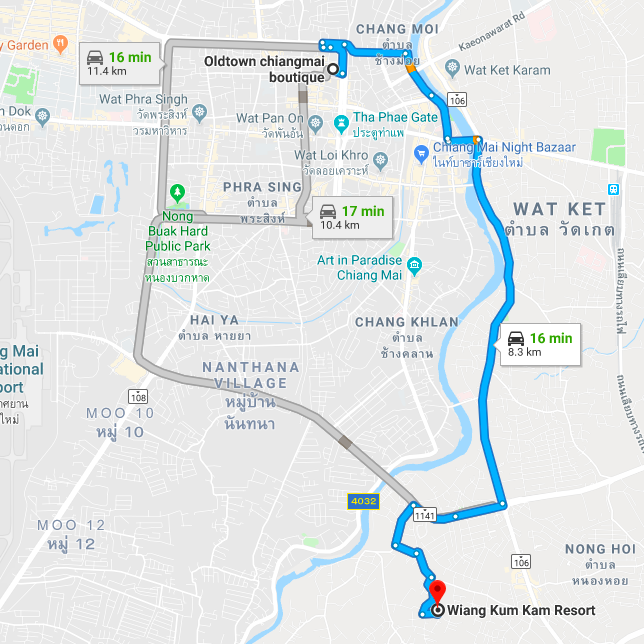 Room Pros: I have stayed at every room within this resort and they are all very spacious. Most of them have a bedroom and a living room which is great for groups or families. Each room is equipped with air conditioning and a refrigerator. The lack of a kitchen is irrelevant in Thailand as you should be eating out every meal anyway (not only is the food delicious but it's so cheap!).
Room Cons: The rooms do not have a kitchen or a washing machine, but the resort can do the laundry for you.
Hotel Pros: The owner Rolf is one of the best reasons to stay at this resort. He really goes out of his way to help you with anything you need. You can order food and he'll go pick it up for you. You want coffee? He has his own little coffee and smoothie shop. I recommend his iced lattes and banana smoothies. There's also a beautiful pool in the resort that was never busy during my time there. It has a cool temperature which is great for cooling off from the Thailand heat. To enter the resort, you'll need to use a remote to open and close the gate which adds a nice element of safety. Great WiFi!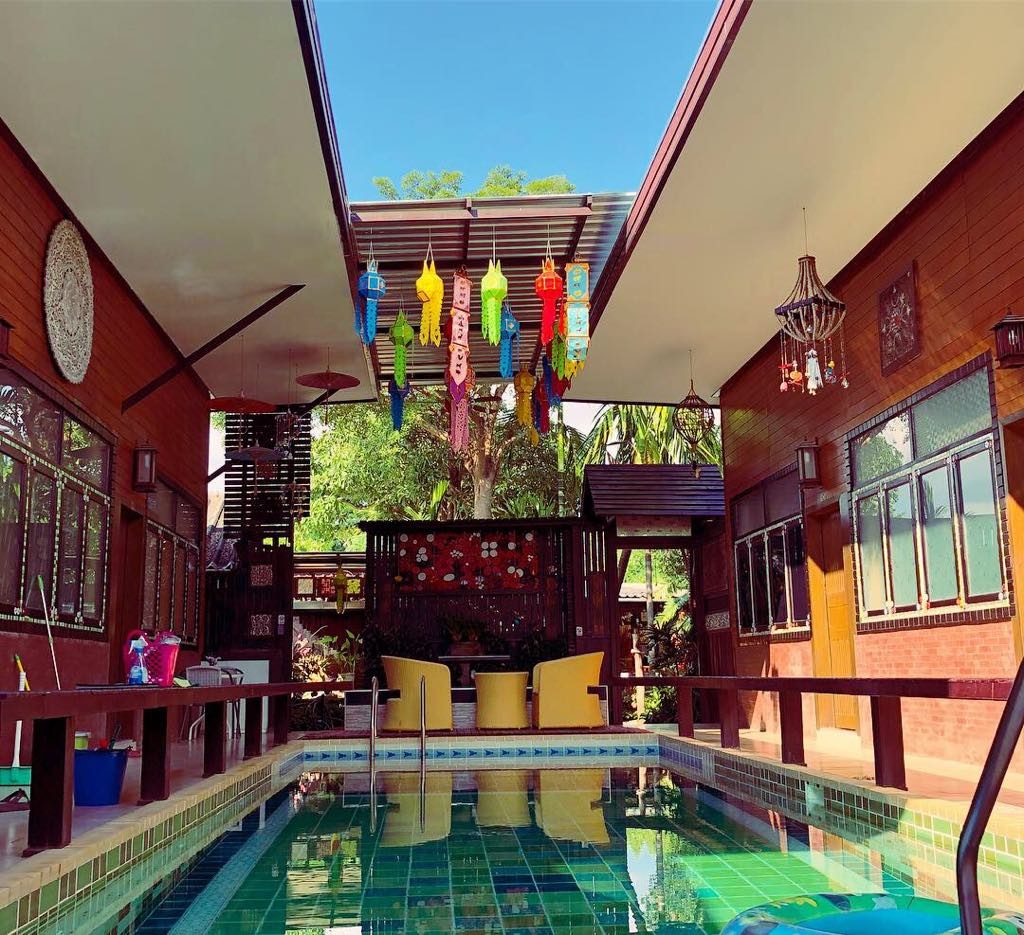 Hotel Cons: There are a few soi (street) dogs that live on the winding streets that surround the resort but from my experience, they were harmless. If you're driving to the resort at night, please drive slowly as these dogs like to sleep in the middle of the street. My guess is because there are less insects on the cement than on the grass.
Recommended for: A couple looking for a romantic getaway or a family that needs a bit more space and a pool for the kids.
Pro Tip: Try to visit Thailand during the Loy Krathong or Lantern Festival (November 2019). It's an incredible experience and one of the most romantic things you'll do (if you can get away from the crowds) even if you're by yourself.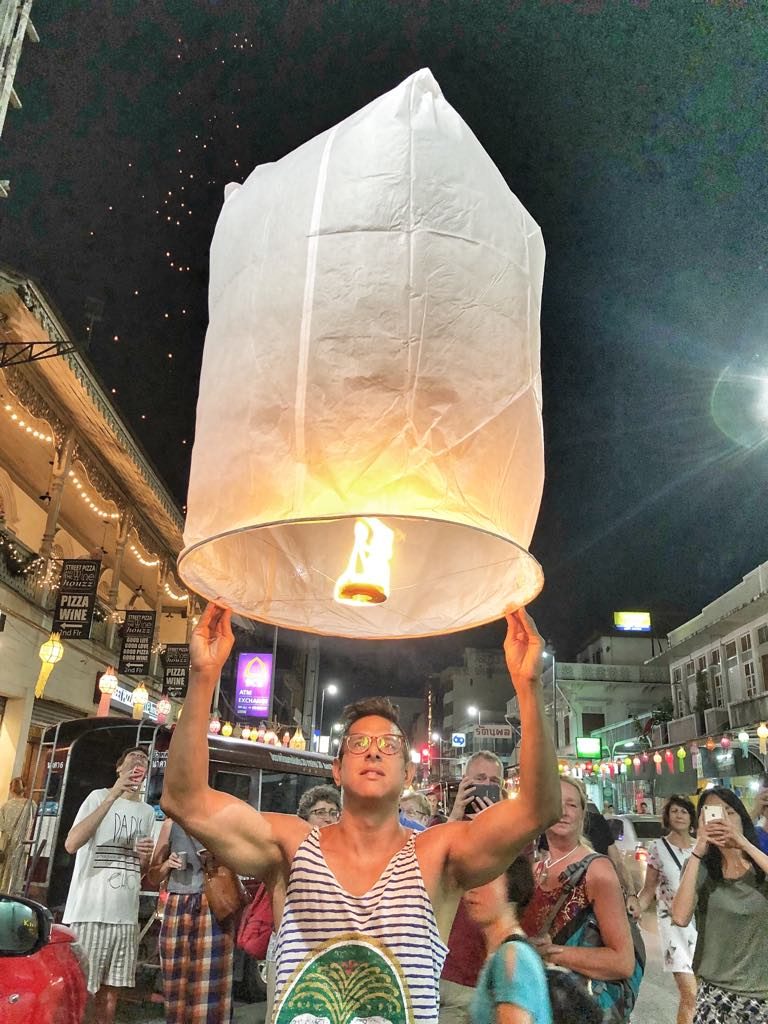 Favorite Restaurant: Ask Rolf for the hotel food menu and all the items are cooked by traditional Thai chefs at street food prices.
Bonus Vlog!
And of course if you're coming to Chiang Mai, you'll likely want to hang out with some elephants. I recommend the Chiang Mai Elephant Home. They have a perfect 5.0 rating on Facebook. Ask for Ronie Handyman. He's a great tour guide.
***
Have you stayed at a pet-friendly hotel in Chiang Mai that you absolutely loved? Leave a comment or you can e-mail me adam@befreemysheeple.com. If you enjoyed reading/watching this, you can follow me on Instagram, @adamfrancisco & @befreemysheeple.
Be Free My Sheeple!