When I left New York City in 2015 (you can read about it here), I left because it no longer fit my lifestyle. It was still a great city but one I was prepared to walk away from but also knowing I could visit whenever I wanted. It appears however that things have changed for the worst mostly based on 3 reasons: COVID, radical left ideology and Democratic leadership (weak on crime). I am going to include examples of what I mean below. And it truly hurts my heart.
My New York City Was Tolerant
After being born in Mexico, I was adopted at birth by a Jewish, Italian/English family from Queens. So while I'm not technically a native New Yorker, I'm as close as it gets. Growing up in NYC I had no idea what racism was. It's not something I experienced. If anything, I experienced the opposite of racism (no, not anti-racism)…tolerance.
From elementary school, to working minimum wage jobs, to riding the subway, I was surrounded by diversity my entire life. Sure, I've had to deal with being stereotyped a few times (you can read about it here), but my skin color was never something I thought much about. It certainly wasn't an obstacle.
New York City Has Become Less Tolerant
Radical left ideology and critical race theory are such a powerful, destructive forces, that they're ripping NYC apart at its' seams. Just check out this shocking clip from Prospect Heights.
the protest turns it's sights on sidewalk diners as the crowd chants, "get the fuck out of new york, we don't want you here." they then make references to it being owned by white people and gentrifiers.#JusticeForGeorgeFloyd #ChauvinTrial #BlackLivesMatter pic.twitter.com/y3bxgKNaRe

— eric thomas (@justericthomas) April 21, 2021
This is unbelievable to me that this is happening in New York City, in a neighborhood as diverse as Prospect Heights.

My New York City Was Safe
I always admired how safe NYC was. For a city packed with 8 million people (at the time), I never felt unsafe riding the subway, even at 4am in the morning. One time I was so drunk I fell asleep on the train for 2 hours and when I woke up my subway car was filled with sleeping homeless people. Nobody bothered me.
We respected the police in NYC. I have so many friends and family members that served their community as police officers and detectives for the NYPD. I volunteered as a basketball coach for kids when I was 16 as part of the Police Athletic League. I grew up respecting the police and as a result, having a good relationship with them throughout my life.
Here's my dog Cloud as a puppy with New York's finest.
View this post on Instagram
New York City Crime Is Skyrocketing
Due to Bill DeBlasio's weak-on-crime policies, NYC has become the wild west. Even in areas that were considered safe such as the Flatiron right in the middle of Manhattan, people have been killed. I spent almost 5 years working in that area. Unrecognziable. And this isn't an isolated incident – shootings surged 200% last week. This is terrifying stuff.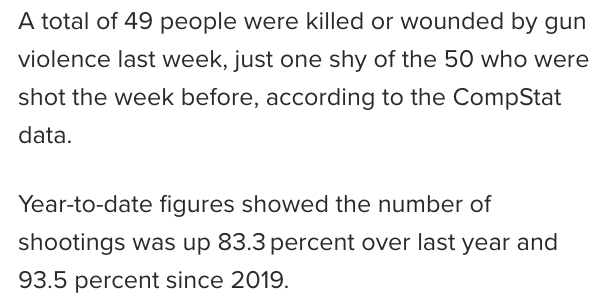 And for those of you thinking this is just a glitch, NYPD departure and retirements are up 75%. I can't imagine who would want to be a police officer in this climate. Defund the police? Officers are defunding themselves. This can't be good for decreasing crime.
My New York City Mayor Was Tough On Crime
Mayor Giuliani was tough on crime in the 90s and helped re-imagine Times Square, turning it from a seedy cesspool of sex shops and prostitution and laying the foundation into what would ultimately become a safe, tourist destination.
The most prominent of his policy changes was the aggressive policing of lower-level crimes, a policy which has been dubbed the "broken windows" approach to law enforcement. In this view, small disorders lead to larger ones and perhaps even to crime. As Mr. Guiliani told the press in 1998, "Obviously murder and graffiti are two vastly different crimes. But they are part of the same continuum, and a climate that tolerates one is more likely to tolerate the other."
While I left New York to pursue a different lifestyle, I have always been proud of being a New Yorker. To this day, people say I sound like a New Yorker. I may not have the accent anymore, but I speak just as fast as anyone and I'm extremely direct and blunt (one of the reasons why I like Trump).
But the New York City of today looks nothing like what I remember.
Bill DeBlasio Is Weak On Crime
A big reason why crime is rampant is because of NYC's bail reform,"which is releasing people who have been arrested for one crime to go out and commit another." Really smart plan! It also doesn't help that Mayor Bill DeBlasio's stance on crime and proposed solutions are laughable. I'm sure a criminal who is about to commit a crime will think twice when "violence interrupters" show up (aren't violence interrupters just called police? I'm so confused).
My New Yorkers Were Tough
New Yorkers have been through so much and have always bounced back. Multiple terrorist attacks, crime of the 80s, unpredictable weather like Hurricane Sandy, we handled it all. We're tough. That's why they say "New York Tough."
New Yorkers Today Are Scared
But the COVID brainwash is real. Walk down the street without your mask below your nose and people will shout at you and tell you to fix it. This is shocking to me. If any city in the world is supposed to have a "you do you, I do me" mindset, it's NYC. As most New Yorkers say, "f*ck you! And fuhgedaboutit!"
My New York City Was Fun
If there's one thing that I truly took advantage of, it was the restaurants and nightlife. New York City was unparalleled in the 2000s. Even as a broke advertising assistant, there were places like Off The Wagon that had incredible happy hours for people living paycheck-to-paycheck. When I graduated to a high income earner, nothing could beat the never-ending restaurant scene. You wanted fresh sushi at 4am? You could find whatever you wanted.
View this post on Instagram
New York City Is Lame
COVID changed all that. At one point, they even shut down all restaurant bathrooms. With the amount people drink in NYC, this decision was completely inhumane. They really took it to the extreme. And sure you could eat outside (better than LA had it), but NYC in winter isn't outdoor-friendly.
Angel Bajana, a fellow New Yorker, recently summarized his trip to NYC in this powerful Instagram video.
View this post on Instagram
Exactly. NYC…what happened?
What's Next For New York City?
Fortunately, New Yorkers will have the opportunity to vote for a new mayor in 2022 and I strongly urge my fellow New Yorkers to vote for a Republican such as Bill Pepitone who will help restore law and order. I had the honor of interviewing Bill for the The T&A Show. You can watch our livestream or listen to the podcast here.
I hope New York City recovers. I hate seeing what's become of my hometown. And the most ironic part of it all is that this is the first time in decades that the Knicks are actually good.
***
If you'd like to support my work, since paid corporate sponsorships have flown out the window ever since I openly supported Trump, you can do so at my Patreon. Everything I do is self-funded so any and all help is appreciated.