Last week, @dashofting & I were invited to celebrate the grand opening of SweetFin's newest location on the iconic & highly-instagrammable Abbot Kinney. Being that salmon poke bowls are one of my favorite foods that I discovered after moving to Los Angeles in 2015, I was so excited to try their Salmon Yuzu bowl.
For those who haven't heard of or tried poke yet, you can learn all about it here, but it's usually raw fish, vegetables and either a kale, seaweed, salad or rice base. If you're trying to keep it healthy like me, you'll either go for the brown rice base or something carb-free like kale or salad. I always add avocado, jalapeños, onions, crispy onions & Sriracha to my bowls.
We got to meet the owner of Sweetfin and women entrepreneur Dakota Weiss who is a culinary and business rockstar who appeared on Top Chef.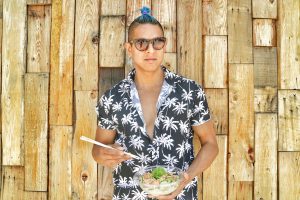 What makes the poke in California special is that it's only 1 of 2 states in America that do not flash freeze their fish (Hawaii is the other state). This means it tastes better & fresher and this salmon bowl was no exception.
What's also interesting is that their tobiko was green, when usually these little eggs are orange. That's because Sweetfin adds wasabi into their eggs which gives them both a green color and a wasabi-spice.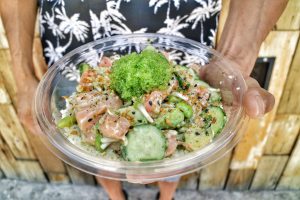 I can't wait to go back to Sweetfin & try the rest of their delicious menu. Let me know what you think in the comments! And if my post inspired you to try Sweetfin, I expect an invite 😉